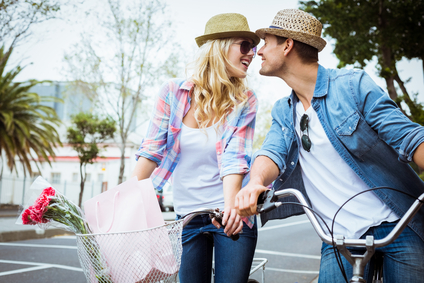 Summer is here! Why stay inside when you can heat things up with these 6 romantic outdoor summer dates?
Festivals & Markets
This time of year, every city is loaded with evening markets, outdoor art and music festivals. Festivals are great whether it's a first date or you've been together for a while. They give you new things you can experience together and lots to talk about while you're there.
A few to try: International Summer Night Market, Food Cart Fest, Hawkers Market, Victory Square Block Party, check your local listings for even more events in your area.
Movies Under The Stars
Often people think of going to a movie as last resort option but seeing one outdoors cuddled up together with a blanket is absolutely romantic. Get there early, pack a few snacks, a couple of blankets, a nice bottle of wine and you are set. For Vancouver listings check out Fresh Air Cinema or Waterfront Cinema at Canada Place.
The Fair
Bring back childhood memories and a sense of playfulness by checking out your local fair. Get a little goofy, share some heart attack inducing fried food (mini doughnuts anyone?), go on a ride that looks like it might break at any second and play a few of those cheesy carnival games.
Fireworks
What better place to get close and create fireworks of your own, than under a colorful exploding sky? Head down to English Bay for The Celebration Of Light, and bring your blanket for optimal cuddling.
Wine Tasting
Nothing beats enjoying the summer sun at a beautiful winery. Take a tour, gain a little knowledge and indulge in sampling some great wine. Buy a bottle of your favorite to share when winter starts to set in and remember your summer adventures together.
Get Sporty
Couples build the most chemistry when they do something new together. So get out there and get physical, rent a boat, try the batting cages, paddle boarding, bacci, roller blading, tennis, frisbee, sunset yoga, hiking or biking. Get creative and use your imagination, this time of year the list of activities is practically endless.
What is your favorite thing to do on a summer date? I would love to hear from you, leave me a comment in the section below.
Are you ready to find your summer love? Contact me here to get started now.