The Application Form for the second Hawksworth Young Chef Scholarship competition is now available online at http://hawksworthscholarship.com/application/
Deadline for your completed entry form is May 5, 2014 by noon.
Here you will find the details of how to apply: http://hawksworthscholarship.com/how-to-apply/
To be eligible you must be a Canadian citizen, under the age of 28 and have your Red Seal certification.
This link will tell you what is required on your application form and what you must  complete in order to apply. It will also explain the criteria for the regional judging. Based on your application and successful completion of your dish the judges will select the regional heat competitors. Ten competitors for each region will be selected by Chefs David Hawksworth and Kristian Eligh.
It is important to read, understand and successfully follow the complete list of rules which you can find here http://hawksworthscholarship.com/the-rules/
For the first time the competition will include three regional heats with ten young chefs chosen from each geographical region. The three zones are:
Western Canada – Calgary
Central Canada – Toronto
Atlantic Canada – Kentville
Each heat will have it's own judges as follows:
For all regional competitions Chefs David Hawksworth and Krisian Eligh as well as the following local judges.
Western Canada – Chefs Michael Allemeier, Justin Leboe, Michael Noble, and Connie DeSousa.
Central Canada – Chefs  Damon Campbell, Lynn Campbell, Rob Gentile, and Anna Olson.
Atlantic Canada – Chefs Jeremy Charles, Craig Flinn, and Michael Smith.
Information on the regional judges available here: http://hawksworthscholarship.com/judges/
The successful candidate from each of the regional heats will be eligible to compete in the Final competition to be held in Vancouver.
The judges for the Final competition will be:
Chefs, Kristian Eligh, David Hawksworth, Scott Jaegar, Normand Laprise, Mark McEwan, Anthony Walsh, and food journalist Jacob Richler.
The final competition takes place at Pacific Institute of Culinary Arts in Vancouver on September 28th, 2014.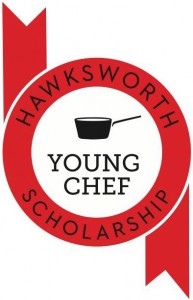 Feature photo: courtesy of Jessica Haydahl Photography