Dramatic play exploring family, love and mortality
premieres at the Richmond Cultural Centre
Ga Ting (Family)—a theatrical play featuring a complex cultural and inter-generational exploration on themes of family, love, and mortality—will premiere at the Richmond Cultural Centre's Performance Hall with a preview on March 20 and 21 and an opening night on March 22 until the March 30.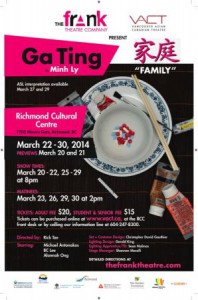 Ga Ting means family in Cantonese. The play weaves a powerful story about an immigrant Chinese couple trying to come to terms with the death of their son, Kevin. They invite Kevin's Caucasian boyfriend for dinner after the funeral and, for the first time, not only acknowledge that their son was gay, but who he truly was as a person. As the characters share memories of Kevin, their dinner conversation eventually evolves into a cultural and generational clash.
"In Chinese culture, among others, being gay is a topic that many do not want to discuss or even acknowledge," Canadian playwright and actor Minh Ly explains. "I hope that Ga Ting will spark an important dialogue among families. Parents and children need to realize how important it is to communicate with each other and to support each other, before regret sets in."
Ga Ting marks Minh Ly's debut as a playwright. The play would not be possible without the support of:
·         Rick Tae – Director, previously directed feature film John Apple Jack which recently premiered to a sold-out crowd at the Vancouver Asian Film Festival
·         Chris Gatchalian – Ga Ting producer, acclaimed local playwright, fiction writer, poet and teacher
·         Donna Yamamoto – Artistic Producer of the frank theatre company, Jessie-Award winning actor and Artistic Director of VACT
·         Andrea Yu – actor, dramaturge and Artistic Associate of VACT
·         Local cast includes veteran actor and former Vancouver councillor B.C. Lee, Michael Antonakos, and Hong Kong film star, Alannah Ong.
The new full-length production is presented by Vancouver Asian Canadian Theatre (www.vact.ca) and the frank theatre company (www.thefranktheatre.com). It will be performed in English and Cantonese with English and Chinese surtitles. Ga Ting will lead two talk-back sessions on March 25 and 26. There will also be American Sign Language (ASL) interpretation for two performances.
The production is supported by the City of Richmond's Arts Services and the Richmond Multicultural Community Services.
For show and ticket information, visit www.vact.ca, call the Richmond Cultural Centre's information line at 604-247-8300, or inquire in person at the Richmond Cultural Centre front desk.