I'm a full-fledged dessert fan! In terms of "sweet tooth", I have a mouthful.  My sweet selections do not limit to any style or flavour,  and no particular ethnic choices either. From Tiramisu, Crepe Suzette, Crumble to Chinese Rice Pudding or sweet soup, I seldom say no!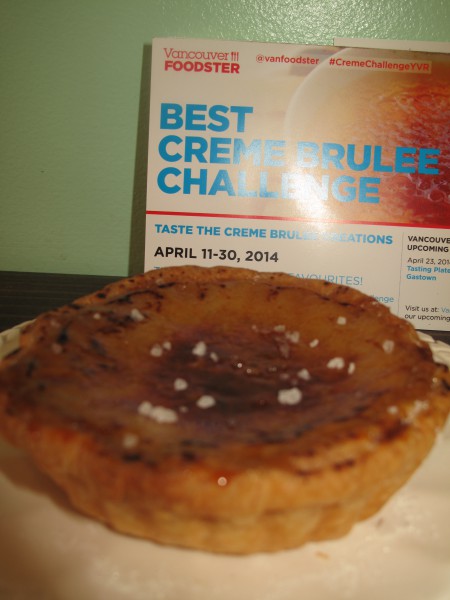 There is a problem though, after tasting numerous wonderfully prepared and artistically-plated desserts, my sweet teeth are sharpened and my standard of a bought dessert is pretty high.  The joy any passionately crafted dessert brings to me will always be treasured and appreciated.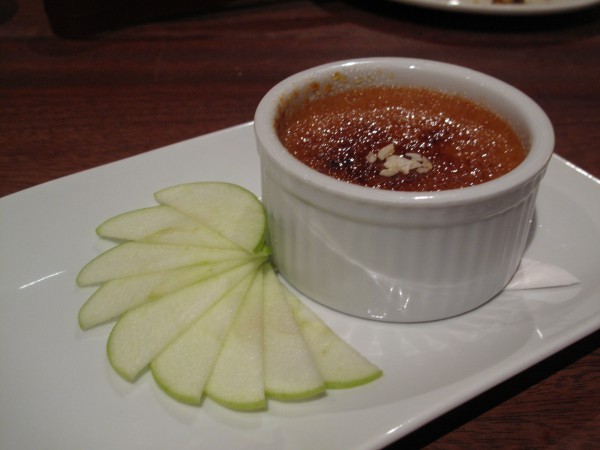 When my good friend Vancouver Foodster Richard Wolak asked me to be one of the four judges of the Crème Brulee Challenge, my reply was an immediate big YES! The fact that I had to taste 9 crème brulee created by 9 different chefs could be a challenge to myself to a certain extent (hello calories!), but how often do one get such a fun and good reason to indulge? Most importantly, I got to talk to these chefs and perhaps picked up some baking tips from them!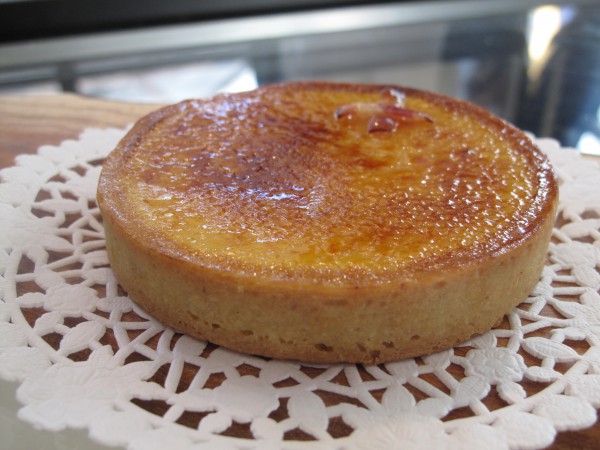 So crème brulee here I come!
Crème brulee fans know exactly what to look for and how to enjoy, but as the so-called "judge", I had to take the 4 steps of 'crème brulee' indulgence:
1/ Observe: The form, shape, colour and how they all come together into one divine pastry.
2/ Study: Why and how the ingredients are used, is there a focus point? Are they adding the charm or taking away the essence of the crème brulee?
3/ Texture: Too hard, too thick, too runny, too busy or too plain? How are the accompaniments performing?
4/ Taste: Too sweet, too strong, too bland, too much or lack of? What happens to my senses the moment the crème brulee touched my lips?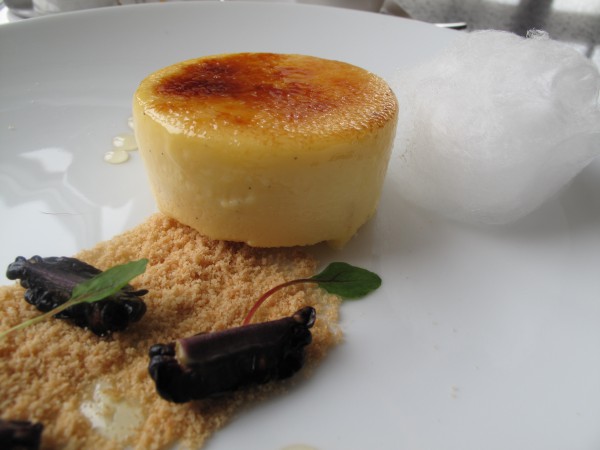 Personally, I did not consider the plating a factor, given that not every challenger was a restaurant establishment which allowed the need and the time to dress up the crème brulee. However, this did not take away my appreciation to the artistic culinary design when a beautifully plated dessert was put in front of me.
While Vancouver Foodster will be announcing the winner very soon, I can only share with you at this point who the 9 challengers are. May be you have already tried them all, and picked your own 'best'?
A Bread Affair – Granville Island (You'll be bringing home more than the crème brulee flavoured with BACON)
Bella Galataria – 1001 West Cordova (Yes, it's a crème brulee gelato)
Café One – 1088 Burrard, Sheraton Wall Centre (Sit back and make that real tea-time – the dining room is simply cozy and relaxing)
Catch 122 – 122 West Hastings (Talking about innovative ideas)
Gramercy Grill – 2685 Arbutus  (Chocolate fans beware)
Kingston Taphouse – 755 Richards (More than bar & grill)
Novo Pizzaria – 2118 Burrard (Bring your appetite and camera)
The Bakeshop – 4021 McDonald (Family pastry shop that does wonders in the neighbourhood)
The Apron – 烈治文3099 Corvette Way, Westin Wall Centre (A good reason to go to Richmond)