After a successful Mac and Cheese challenge comes more comfort food and the focus this time is on dessert, here is our 1st Creme Brulee Challenge featuring 9 restaurants and bakeries in Vancouver that runs from April 11-30, 2014.
Participating restaurants are showcasing Creme Bruilee dishes that were specially created just for this challenge and all will be offered in all of these restaurants and bakeries during the challenge period .
For the second time with this challenge, we will now have 2 sets of winners. The People's Choice winners will be selected by the public who are invited to visit any of the participating restaurants/bakeries and order the creme brulee dishes and then decide on which ones they think are worthy of winning the challenge by casting their votes.
For this challenge we have 4 media judges and they are:
These are just some of the unique Creme Brulee creations in this challenge
Catch 122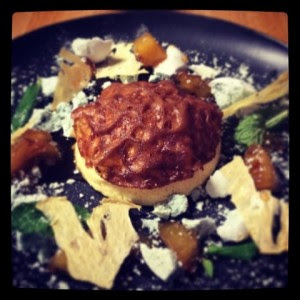 "krehm broo-LAY"
Price: $7
Description: Cointreau custard, sugar biscuit, lavender meringue, pineapple, mint
Created by: Chef Ian Errington
Offered: all the time
Catch 122
122 West Hastings Street, Vancouver
Tel: 604-731-3474
Web:  http://catch122.com/
Twitter: @catch122
Cafe One
Banana Choconutty Crème Brule
Price: $6
Created by: Pastry Chef Gabriela Gandolfo
Offered: All Day
Cafe One (inside Sheraton Wall Centre Vancouver Hotel)
1088 Burrard Street, Vancouver, BC
Tel: 604 893 7205
Web: www.sheratonvancouver.com
Twitter: @WallCentreHotel
The Bakeshop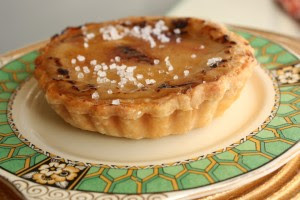 Salted Honey Creme Brûlée
Price- $4.75
Created by: Meg Reed
Description: Flaky pastry filled with creamy earl grey creme, finished with a crispy layer of bruleed honey and rock salt
Offered: Tuesday – Friday  8am-5pm, Saturday 10am-5pm
The Bakeshop
4021 MacDonald Street, Vancouver
Tel: 604-762-2471
Web: http://www.vancouverbakeshop.com/
Twitter:  @VanBakeshop
Novo Pizzeria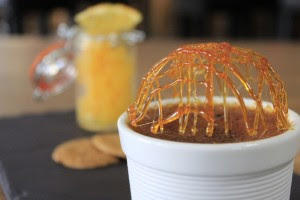 Toasted Hazelnut Creme Brûlée
Price: $8
Description: Frangelico Ganache, rosemary & pine nut cookies, orange granita
Created by:  Carmine Paradiso and Charles Richard
Available:  All the time
Novo Pizzeria
2118 Burrard Street, Vancouver
Tel:    (604) 736-2220
Web:  http://www.novopizzeria.com/
Twitter:   @NOVOPizzeria
The full list of participating restaurants/bakeries can be found here
http://vancouverfoodster.com/2014/04/11/vancouver-creme-brulee-challenge/
Voting: The public is invited to order these Creme Brulee dishes,at the participating restaurants and bakeries keeping in mind this criteria – originality, creativity, uniqueness, traditional, non-traditional, price, value and most importantly taste. People can vote the same day after trying the Creme Brulee creation and they can vote once a day throughout the promotion. People will be encouraged to Vote for their favourites from April 11-30, 2014
http://vancouverfoodster.com/creme-brulee-challenge/
With a smartphone, customers will be able to vote from their table in the restaurant right after they have eaten the Creme Brulee creation.
We will announce the winning restaurants/bakeries and their creme brulee dishes on May 2, 2014.
About Vancouver Foodster
Founded in 2009 by Richard Wolak, Vancouver Foodster is Vancouver's premier online "Essential Food & Drink Intelligence" guide. The site offers expert advice on the hottest restaurants, parties, and openings this city has to offer, as well as the most interesting dining trends and newest cuisines and food around the region. Vancouver Foodster also runs a series of food challenges with restaurants and chefs throughout the year!