…the most fun you can have on a Sunday afternoon.
I joined the many excited participants lined up on Sunday outside of xoxolat chocolate shop waiting with anticipation to collect our Culinary Scavenger Hunt  map.

This fun event is organized by Richard Wolak of Vancouver Foodster fame. What a great idea! You get to sample the wares of several neighbourhood establishments, in this case there were nine restaurants and shops participating.
The weather cooperated and as soon as we had instructions for the scavenger portion and our maps in hand we were off in all different directions. That's part of the fun you can visit each location in the order you wish and you had almost four hours to complete your tour. Each participating establishment provided a tasty sample of their speciality and we tasted fresh tuna to macarons.
Here's where I went (yes, I got to all)
After collecting our maps at xoxolat on Homer Street we walked to our first stop, Marquis Wine Cellars for a tasting of three great wines. Haywire "the Bub", cape vale Syrah and nec – otium Pinot Grigio were sampled and declared excellent.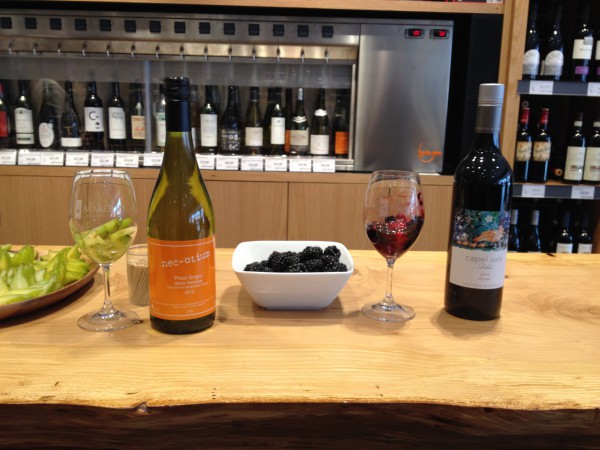 Next stop was Seventeen89 Restaurant and we hopped the Davie Street bus and were there in no time. We sampled a delicious tuna in a cone accompanied by an unfiltered Belgium beer.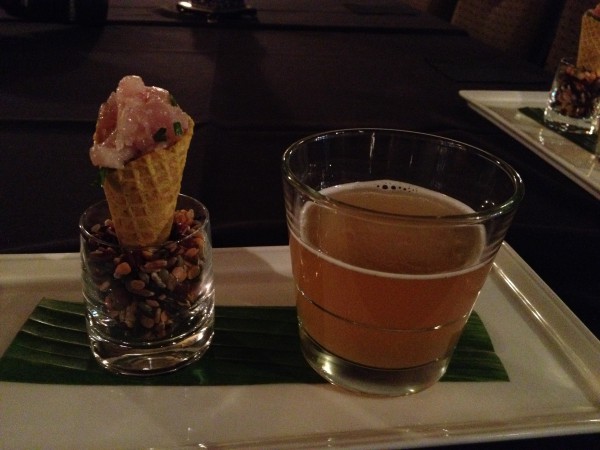 Both stops we were the first ones there but by the time our next bus and short walk found us at Soirette Macarons & Tea we were behind the curve. This isn't a problem as the shops and restaurants are so well organized waiting wasn't an issue. I tucked into the two delicious macarons that featured two new flavours; Kumquat – Zuzu and Guava – Coconut. Both were so yummy. We also were served a taste of three teas; white, green and black to pair with the macarons. This would have worked if I hadn't already scarfed down the macarons but nevertheless the tea was also very good.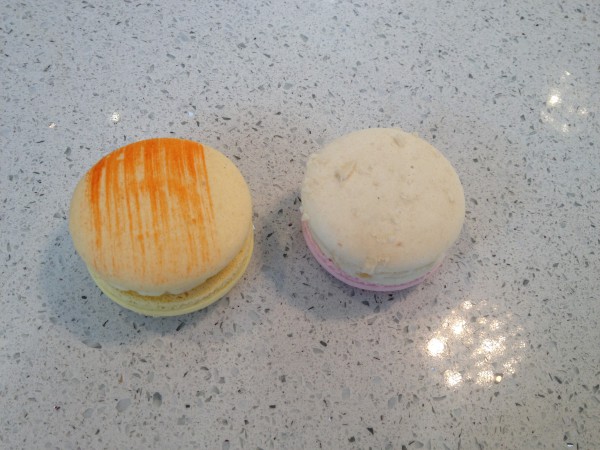 We next decided to walk over to the Convention Centre to visit De Dutch Pannekoek House. (Note to self pay more attention to the map so you don't walk to the east side of VCCW when De Dutch is located near the west end right on the harbour side). Great views and a funky space with lots of orange accessories everywhere. I can see the patio will be one popular spot this summer. We were well fed with our choice of sweet (strawberries and bananas) or savoury (bacon and cheese). So what did I have? A pannekoek (thin like a crepe) with cheese, bacon, folded over with strawberries and whipped cream on top. Yes, it was scrumptious!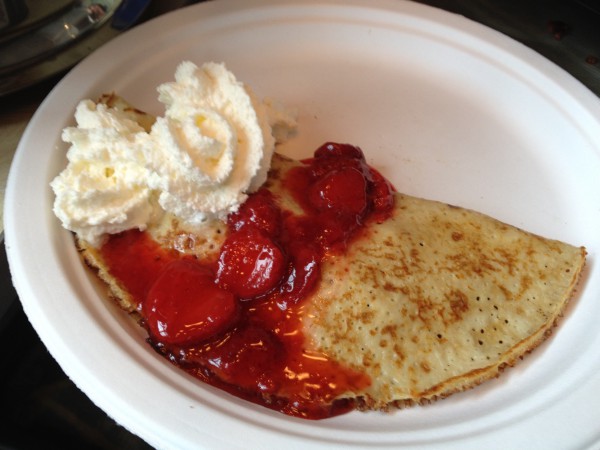 Then backtracking a little bit to reach Belle Geleteria on West Cordova. This required a bit of patience because the shop is cozy and the lines can be long. I asked for suggestions and based on my likes and dislikes I was served a trio that included roasted hazelnut gelato (hazelnuts from Agassiz) lemon sorbetto (dairy and gluten free) and house made salted caramel gelato. All three were heavenly with distinctly different flavours and textures. So good.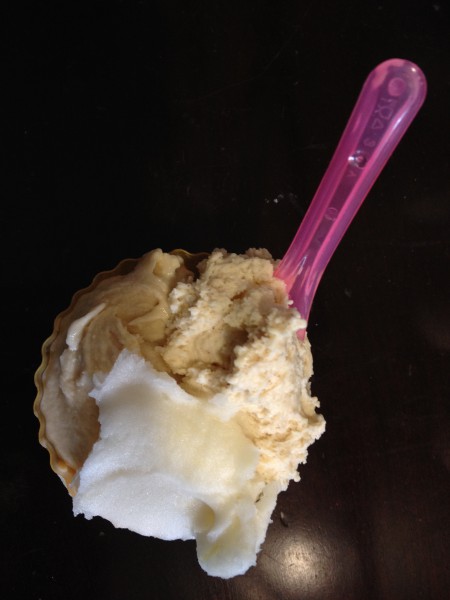 With about four minutes left on our transit passes we rushed through the terminal to the Canada Line and before you knew it we were in Yaletown again.
Next stop Chasers Fresh Juice with the option to either make our own fresh orange from a huge juicer or sample the specialty juices on ice. I opted for a coconut water which was very refreshing.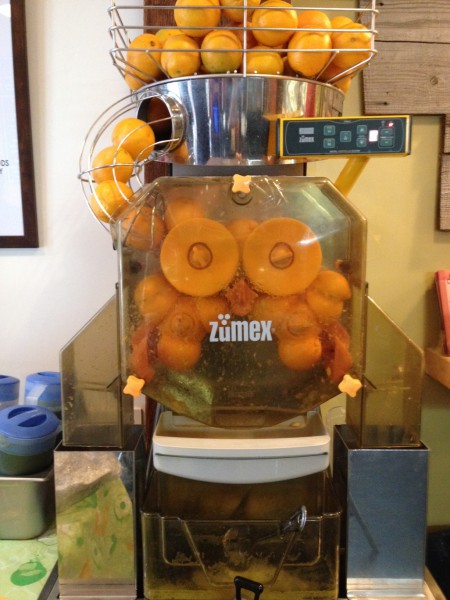 Only a few more stops to complete our mission. Milestones Yaletown was next up and we were directed to a private room where chefs were assembling a sample of their brunch menu. An open face taco with chorizo and scrambled egg on top.
Close by the Parlour Restaurant had pulled out all the stops. We were again directed to a private section with a long bar where an unending array of various pizza slices awaited the hungry crowd. There were so many choices but I finally zeroed in on a yummy pizza slice smothered in artichokes. That really hit the spot.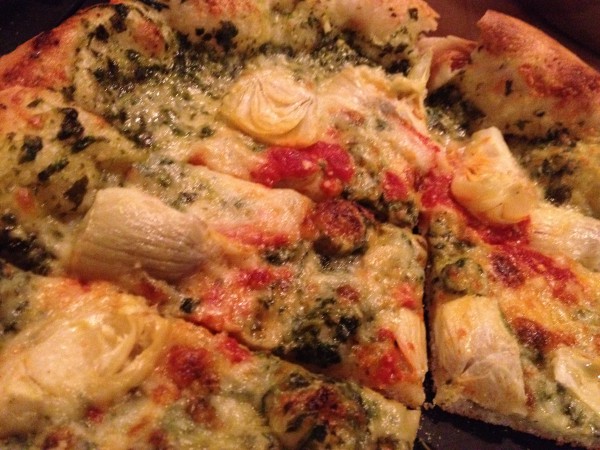 The finale was Xoxolat on Homer Street where we had started from. Owner Heather Rondeau was the consummate host. The shop is spacious and just the aroma of chocolate makes it worth a visit. The assortment of incredibly delicious fresh delights will satisfy anyone's sweet tooth. Everyone was in awe and there were sighs all around at the variety of offerings.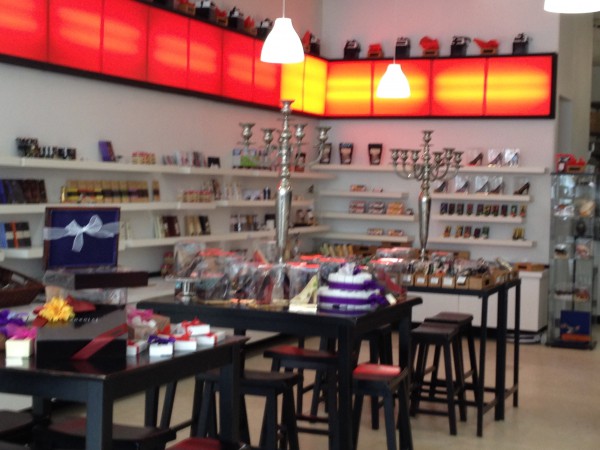 For those guests who followed the rules and participating in the "Scavenger Hunt" prizes included – Grand Prize: Dinner for two ($300 value) at Seventeen89 Restaurant, 2nd Prize: Meinhardt Gift Pack ($100 value), Additional Prizes: tickets to Vancouver Foodster's Burger Palooza on May 4.
All in all it was a really great way to spend a Sunday afternoon and I'm looking forward to more Tasting Plates events in my future.
Next up Tasting Plates – Gastown Edition on Wednesday, April 23 – limited tickets still available but going fast.