Welcome to the Vancouver Foodster Best Burger Challenge. The last burger challenge was held 3 years ago, starting today we launch our next Burger Challenge. Restaurants from all over the city were invited to either enter their best burger off their menu or to create and enter a new Burger creation into this challenge. Each restaurant will be featuring their creations on their menu from October 22 – November 15, 2015.
A few of the unique creations in this challenge:
Ban Chok Dee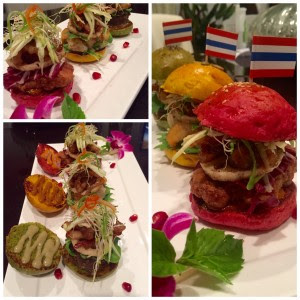 Ban Chok Dee
Siam Sliders
Price: $12
Description:  Three Sliders, consisting of 1 each of Marinated Battered Chicken/Seasoned Prawns/Canadian Beef, stacked with Lettuce, Lotus Root, Caramelized Sweet Pork Belly with Onion and Cashew Nuts, Fresh Shredded Green Mango, Sprouts and Green Onion served in homemade Beet/Spinach/Pumpkin buns with Red/Green/Yellow Curry Coconut Milk sauce. Garnished with Dill Pickles and Pickled peppers.
Main Protein Ingredient: Beef, Chicken, Prawns, Pork
Created by: Executive Chef Parinya Lopston
Offered: All the time
Ban Chok Dee
20563 Douglas Crescent, Langley
Tel: 778-278-3088
Web: http://www.banchokdee.com
Twitter: @BanChokDeeThai
Craft Beer Market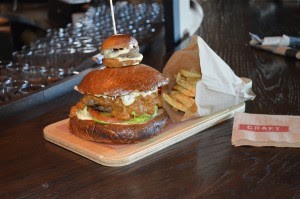 Craft Beer Market
20 Napkin Burger
Price: $26
Created by:
Description: Two burgers, 4oz brisket, crispy bacon, cheese sauce, lettuce, tomato and onion all garnished with a mini burger, served with fries. A napkin for every ounce of meat!
Main Protein Ingredient: Beef
Offered: during lunch, dinner, and brunch.
Craft Beer Market
85 West 1st Avenue, Vancouver
Tel: 604.709.BEER (2337
Web: http://vancouver.craftbeermarket.ca/
Twitter @CRAFTbeeryvr
Tera V Burger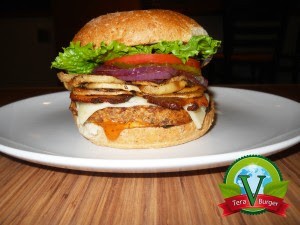 Tera V Burger
No Bull Smoke House
Price:
Description: The Limited Edition No Bull Smoke House on a whole wheat bun with local field tomatoes and green leaf lettuce, sauteed red onions and mushrooms, vegan bacon, vegan mayo and vegan chipotle mayo, smokey barbecue sauce, Swiss cheese and our famous No Bull patty.  It might be the greatest veggie burger on the planet…
Main Protein Ingredient: Vegetarian
Created by:
Offered: All the time
Tera V Burger
2961 West Broadway, Vancouver
Tel: 604-336-3575
Web: www.teravburger.com
Twitter: @teraVburger
The full list of participating restaurants can be found here
http://vancouverfoodster.com/2015/10/22/vancouver-foodster-best-burger-challenge-2/
For our Challenges, we have 2 sets of winners. The People's Choice winners will be selected by the public who are invited to visit any of the participating restaurants and order the Burger creations and then decide on which ones they think are worthy of winning the challenge by casting their votes.
For this challenge we have 3 media judges and they are:
Sean Neild
Food Blogger and Photographer. Food Writer for his own flavortownadventures.com
Twitter: @YVRBCbro
Mary Sheridan
Food Blogger for her own Vancouver Bits and Bites Blog http://maryinvancity.com/
Twitter: @MaryinVancity
Corey Basso
Executive Producer of Whitecaps FC Broadcasts | Announcer | Reporter
Bell Media | 94.5 Virgin Radio | 103.5 QMFM | TSN 1040 | TSN 1410
Twitter: @CDBasso
Voting: The public is invited to order these Burger creations at the participating restaurants keeping in mind this criteria – originality, creativity, uniqueness,  traditional, non-traditional, price, value and most importantly taste. People can vote the same day after trying the creation and they can vote once a day throughout the promotion. People will be encouraged to Vote for their favourites from October 22 – November 15, 2015.
http://vancouverfoodster.com/burger-challenge/
With a smartphone, customers will be able to vote from their table in the restaurant right after they have eaten the Burger creation.
We will announce the winning restaurants and their Burger creations on November 16, 2015.
About Vancouver Foodster
Founded in 2009 by Richard Wolak, Vancouver Foodster is Vancouver's premier online "Essential Food & Drink Intelligence" guide. The site offers expert advice on the hottest restaurants, parties, and openings this city has to offer, as well as the most interesting dining trends and newest cuisines and food around the region. Vancouver Foodster also runs a series of food challenges with restaurants and chefs throughout the year!