BC's award-winning Quails' Gate winery will mark its 25th anniversary this year. Over the course of the last quarter century, this Okanagan favourite has produced wines of outstanding quality and 

become a destination for wine connoisseurs from around the world. Quails' Gate will celebrate its success this autumn with a weekend long celebration that highlights the release of four exclusive limited-quantity wines and a celebration concert at the winery.Wine and music pair beautifully, so it's appropriate that the Quails' Gate celebrations will include a performance by acclaimed Canadian singer/songwriter Royal Wood. The concert will take place in the estate vineyards overlooking the Okanagan Lake on 

Saturday, September 13th

. Tickets go on sale online 

May 16th 

(www.selectyourtickets.com) and guests will have the option of upgrading their ticket to include a canapé & wine reception or a pre-concert dinner at the winery's Old Vines Restaurant, voted in the top 20 Best Winery Restaurants Around the World in 2013 by the Daily Meal.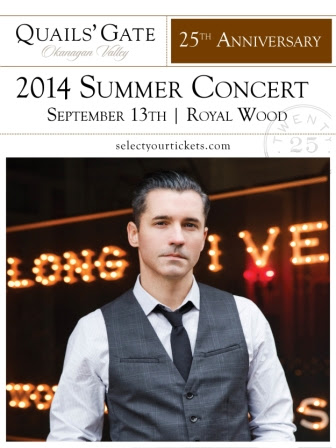 Partial proceeds of the weekend's events will be donated to the Nature Conservancy of Canada (NCC). The Stewart family, who own the winery, have long-supported the conservation work of NCC as part of their efforts towards sustainability. The anniversary weekend will support NCC by profiling the organization's work in British Columbia and by raising funds through activities hosted at the winery.
Quails' Gate will also mark the occasion by releasing four anniversary-vintage wines this autumn, including a Chardonnay, Pinot Gris, Pinot Noir, and Syrah. The limited production wines are sourced from the best vineyards at the Estate and will be available for purchase at the winery exclusively, with sections offset for the winery's popular wine club, the Cellar Door Club. To learn more about the offerings of library, reserve and exclusive wines available in the Cellar Door Club, please 
click here.
About Quails' Gate Winery:
The Stewart family owns and operates Quails' Gate winery, one of the Okanagan Valley's foremost wineries. It has an international reputation for producing premium wines that perfectly express the terroir of their origin, and the winery itself has become a destination.
About Royal Wood: Named 2008 Songwriter of the Year by iTunes, Wood is a prolific and talented alt-pop artist whose work has been compared to Ron Sexsmith, Rufus Wainwright, and Randy Newman. He is a two-time Juno nominee and his music has been featured in several films and television productions, including Grey's Anatomy. Originally from Ontario, Wood released his fifth studio album in March 2014.