After a successful Creme Bruilee challenge comes a Mexican dish that features a mix of Mexican and non-Mexican restaurants. Here is our 1st Taco Challenge featuring 8 restaurants in Vancouver, North Vancouver and Richmond that runs from May 9-31, 2014.
 
Participating restaurants are showcasing Taco dishes that were specially created just for this challenge and all will be offered in all of these restaurants during the challenge period .

For our Challenges, we have 2 sets of winners. The People's Choice winners will be selected by the public who are invited to visit any of the participating restaurants and order the Taco dishes and then decide on which ones they think are worthy of winning the challenge by casting their votes.

For this challenge we have 4 media judges and they are:
Joe Leary
Host of Just Here for the Beer Radio, Broadcaster, Feature Writer/Columnist for 24 Hours Newspaper, Feature Writer BC Lions Magazine
Twitter: @reallyjoeleary
Kelly Marion
Blogger for Marionettes Overnight
Twitter: @KellyJean247
Alvin Lee
Food imagery Photographer and Writer for http://EatinginVancouver.ca & http://VancityBuzz.com
Twitter: @alvinkclee
Alyssa Dawson
Lifestyle host and producer. Host at Novus TV, blogger.
Twitter: @AlyssaCDawson

These are just some of the unique Taco creations in this challenge
El Azteca Mexican Kitchen & Bar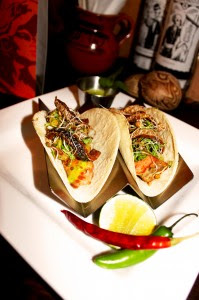 Taco Canaco
Price: $13
Created by: Chef Jesus Brown Garcia
Description:  Salmon scallops sprout mix – house-made gluten free tortilla – arugula garlic and a cilantro tequila based salsa
Offered: Daily for lunch and dinner
El Azteca Mexican Kitchen & Bar
1130 Mainland Street, Vancouver
Tel: 604-638-0127
Web: http://elaztecavancouver.com/
Twitter: @elaztecavan
Blue Canoe Restaurant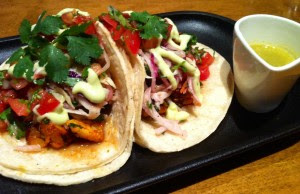 Papito Fish Tacos
Price: $14.49
Created by: Executive Chef Danilo Ibarra
Description:  Smoked paprika spiced fish, jicama slaw, salsa fresca, avocado crema and corn tortillas.
Offered:  All day
Location: 140-3866 Bayview Street, Richmond
Tel: 604-275-7811
Web:  http://www.bluecanoerestaurant.com
Twitter: @bluecanoeresto
Darby's Public House
Darby's Braised Lamb Tacos
Price: $10.95
Created by: Chef A.J. Jackson
Description: Cumin Braised Lamb Taco with pickled red onions, cilantro, flour tortilla
Offered: all day 11am-midnight
Darby's Public House
2001 Macdonald St, Vancouver
Tel: (604) 731-0617
Twitter: @darbys_in_kits
Las Tortas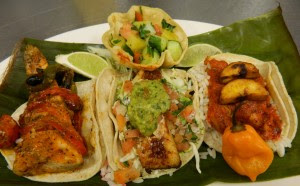 Trio of Fish Tacos Mexico Lindo
Price: $14.95
Created by: Chef Moises Toyber, Chef Miguel Villalobos
Description: El dorado fish (mahi-mahi) presented in 3 different cooking styles:
From Mazatlan Sinaloa: Zarandeado, Open flame grilled in a smoky barbq pepper sauce.
From Acapulco: Costeno, grilled with our house 5 herbs seasoning, cabbage, cilantro sauce and guacamole.
From the Peninsula of Yucatan : TikinChick, baked in a banana leaf with a blend of sour orange, lime, and achiote adobo. A true Mayan delicacy.
Served along a Pineapple Cucumber Pico de gallo, Green Tomatillo Sauce and our Signature Taquera Salsa.
Offered: both lunch and dinner
Las Tortas
3353 Cambie Street, Vancouver
Tel: 604-569-1402
Twitter: @LASTORTAS
The full list of participating restaurants can be found here 
http://vancouverfoodster.com/2014/05/09/vancouver-taco-challenge/
 
Voting: The public is invited to order these Taco dishes,at the participating restaurants keeping in mind this criteria – originality, creativity, uniqueness,  traditional, non-traditional, price, value and most importantly taste. People can vote the same day after trying the Taco creation and they can vote once a day throughout the promotion. People will be encouraged to Vote for their favourites from May 9-31, 2014
http://vancouverfoodster.com/taco-challenge/

With a smartphone, customers will be able to vote from their table in the restaurant right after they have eaten the Taco creation. 
 
We will announce the winning restaurants and their Taco dishes on June 2, 2014.
 

About Vancouver Foodster
Founded in 2009 by Richard Wolak, Vancouver Foodster is Vancouver's premier online "Essential Food & Drink Intelligence" guide. The site offers expert advice on the hottest restaurants, parties, and openings this city has to offer, as well as the most interesting dining trends and newest cuisines and food around the region. Vancouver Foodster also runs a series of food challenges with restaurants and chefs throughout the year!