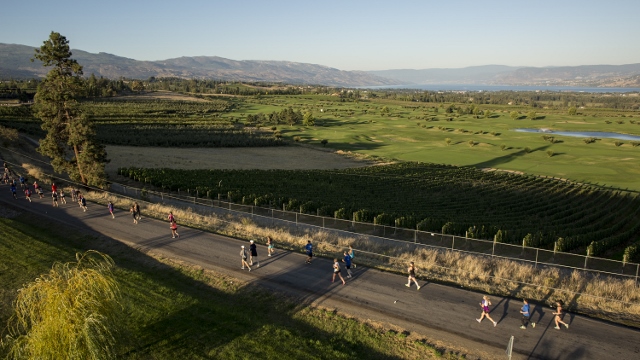 All photos courtesy of Destination Races
Festivities Friday, September 4 to Sunday, September 6, 2015
Who can blame Destination Races for selecting the stunning Okanagan Valley as a setting for its first event outside of United States for this popular series? The Wine Country Half Marathon launched in 2004 when over 1,000 participants ran from southern Napa vineyards through the Carneros wine appellation into Sonoma. Spectators cheered runners as they made their way down Broadway and across the finish line in front of City Hall in Sonoma Plaza. Runners now unite with friends, family and other runners in a post-race Wine & Music Festival to sample wines cultivated from those same vineyards along the scenic 13.1 mile route.
If you love running and wine, the Kelowna Wine Country Half Marathon, now in its third year, offers the best of both worlds. Get to know wine country through running through its roots and then learn first-hand about the wines at a post-race celebration.
The scenic and fast course starts on the East Bench above Kelowna at The Vibrant Vine with magnificent views of the lake and downtown Kelowna. The course eventually runs along the greenbelt and the lake before finishing in expansive Waterfront Park. In this beautiful setting, everyone gathers to celebrate their accomplishment at the Wine & Music Festival. With activities planned all weekend, you'll want to bring your friends and/or family to stay and play in this spectacular playground.
In addition to access to the captivating 13.1 mile (~21.08 km) course and the Wine & Music Festival, your Kelowna Wine Country Half Marathon entry includes:
Classic, Unique Finisher's Medal
Moisture-wicking event running shirt
Personalized runner's bib
Transportation to/from race start and finish from designated parking areas
Special offers from hotels, sponsors, exhibitors and local businesses
Chip timing system and results
Support from law enforcement, volunteers and staff
Opportunity to win cash, wine, and other awards
$10 per entry fee contribution to partnering charities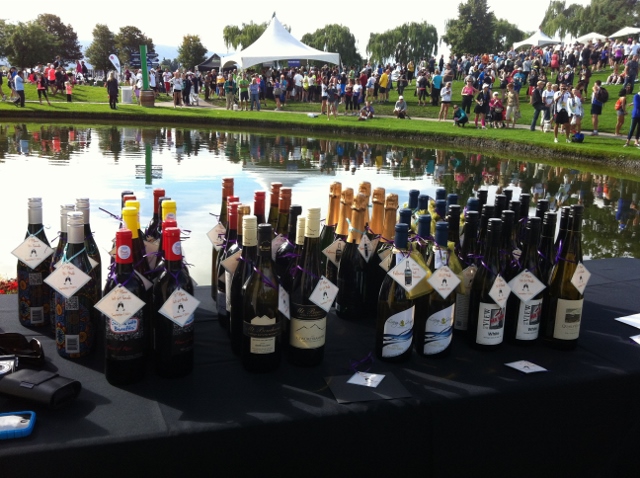 Wine & Music Festival
Presented by Alaska Airlines the trademark post-race Wine and Music Festival gets underway along the waterfront of Okanagan Lake! Many fabulous wineries will be pouring in the park, adjacent to the finish line and the beach area. The awards ceremony starts at 10:30am in the amphitheater and exhibitors will be selling and sampling merchandise, food and other items. The band starts at 9:30am.
The festival is open to spectators and guests but each individual is required to wear a wristband to enter festival area. We encourage runners to redeem their wristbands at the Expo or at the Start Line. You may also redeem your wristband at the Wine Glass Tent, the day of the festival.
Runners may pre-purchase wine glasses for guests wishing to take part in the wine tasting, during registration (or later through Race Extras). Up to 3 additional wine glasses may be purchased for guests. A stub on your race bib will indicate how many wine glasses you have purchased (so please do not lose your race bib or stub).
Wine Tasting Fee: $30 (includes glass)
Race Expo
The Fresh Air Expo is where runners:
Pick up race packet, personalized bib, timing chip, and technical race shirt*
Meet exhibitors and race sponsors
Shop for exclusive Wine Country Half Marathon apparel and gifts at our Harvest Boutique
Learn about the course and developing a race day strategy at the Race Orientation Seminar
Attend other inspiring seminars and discussions
*TWO forms of runner Photo ID are required to pick up your wrist band for the tastings and beer at the Wine and Music Festival. The drinking age is 19. You are also required to present an ID when picking up your race bib and packet. You may designate another person to pick up your race packet but a copy of YOUR photo ID will be required.
Seminars:
An Insider's Guide to the Kelowna Wine Country Half Marathon @ 2pm
Presented by Race Director Matt Dockstader is a must for participants to this race. Learn about the course, the best way to prepare for race morning, and how to enjoy the post race Wine and Music Festival to it's fullest.
Other Special Activities
Welcome Reception at Quails' Gate Winery – 5:30 to 7:30 pm, Friday, September 4. For a fee of $45 USD, join the kick off to race weekend. The Race Director and Announcer will extend an official welcome and provide course highlights. Quails' Gate, where the Stewart family have developed their farm gate winery to a leading family-owned and operated winery, is one of Canada's top agricultural tourism destinations and a perfect setting to get the race off on the right foot.
Runners Pre-Race Dinner – 6 to 8 pm, Saturday, September 5. Cost $65 USD. Dine and mingle with Destination Races' Race Director and Announcer as well as fellow runners including Elite Runners and other VIPs during this festive evening! Fuel up with a delicious meal of proteins, salads, gourmet pastas, fabulous dessert and signature varietals of Kelowna Wine Country.
Post-Race Finisher's Celebration at The Vibrant Vine – 2 to 5 pm, Sunday, September 6. Cost $40 USD. In the signature 3-D tasting room with vibrant artwork and energy at Vibrant Vine, celebrate your accomplishment and unwind with friends, family and fellow runners.
Distinctly Kelowna Winery Tour – 1:30 to 6 pm, Sunday, September 6. Cost of $100 USD includes all tasting fees, transportation, Tour Guide and light appetizers. Opt for an opportunity to sip through some of the Okanagan's best wineries while enjoying amazing views and revisiting portions of the race course.
Numbers are limited so register soon! For full details and to register: http://destinationraces.com/runbc/
As for me, this year I'm cheating and heading straight to the wine tasting without doing the run. I'll be cheering on the runners and celebrating their victory. See you there!