Limited Edition Mariner's Star French Oven Arrives in Canada in time for Father's Day
Le Creuset is pleased to introduce as part of its Architectural Series, a limited edition French Oven – the Mariner's Star. A striking addition to any kitchen, only 1,925 individually numbered pieces, to commemorate the year that Le Creuset was founded in France, are available worldwide with only 50 in Canada.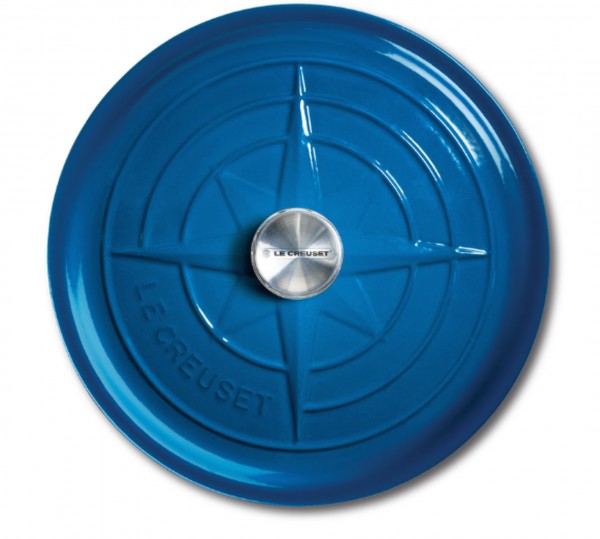 Since 1925, Le Creuset's original, unmistakable cast iron cookware has reflected a commitment to blending art and function. With this first edition of the Architecture & Design series, the Mariner's Star continues this tradition of a passion for inspiring design – featuring a distinctive raised pattern of a sailor's compass rose, used for centuries to navigate the winds that blow along the Mediterranean coast.
Fashioned in the brand's eye-catching Marseille colour, the Mariner's Star Oven has a nautical-inspired lid echoing the French Mediterranean coastal city of the same name. The northwest point of the star represents the mistral wind that blows through the port of Marseille. Each year, Marseille residents gather for the Fête du Vent, a festival that celebrates this famous mistral wind.
This three dimensional work of art was inspired by classic architectural forms – traditional columns, Greek keys and quatrefoils were combined with the spirit of Le Creuset's heritage, using the signature French Oven as its canvas. "This is a true once in a lifetime product that carries on the Le Creuset tradition of lasting and beautiful craftsmanship," says Raffi Kouyoumdjian, Managing Director for Le Creuset Canada. "The team of Le Creuset's artisans truly created a masterpiece for generations to enjoy at their family dinner tables".
For almost a hundred years, Le Creuset's original, unmistakable cast iron cookware has been setting the standard for stylish, long-lasting performance. The Le Creuset Limited Edition Mariner's Star (MSRP $450) is available at Le Creuset Boutiques and select fine kitchen stores across the country. Visit 
www.lecreuset.ca 
for more details.
About Le Creuset: 
Le Creuset represents a tradition of lasting, authentic design. Since 1925, the iconic brand has inspired generations with premium products that epitomize enduring quality, classic aesthetics and rigorous craftsmanship. In kitchens around the world, Le Creuset isn't just a way to cook; it's a lifestyle choice — a way to savour a genuine passion for fine ingredients and premium tools. Today, Le Creuset is the most sought-after cookware product in Canada amongst both professional chefs and home cooks alike. 
LeCreuset.ca