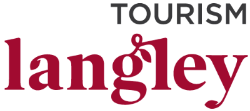 Treat Dad and Support Local with the "Langley Fresh" Father's Day Gift Box
Tourism Langley's specially curated collection features premium products made in the Township of Langley
Tourism Langley proudly presents the Langley Fresh Father's Day Gift Box. Thoughtfully designed for dads everywhere, this attractively packaged collection boasts exceptional culinary products made by small businesses in Langley.
"We're all looking for something a little 'outside the box' to show our appreciation for Dad on Father's Day," says Erinn Kredba, Executive Director at Tourism Langley. "The Langley Fresh Father's Day Gift Box isn't just a unique gift idea that the dad or father figure in your life will love. It's also a chance to support local independent businesses and discover the incredible products they're making right nearby."
Each gift box is only $60 (tax included), and $5 from every box goes to the Langley Food Bank, which helps hundreds of local families access nutritious food every week.
The Langley Fresh Father's Day Gift Box features the following Dad-approved products:
• JD Farms Louisiana Hot Sauce & Gobblin' Good Turkey Rub
JD Farms, a family-run producer of specialty turkeys, created these two kitchen must-haves to bring the most out of any turkey dish. Louisiana Hot Sauce – a fan favourite – adds just the right amount of heat, while Gobblin' Good Turkey Rub ensures incredible flavour and perfectly crispy skin.
• Mangia e Scappa Tre Colore Cavatelli Pasta & Tomato Sauce
Also, family-owned, this beloved bakery, café and trattoria is renowned for authentically prepared meals and products (their chefs are all from Italy!) Combine this fresh house-made pasta and sauce, top it with pecorino or Parmigiano, and you've got a knockout meal in less than 10 minutes!
• THE BOG Riverside Cranberry Farm Hot Cranberry Pepper Jelly
For more than a decade, the Dewit family has been producing delectable cranberries and cranberry products on their 35-acre farm. This Hot Cranberry Pepper Jelly combines the sweet tang of cranberry with jalapeño and habanero peppers — the perfect addition to a charcuterie board or party tray.
• Tourism Langley 32oz Growler & Growler Fill Gift Card
Any craft beer lover will be proud to tout this sturdy and attractive growler. It comes with a $10 gift card, which can be redeemed at one of the Township of Langley's acclaimed breweries.
Enhance your gift box with an additional $25 or $50 gift card from one of the Township of Langley Golf Courses, or stick to all things food with a $25 or $50 gift card for the popular Chew on This Tasty Tours.
Order your Langley Fresh Father's Day Gift Box anytime at tourismlangley.square.site.
Pick-up is from Monday, June 14, to Friday, June 19 (9am – 5pm daily) at Tourism Langley: #220 – 5835 216th Street.
Media release and image provided by Morgan Sommerville, Serena PR.