Vancouver-Based Bitters Company Leads All-Star Bartending Team to Annual Festival in New Orleans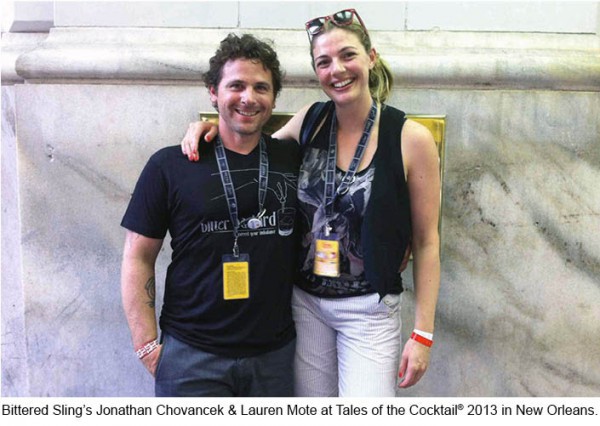 Bittered Sling Extracts will soon add a dash of excitement and retro flair to the Big Easy when the Vancouver-based boutique bitters company travels to the 2014 edition of the annual Tales of the Cocktail® extravaganza in New Orleans, LA (July 16 to 20, 2014).
The world's premier cocktail festival, Tales of the Cocktail® brings together the industry's most influential bartenders and spirit lovers from around the globe to share, learn and indulge in cocktail knowledge and culture through educational seminars, tasting rooms, competitions and more.
On 
Friday, July 18 from 10:30 a.m. to 12:30 p.m.
 in Royal Ballrooms C and D of the Hotel Monteleone on 214 Royal Street, Bittered Sling creators and co-proprietors 
Lauren Mote
 and 
Jonathan Chovancek
 will pop their collars, put on platform shoes and spin the mirrorball as they shake up inspired twists on 1970s cocktails for the 
"
Disco Inferno — Saloon on the Move
" 
tasting room event, co-sponsored by William Grant & Sons.
Joining acclaimed mixologist/bartender Mote and celebrated chef Chovancek for the event is an all-star team of cocktail-slinging talent, including Diageo World Class Champion Canada 2014 
Grant Sceney 
(Fairmont Pacific Rim, Vancouver), Auchentoshan Regional Champion Canada 2014 
Evelyn Chick 
(Blue Water Cafe + Raw Bar, Vancouver), Pourmasters Regional Champion B.C. 2013 
Robyn Gray 
(Reflections Bar at the Hotel Georgia and Mamie Taylors, Vancouver), Diageo World Class finalist Canada 2014 
Robin Goodfellow 
(Bar Isabel and Savile Row, Toronto) and famed mixologist and cocktail consultant 
Charlotte Voisey
 (William Grant & Sons, New York).
Throughout Tales of the Cocktail®, Bittered Sling's popular line of high-quality, small-batch bitters and extracts will also be available for purchase at The Bitters Market in the lobby of the Hotel Monteleone — last year, their popular Gift Pack was the Market's best seller. Mote and Chovancek — regular exhibitors, panelists and speakers at Tales of the Cocktail® — will also be hosting 
"Shots of Inspiration"
 tasting events from 
1 to 2 p.m.

on Weds., July 16, 

Thurs., July 17

, 

Sat., July 19

 and 

Sun., July 20
.
The Bittered Sling brand is no stranger to cocktail aficionados south of the 49th parallel. Earlier this summer, a number of the company's flavours garnered critical acclaim in the Beverage Tasting Institute's 2014 International Review of Spirits, billed as America's oldest and most influential spirits competition. Bittered Sling's 
Cascade Celery
, 
Malagasy Chocolate 
and 
Kensington Dry Aromatic
 selections were awarded gold medals and "exceptional" classifications by the judging panel, while two more members of its select family of flavours — 
Grapefruit & Hops
 and 
Plum & Rootbeer 
— scored silver and were classified as "highly recommended".
---
About Bittered Sling Extracts:
Bittered Sling celebrates the collaboration of mixologist/sommelier Lauren Mote and chef Jonathan Chovancek, who together bring a combined 30 years of professional experience, knowledge and innovation to the Canadian food and beverage industry. Produced exclusively in B.C., their line of high-quality, small-batch cocktail bitters and food extracts incorporate homegrown fruit from the Okanagan, organic wild cascade hops harvested in the interior and cacao beans sourced from Vancouver's East Van Roasters. Originally marketed as a medicinal tonic, bitters are a concentration of select natural herbs, fruits and spices and are an indispensable tool of any bartender as well as a flavouring agent for cocktail and culinary creations both savoury and sweet.
For more information about Bittered Sling and where you can find them in a growing number of restaurants and bars and retail locations across North America, visit bitteredsling.com, 'like' BitteredSling on Facebook and follow @Bittered_Sling on Twitter and Instagram.