MAKING SPIRITS BRIGHT: BITTERED SLING BRINGS ITS SPECIAL-EDITION TALES OF THE COCKTAIL TRAVEL PACK NORTH OF THE BORDER
Exclusive Gift Pack Includes Four Custom Bitters Inspired by Tales of the Cocktail Tour Stops

Just in time for holiday gifting, Bittered Sling Bitters is following the successful U.S. launch of its limited-edition Tales of the Cocktail Travel Pack by bringing the exclusive collection of bitters to select retailers across Canada.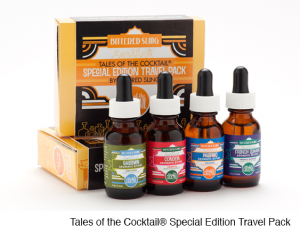 The result of a collaboration between Bittered Sling and Tales of the Cocktail — the world's premier cocktail festival held annually in New Orleans, LA — the Travel Pack features four custom-designed flavours inspired by the festival's home city and the three 'Tales on Tour' cities where Bittered Sling has helped build its celebrated brand of small-batch, artisanal bitters.
The Tales of the Cocktail Travel Pack contains the following four 25-mL aromatic bitters:
• Gastown: Inspired by the inaugural year of Tales of the Cocktail on Tour in Vancouver in 2011 and '12, this flavour incorporates quintessentially Pacific Northwest flavours like celery, chamomile, green tea and jasmine and reflects alpine herbaceous qualities and a diverse spice profile.
• Palermo: Boasting a smoky blend of cacao beans, yerba mate, black pepper and rich fruit, this bitters was inspired by one of the most historic neighbourhoods in Buenos Aires, site of Tales of the Cocktail on Tour 2013 and '14.
• Condesa: Celebrating the site of the 2015 and '16 Tales of the Cocktail on Tour stops in Mexico City, the Condesa Bitters were crafted from indigenous Mexican spices and ingredients such as aromatic smoked chilies and epazote and are rich in terroir, complexity and flavour.
• French Quarter: Paying homage to the one-of-a-kind flavours of New Orleans — the permanent home of Tales of the Cocktail — these Creole-inspired bitters blend anise, lavender and cherry with American oak and chicory in a true celebration of the spirit of the Big Easy.
"We're thrilled to bring these unique bitters north of the border for the first time," says Bittered Sling Bitters co-proprietor and internationally acclaimed bartender Lauren Mote, who teamed with co-proprietor and celebrated chef Jonathan Chovancek to custom design each flavour. "These bitters are infused with the authentic flavour and spirit of each Tales on Tour city, which we've come to know and love."
The limited-edition Tales of the Cocktail Travel Pack is now available for $49.95 (MSRP) on shelves at the following select retailers across Canada: Legacy Liquor Store and UVA Wine & Cocktail Bar in Vancouver, The Silk Road Spice Merchant in Calgary and Edmonton, Willow Park Wine & Spirits in Calgary, BYOB Cocktail Emporium in Toronto, and to be shipped across Canada via The Crafty Bartender in Ontario.
Also available at retailers across Canada is Bittered Sling's Gift Pack 2.0, which contains six 25-mL bottles of the company's most popular and award-winning bitters, including Kensington Dry Aromatic, Malagasy Chocolate, Grapefruit & Hops, Plum & Rootbeer, Orange & Juniper and Moondog.
"Working with Tales of the Cocktail on our first co-branded product was a natural fit," says Chovancek. "Not only is Tales the world's leading cocktail festival, but they have been immensely supportive of Bittered Sling since day one."
ABOUT BITTERED SLING BITTERS | Bittered Sling celebrates the collaboration of acclaimed bartender/sommelier Lauren Mote and celebrated chef Jonathan Chovancek, who together bring a combined 30 years of professional experience, knowledge and innovation to the Canadian food and beverage industry. Their award-winning line of high-quality, small-batch cocktail bitters provides palate, plate and potion alike with a subtle-yet-exciting fusion of homegrown ingredients and flavours. Bittered Sling products are available at a growing number of restaurants, bars and retail locations across North America and beyond. www.bitteredsling.com
ABOUT TALES OF THE COCKTAIL® | Founded in 2002, Tales of the Cocktail® has grown from a small gathering of cocktail lovers into the world's premier cocktail festival. Each year the international spirits industry is welcomed to New Orleans for a week of seminars, tastings, networking events and much more. With 200+ annual events developed specifically for bartenders, distillers and other spirits professionals, Tales of the Cocktail® is the industry's annual meeting place for the exchange of new ideas, products and techniques. Tales of the Cocktail® also produces a number of other events and programs such as Tales of the Cocktail® on Tour, Tales 365®, Tales of the Toddy® and New Orleans Daiquiri Month, all to further the mission of supporting and growing the international cocktail community. www.talesofthecocktail.com