If you were a fan of the old Italian Kitchen on Alberni Street, and who wasn't, you will love, love, love The Italian Kitchen now located on Burrard Street between Robson and Smithe Streets.
White tablecloths and elegant table settings pair perfectly with the tasteful Mediterranean decor. Anchored by an impressive bar to the right as you enter through the glass doors to the hubbub that is the norm at this new location. A spacious multi tiered dining area that allows for private functions and still maintains a subdued and quiet atmosphere in the main dining room where walls of glass give a pleasant view of the street beyond.
Although it is mid winter the outdoor patio in front of the restaurant is protected from the wind and with ample overheard heaters is a comfortable option when the restaurant is very busy. This is bound to be a popular spot during the spring, summer and fall seasons. Set back far enough from the busy street the furnishings are more than comfortable and afford a view of the bustling sidewalk just steps away.
As a media person you never really know what to expect when you have been invited to experience and review a newly opened restaurant but based on the way our lunch played out I can definitely assure that anyone who ventures here will experience the extraordinary. Staff are attentive without being overly so. Knowledgeable servers enhance your dining experience and in our case, Marcel was totally in control and we acquiesced to his professional judgement.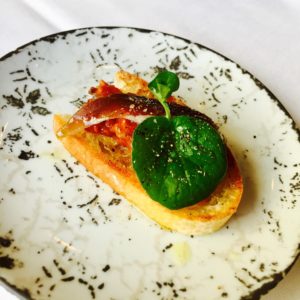 Menus were not needed as Marcel our server and Chefs Ryan Gauthier and Giovanni Trigona took the lead and brought us dish after dish of fabulous Italian cuisine. The selections were not limited to the lunch menu which gave us an opportunity to sample some of the dishes that are available only at dinner.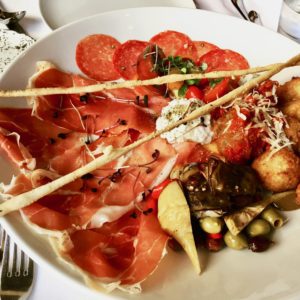 We started with an amuse bouche of Bruschetta topped with duck prosciutto followed by the Antipasto Platter which was accompanied by house baked rustic bread and focaccia it was a treat to the eye. Proscuitto is sliced mere moments before it appears on the platter, fresh juicy tomatoes and creamy burrata, salame and two generous meatballs, arancini, baccalà mantecato, and an assortment of olives, peppers and artichokes all topped off with crispy breadsticks.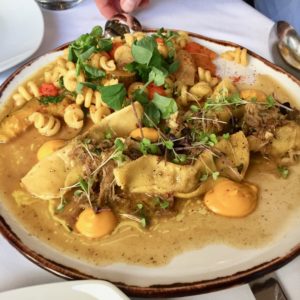 Of course, it wouldn't be a trip to Italy gastronomic heaven without the pasta. Handcrafted with passion by Chef Giovanni it is absolute perfection. The Art of Sharing Pasta Platter was a combination of Torchio alle Verdure and Fennel Pollen Casoncelli. Another impressive experience with roasted squash, sunchokes and kale bell pepper succo complimenting the Torchio and Casoncelli featuring a generous portion of duck confit.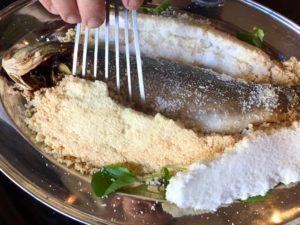 Our next course was the Pesce and totally unexpected. Imagine our delight when Chef Ryan appeared at our table with the Salt Crusted Bass for Two. As close as you will get to this most popular European dish that is baked whole then delicately removed from the salt crust it was baked in. Next, it's whisked away only to return as a deboned filet topping a layer of sweet pepper Italian salsa. The presentation makes this a very impressive dish that could easily serve up to four when accompanied by the pasta platter. The bass was moist and flavourful and a must try for any seafood lover.
Somehow we managed to save just enough room for Dessert. With a choice of a selection of rich, Italian desserts or something "lemony" we opted for what turned out to be a decadent Lemon Crostata a flaky pie pastry, topped with fresh lemon cream, and raspberry sauce on the side. Heavenly.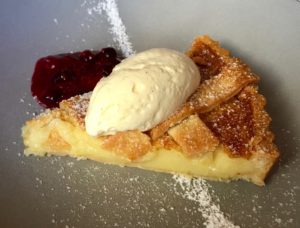 The Italian Kitchen has an impressive wine list and we allowed our server Marcel to choose selections by the glass that paired beautifully with all the dishes.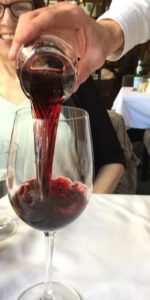 The Italian Kitchen does not disappoint, in fact, at a time when other Italians are going for more casual, family fare this new location is decidedly fancier than their previous location. I for one am pleased by the transformation as the Alberni location was getting a little long in the tooth. From my observations everyone has upped their game, from the serving staff, kitchen and chefs, all under the watchful ever diligent eye of GM Jennalee Norwood who presides over this more upscale room in her usual competent and efficient manner. I get the impression that no detail is too small not to catch her notice and it shows. Lest you think The Italian Kitchen is stuffy or pretentious fear not it is equally welcoming as it is warm and comfortable. Exactly the kind of restaurant that brings me back and makes me feel welcome.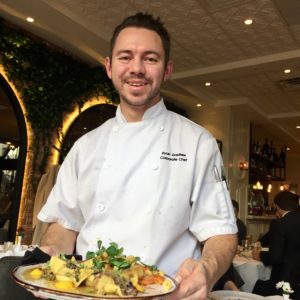 Reservations highly recommended for this new, yet familiar Vancouver gem.
860 Burrard Street
Vancouver, BC, V6Z 1X9
Open 7 Days a Week | 11:30am – 11:00pm
HOLIDAY HOURS
December 23: Open
December 24: Closed
December 25: Closed
December 26: 3:00pm – Late
December 27-31: Open
January 1: Closed
January 2: 3:00pm – Late
Italian Kitchen By Glowbal Restaurant Group
At Italian Kitchen, Guests can expect to experience a more intimate and rustic milieu, surrounded by Tuscan-style décor with exposed brick walls, lush foliage, and crisp white linen. Italian Kitchen exudes a feeling of elegant and timeless comfort.
This 140 seat venue is the perfect setting for lunch or dinner or a great meeting place for that casual greeting while seated at either the antipasto bar or main bar area. Italian Kitchen offers a 60 seat main dining area, along with a 30 seat semi-private, and 35 seat private dining area for any group functions. A year round 35 seat heated outdoor patio graces you at the main entrance, perfect for those who prefer the al fresco dining experience.Let the new Italian Kitchen prove to be the next best memorable dining experience.
On the menu is a range of rich and fresh multi-regional Italian favourites, with highlights that include our famous Shared Pasta Platter, featuring; Truf e Spaghetti & Meatballs, Torchio alle Verdure, and Casoncelli, our Marinated Sable sh with smoked pancetta, bean ragout, cauliflower purée, and lemon purée and Italian Kitchen's signature Antipasto Platter containing peperonata, burrata, caprese, prosciutto, meatballs, smoked scamorza arancini, eggplant involtini, baccalà mantecato, and shaved salame. All complemented by a handpicked wine cellar, featuring exceptional Italian vintages plus a classically inspired cocktail list.
"OLD WORLD CHARM. NEW WORLD VIBE. Simple ingredients creating the ultimate in fresh and classic Italian dishes. Take The Art of Sharing to a new level with us today."
Private Events
With both semi-private and private dining options, Italian Kitchen is the perfect location in downtown Vancouver to host your next event. Email info@nulltheitaliankitchen.ca for details.
The Italian Kitchen will be one of the featured restaurants for Dine Out Vancouver Festival in 2018.