The Art Affair II Boasts Local Talent At The Vancouver Club
On July 11,The Art Affair hosted an exceptional evening of fine art, cocktails and live music at The Vancouver Club's Grand Ballroom. Art lovers and enthusiasts were invited to enjoy an evening at one of Vancouver's most exquisite venues to connect with local artists while viewing their fine creations.
The Art Affair II featured 17 local artists showcasing their talent in different mediums including photography, abstract art, oils, watercolours, acrylics and mixed media. Each of the artists have their own distinct stories and experiences from where they draw inspiration. Despite their differences, they have one common denominator, which is a city rich in natural beauty that binds them all together.
"My vision is to bring local artists together with art lovers, in a way that is entertaining, sociable and special," said Annie Frind, founder of The Art Affair and Just Do 1 Thing. "Art has always been a passion of mine and in creating The Art Affair, I have found a way to share the talent that abounds in our own city with people who appreciate great art."
A delightful evening of fine art and cocktails was accompanied by live music provided by five local artists: Chloe Anne Lloyd, Laura Reznek, Dust Rownsend, Sam Romero and Chris Sol.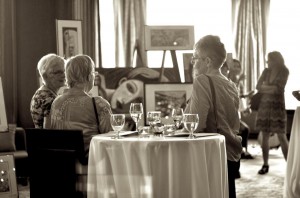 The art pieces displayed at The Art Affair II were sold from $25- $4,000. With so many artists, there was enough variety and price range that allowed everyone a chance to find their own treasure.
The official line up for The Art Affair II:
Leah Chatzoglou– Acrylic on canvas and mixed media
Carmel Clare – Acrylic on canvas
Jackie Conradi-Robertson – Acrylic on canvas
Chrissy Cottrell – Acrylic on canvas
Annie Frind – Watercolour and acrylics
Bill Higginson – Oils and acrylics
Ann Hilton – Watercolour
Asiza Demetrian Ilicic – Acrylic on canvas
Jace Kim – Acrylic on canvas
Analissa Longoria – Photography
Daisy Davies – Oil paints
Nicole Quinn – Plaster and paint on panels and charcoal and paint on panels
Nikhil Raniga – Photography
Baljit Rayat – Acrylic on canvas and mixed media
Olga Rybalko – Acrylic on canvas
Ned Tobin – Acrylic paint, tar, charcoal, pastel, spray paint, and graphite
Ilya Viryachev – Acrylic on canvas
The next Art Affair will be taking place at The Vancouver Club six months from now to showcase more local talent in the arts. For more information please visit: http://on.fb.me/TVb2r5
About The Art Affair
The Art Affair is a bi-annual art event that brings local artists with art lovers together in a decadent environment that showcases Vancouver talent. The focus of the event is to provide a platform for art lovers to get acquainted with local artists in a personable manner in support for the arts.