The Highly Anticipated Wallflower Gin is Available Now
It's the quiet ones that often take you by surprise. Shy and demure while awaiting the opportune moment for its official debut, Wallflower Gin by Odd Society Spirits is now the belle of the ball and is available on shelves at many of Vancouver's finest cocktail bars and private liquor stores.
Almost all of the world's gin is made with a neutral grain spirit, but distillers Gordon Glanz and Joshua Beach wanted to create a standalone gin crafted from the grain up. Wallflower Gin is made from 100% British Columbia grown barley and a distinctive combination of west coast and international botanicals. It is distilled in small batches in a unique copper-pot still that combines two great gin-making traditions: maceration and vapour extraction. The result is a balanced spirit that is luscious and aromatic yet light and refreshing.
"Because we make our gin from scratch, we have a greater understanding of each ingredient," says distiller Joshua Beach. "Making this gin took a great amount of research, patience and care as we wanted to distinguish the delicate nuances of each floral component."
With intense notes of rose, elderflower and lavender as well as subtle undertones of cranberry, juniper and orange peel, Wallflower Gin can be sipped straight or enjoyed in an impeccably crafted cocktail. Both gin aficionados and novices alike can start experimenting with their own 750ml bottle of Odd Society Spirits Wallflower Gin available at Odd Society Spirits' distillery and cocktail lounge, and select Vancouver private liquor stores, restaurants, bars and farmers markets .
About Odd Society Spirits:
Odd Society Spirits is a small-batch B.C. Craft-Certified distillery located in the heart of East Vancouver. Dedicated to combining old-world distilling traditions with new-world ingredients and ingenuity, Odd Society Spirits has created a family of spirits that entice and intrigue. Open Thursday through Sunday, Odd Society Spirits distillery and cocktail lounge is located at 1725 Powell St.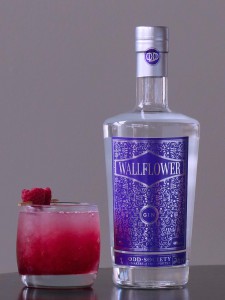 Recipe for Odd Society Spirits BC Bramble:
The Bramble was first created in 1984 by Dick Bradsell at Fred's Club in London.  Odd Society Spirits barman Matt Cooke has replaced the Crème de Mure with Odd Society Spirits Crème de Cassis to give this classic cocktail a local twist.
1.5 oz (45 ml) Wallflower Gin
0.75 oz (22.5 ml) fresh lime juice
Splash (5 ml) simple syrup
0.5 oz (15 ml) Crème de Cassis
Combine gin, lime and simple syrup in a shaker and shake hard with ice. Strain into a rocks glass filled with crushed ice. Top with Crème de Cassis and garnish with fresh raspberries.
Odd Society Spirits:

Website: oddsocietyspirits.com 
Facebook: facebook.com/OddSocietySpirits 
Twitter: @oddspirits 
Instagram: @oddsocietyspirits