Nestled along the northeastern coast of Italy is the region of Veneto, famous for many things other than its scenic capital of Venice.  In the hills 50 km north of the capital are the best wine growing areas.  This is land of gently sloping vineyard covered hills, mountains and valleys.  While each valley has its own features, there is a certain commonality to the climate, and the wines, of this region. The climate is moderate sub continental, being located between the Alps and the sea.  This is just the right environment for the grapes used to produce two of Italy's best-known wines – Prosecco and Valpolicella.
Earlier this spring, I attended "Flavours of Veneto", sponsored by the Italian Chamber of Commerce in Canada.  They hosted a delegation of wine producers from the Veneto Region of Italy and held a product knowledge workshop to highlight the quality of the wines coming from Valpolicella and Conegliano-Valdobbiadene wine production areas, located just east of Lake Garda.
We began with a formal seminar led by Master of Wine, Barbara Phillips, who is the BCLDB portfolio manager for European wines.  She introduced us to the Prosecco DOCG region, as we tasted a flight of sparkling wines.We tasted ten samples ranging from brut to extra dry and dry. All were well balanced, had good mousse and were clean on the palate with yeasty rather than fruity flavours.
The Italians typically use the Charmat, or tank, method to make their sparkling wines.  This means the secondary fermentation happens in a large stainless steel tank rather than in the bottle, which is the traditional champagne method.  This method is less time consuming, less expensive and perfectly fine for wines meant to be drunk when they are young and fresh.
Prosecco is actually a region, rather than a varietal.  The area is divided into two regions; the larger DoC, which encompasses the plains, and the smaller DoCG mainly comprised of the slopes.  Since 2009 the Prosecco name has been protected and is specific to a limited geographic area of production.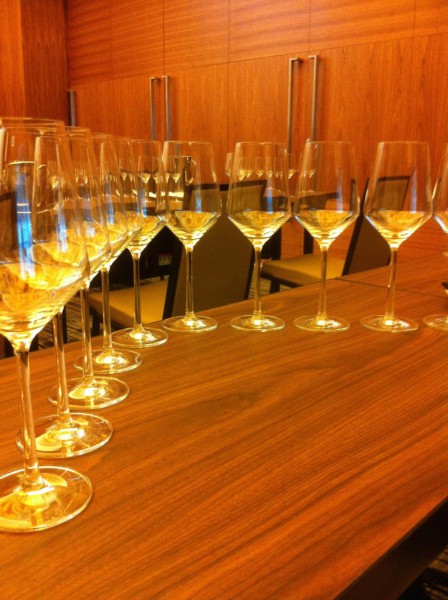 Certain top Prosecco DOCG wines carry the additional designations Cartizze or Rive. These are the most expensive Prosecco wines. Cartizze means the equivalent of 'Grand Cru' and is reserved for the steepest hillside sites. Just 250 acres (out of a total of 12,350 DOCG designated acres) have Cartizze status. The term Rive refers to 43 specific recognized single vineyard sites. Wines designated Rive must list the name of the village as well as Rive on the label. They must also be vintage dated.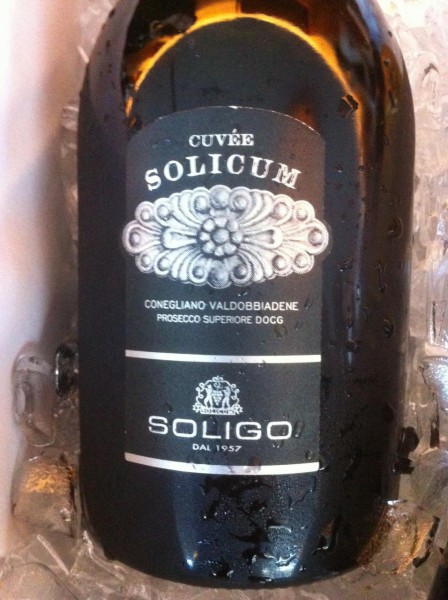 Prosecco is made from a varietal called Glera, which is a vigorous vine with good yields, somewhat neutral flavours and often shows a slight bitterness, making it ideal for sparkling.  There are many clones of Glera.  The yeast used is also very important. The classic Prosecco flavours come from the combination of yeast and cool fermentation. The categories of Prosecco wines are as follows.  Brut, is the driest with 12 grams per litre of residual sugar, Extra Dry wines range from 12 to 17 grams per litre and Dry (confusing isn't it?) can have between 17 – 32 grams of residual sugar.
Another aspect that sets Prosecco apart is that it is made several times each year (most wines have one fermentation). Winemakers store the cooled juice until it is needed.  This gives the wines a freshly fermented taste.  There are some bottle-fermented wines, but most are not.  Most wine makers use cultured yeasts, opposed to wild indigenous ones.
After a little palate cleanser of bruschetta, cheese and some fresh fruit, it was time to tackle the reds.  Once again, Barbara took us through the flight, 'nosing', tasting and commenting on each of the ten wines from the Valpolicella DOC.  The three quality levels of Valpolicella are DoC, Classica and Valpantena.  The grapes that make up this familiar red wine include: Corvina, Corvinone and Rondinella with a little Molinara.  Thecommon characteristics included ruby red colour with rose, spice, red fruit and cherry on the nose and palate.  The first four were all Valpolicella DoC Superiore and included vintages from 2009 to 2011.
The next six wines were Valpolicella Ripasso.  Ripasso wines are made by refermenting Valpolicella Classico on the skins of recito (sweet dessert wine) and Amarone wines.  This extended maceration results in wines with more structure, body and flavour.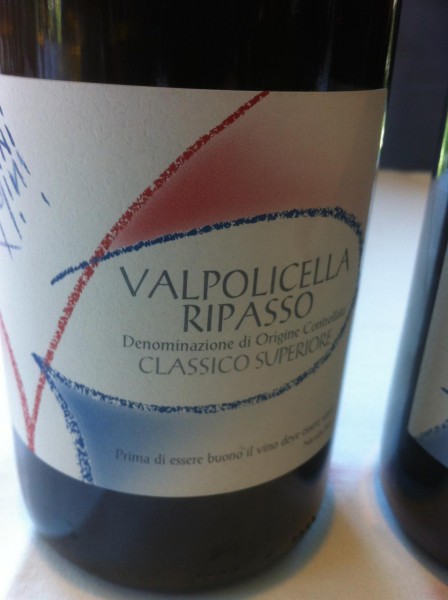 Finally, we tasted five Amarone wines.  These wines ranged from 15.5 % to 16.5% alcohol.  Grapes intended for Amarone are picked as late as possible so that they contain higher levels of sugar.  Unlike other fruit, grapes stop ripening when picked.  After harvest, the grape clusters are placed on drying racks and stored for up to four months as they shrivel to raisins. The resulting juice is very concentrated, yet still has good acid balance.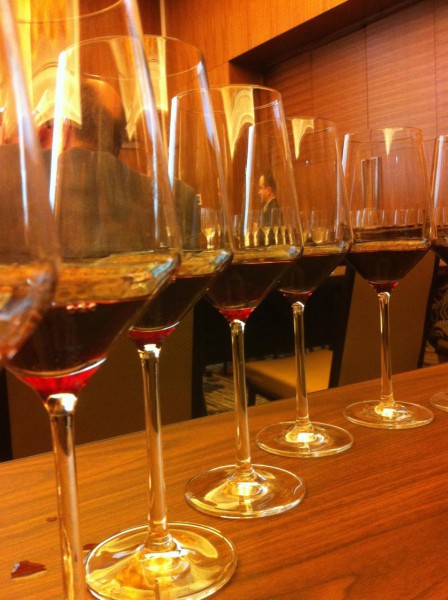 Amarone wines are well balanced and round in the mouth, with complex aromas and flavours of violets, red fruit, chocolate, burnt caramel and port-like character, with a medium-long finish.  Serve with hearty dishes such as roasts, stews, game and mature cheeses.
Then it was time for lunch; a salad of Italian greens, braised short ribs with polenta and risotto.  It was the perfect accompaniment to the morning's wines.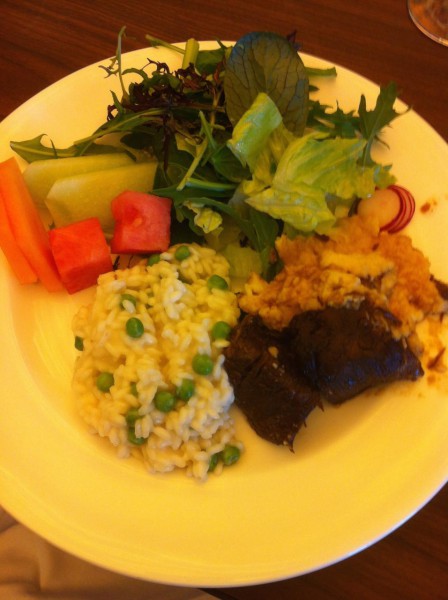 The afternoon was devoted to a trade tasting with many producers hoping to find agents to sell their products in Canada.  I began with Prosecco wines that we hadn't tasted in the morning session.  As they are not currently available on BCLDB shelves, there seems to be little point in describing them one by one.  While there were certainly differences between producers, they also had definite similarities.  Prosecco Superiore tends to be light in alcohol ranging between 11 and 11.5%.  Acid levels are about half that of champagne with some floral, citrus and mineral notes.
I don't remember tasting Italian wines as good as these before.  I think I need to buy some and pay closer attention.  I was very impressed with this very well organized event.  I especially liked the focus on one region.