Bard on the Beach Shakespeare Festival has wrapped up a record-breaking 25th Anniversary Season, generating critical and popular acclaim and setting an all-time attendance record. Almost 101,000 patrons enjoyed the Festival's silver-anniversary lineup of plays, concerts and special events, a major increase from the previous record of 91,000 in 2009. There were rave reviews from the media, Bard devotees and newcomers alike for Dean Paul Gibson's joyfully high-spirited A Midsummer Night's Dream, a brilliant production of The Tempest directed by Meg Roe, Michael Shamata's innovative staging of the Shakespearean-themed drama Equivocation (written by Bill Cain), and a bold, fast-paced version of Shakespeare's Cymbeline, directed by Anita Rochon.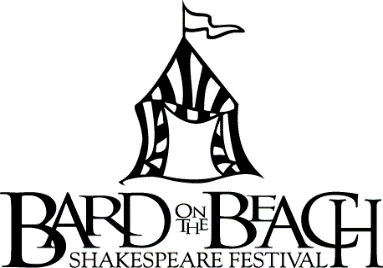 The 25th season's colourful menu of special events was also a hit. Bard's redesigned Bard-B-Q & Fireworks nights were virtually sold out, with many patrons praising the earlier start time and added on-site entertainment. The Vancouver Symphony Orchestra performed at Bard to a sold-out Mainstage house. Opera & Arias concerts, with UBC's Opera Ensemble and members of Vancouver Opera Orchestra, featured Shakespeare-inspired repertoire and delighted close to 1,500 patrons. Other special events focused on sword-fighting, improv comedy, choral concerts and wine and beer tastings, plus a retrospective evening presented by the Festival's Artistic Director and Founder, Christopher Gaze.
"We are blessed with so many loyal repeat patrons, while also attracting thousands of locals and tourists to Bard for the first time. Together they fill our houses and this year they've given us a remarkable, record-breaking season," says Gaze.
He also praised the Vancouver International Wine Festival, which made Bard its charitable beneficiary in 2012 and was a major financial supporter again this season. He also saluted this past spring's generous contribution from Vancouver arts philanthropists Darlene and Paul Howard. They endowed the Douglas Campbell Theatre tent's stage, now named the Howard Family Stage in honour of their support. Meantime more than 260 volunteers helped Bard contain its costs and fulfill its "accessible and affordable" promise. Collectively they contributed almost 19,000 hours of service, a major increase from 2013. They filled a host of roles at the Vanier Park site, provided administrative assistance, and exercised organizational governance as members of the not-for-profit Festival's Board of Directors.
In 2014, Bard continued its focus on youth access and education. The number of student matinees was increased from the 2013 season, and while BC's school labour dispute meant many students weren't able to see the plays this year, thousands of others experienced Bard's productions at a discounted $18 student price, offered for both matinees and some regular evening performances. Over 10,000 patrons between the ages of 6 and 25 took advantage of the $27 GLOBAL BC Youth Price, an incentive for young people to discover and enjoy Shakespeare. The Young Shakespeareans Workshops (ages 8-18) were filled to capacity, giving hands-on experience in performing Shakespeare to almost 250 young people in sessions led by current and past Bard acting company members. Ten young people attended the workshops through Bard's Education Bursary program and it will be offered again in 2015. This season a new program called Riotous Youth was introduced for 19 to 24-year-olds so they could continue their training in Shakespearean performance. Riotous Youth members assisted with the Young Shakespeareans Workshops and delivered lively pre-show talks in the Bard Village. Full details on Bard's education programs and activities are on the Festival's website.
Bard's 2015 Season Brings Popular Comedy, Epic Tragedy and a World Premiere
In the upcoming season, running from June 4 to September 26, 2015, the BMO Mainstage's opening production will be the hilarious audience favourite, The Comedy of Errors, directed by respected actor/director and Bard Artistic Associate Scott Bellis (Bottom, A Midsummer Night's Dream, 2014). It will alternate with the monumental tragedy King Lear, directed by Theatre Calgary's Artistic Director, Dennis Garnhum (Twelfth Night, 2013). Lear will be a co-production with Theatre Calgary and will feature a mix of British Columbia, Alberta and Ontario actors, including Shaw & Stratford Festival veteran Ben Campbell as King Lear.
In the intimate Douglas Campbell tent, two plays will be staged in repertory. Opening first is a world premiere of a new play based on best-selling author C.C. Humphreys' historical novel Shakespeare's Rebel; the production will be directed by Christopher Gaze. Also on the Campbell tent's Howard Family Stage, a music-filled Jazz Age setting of Love's Labour's Lost will be directed by Daryl Cloran, Artistic Director of Kamloops' Western Canada Theatre.
Updates on Bard on the Beach's 2015 Festival will be posted regularly at bardonthebeach.org. Tickets go on sale in early April through the Bard website or by calling Bard's in-house Box Office at 604-739-0559.