Starting November 8, Bard on the Beach Shakespeare Festival and MEI Events International Inc. will present Shakespeare fans in British Columbia with a unique, all year round opportunity to see ten incredible Shakespeare productions. During fall and winter, fans will get to enjoy the drama, laughter and magic of six wildly popular Shakespeare productions from London's legendary Globe Theatre. In the spring and summer seasons, Shakespeare enthusiasts will experience live plays in the magnificent setting of Vancouver's waterfront Vanier Park, with four enthralling new Bard theatre productions.
The Globe On Screen Canadian series highlight will include a special appearance and Q&A with Bard's Artistic Director, Christopher Gaze, at Landmark Esplanade's screening of The Taming of the Shrew on December 20. This will be the British Columbia screen premiere of the production, which stars double Olivier Award-winner Samantha Spiro.
Other Globe screenings in British Columbia will include all-time Shakespeare classics from its hugely successful 2013 and 2014 seasons. Beginning November 8, 2014, screenings will include Henry V, starring the incredible Jamie Parker; the Broadway hit Twelfth Night, highlighted by Mark Rylance's stunning Tony Award-winning performance – the best performing Globe On Screen production to date. Following The Taming of the Shrew, the series is rounded out with The Tempest, starring double Olivier-winner Roger Allam; Macbeth, featuring Joseph Millson; and A Midsummer Night's Dream, starring Olivier Award-winner Michelle Terry.
The Bard 2015 season, which runs from June 4 – September 26, 2015, will open on the BMO Mainstage with the hilarious audience favourite The Comedy of Errors, alternating with the towering tragedy King Lear, a co-production with Theatre Calgary. In the intimate Douglas Campbell tent, audiences will be treated to the world premiere of a new play based on best-selling author C.C. Humphrey's historical novel Shakespeare's Rebel and directed by Bard Artistic Director Christopher Gaze, along with a music-filled, Jazz Age setting of Love's Labour's Lost.
This unique and exciting partnership brings together two like-minded companies intent on sharing the best Shakespeare performances with Canadian audiences. Shakespeare fans will get to experience the highest quality sound and visual productions at some of Canada's most unique venues, including over 25 Landmark Cinemas across the country – Canada's second largest theatre chain – along with independent cinemas, performing arts centres and colleges and universities. Audiences will delight in the magic of Shakespeare from the world's most famous stage as if they were at the Globe in person. Patrons at Bard on the Beach will be treated to exceptional creativity from some of the finest acting and production talents in the country, and can also enjoy an array of complementary programming including Bard-B-Q & Fireworks events and Vancouver Symphony Orchestra and Opera & Arias concerts in a unique performance space surrounded by mountains, sea and sky.
Thomas Miller, CEO of MEI says, "It is an absolute privilege for MEI to bring these incredible Globe On Screen productions to enthusiastic audiences in BC and across Canada. No longer will fans always have to fly to London to see Shakespeare at the Globe – they can now share the experience in the comfort of their local cinemas."
Throughout the year, Canadian Shakespeare fans will also have the chance to win some fantastic prizes, including tickets to see the Globe screenings and Bard productions.
Watch the Globe On Screen trailer here. Find out more about Globe On Screen and purchase tickets at www.globeonscreen.com
Interviews with representatives from MEI Events International Inc., Globe Theatre, and Bard on the Beach can be arranged by contacting Cynnamon Schreinert at cynnamon@nullhartleypr.com
HENRY V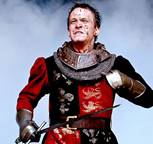 From November 8, 2014
"Bold and enthralling"
The Times
Henry V, Shakespeare's masterpiece of the turbulence of war and the arts of peace, is directed by the Globe's Artistic Director Dominic Dromgoole.  A perennial favourite at the Globe, the play is a profound and compelling exploration of what it means to be English with the persona of the charismatic but conflicted king at its heart. Jamie Parker returns to the Globe after his star turn as Prince Hal in Henry IV Parts 1 & 2 (featured in the Globe on Screen season in 2011) to complete Henry's journey from youth to adulthood.  Jamie also starred in the stage and film versions of Alan Bennett's The History Boys.
TWELFTH NIGHT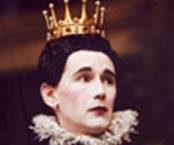 From November 15, 2014
"Remarkable…superb"
The Independent
Audiences will get a chance to see the production the critics described as "sensational…pure comic delight". Mark Rylance, winner of multiple Olivier and Tony Awards, and Stephen Fry star in the production, directed by Tim Carroll. Twelfth Night was one of London theatre's biggest hits of summer 2012, completely selling out all of its performances at the Globe and creating queues around the block in the West End. Critics raved that Mark Rylance's "dazzling high definition performances" lifted the production "into the sublime". Stephen Fry's turn as Malvolio – his first return to the stage in 17 years – won him huge acclaim from critics and audiences and a WhatsOnStage Award for Best Supporting Actor, voted for by 60,000 members of the public. The all-star cast also includes the multi-talented Johnny Flynn, a successful singer-songwriter and a talented actor who was nominated for an Olivier Award for his performance in the smash hit Jerusalem, and Roger Lloyd Pack, who played Barty Crouch in the film Harry Potter and the Goblet of Fire. Twelfth Night is an all-male Globe 'Original Practices' production that aims to replicate as closely as possible the music, costumes, dance and scenery of Shakespeare's time.
THE TAMING OF THE SHREW

From December 20, 2014
"A laugh out loud production"
Time Out
The 2013 season concludes with The Taming of the Shrew. Shakespeare's notorious battle of the sexes gives us one of theatre's great screwball double-acts in the shape of Katherina and Petruchio – a couple hell-bent on confusing and outwitting each other right up to the play's controversial conclusion. Director Toby Frow gives us "a riotous mixture of verbal dexterity and slapstick" in an exhilarating production that delighted audiences at the Globe. Katherina is played by the Olivier Award-winning Samantha Spiro, who returns to the Globe as Lady Macbeth this summer.
THE TEMPEST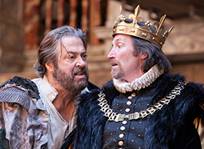 From January 10, 2015
"Spellbinding"
The Telegraph
"Jeremy Herrin's production, with beautiful Jacobean costumes and genuinely enchanting music by Stephen Warbeck, captures all the wonder of this play"
Time Out
Inspired by reports from the first English colonies in the West Indies and imbued with a spirit of magic and the supernatural, The Tempest is Shakespeare's late great masterpiece of forgiveness, generosity and enlightenment. Double Olivier Award-winner and renowned stage and screen actor Roger Allam returns to the Globe as Prospero, Duke of Milan, usurped and exiled by his own brother, who holds sway over an enchanted island. He is comforted by his daughter Miranda, played by Jessie Buckley, and served by his spirit Ariel (Colin Morgan – BBC's Merlin) and his slave Caliban (James Garnon). When Prospero raises a storm to wreck his perfidious brother and his confederates on the island, his long-contemplated revenge at last seems within reach. Described by the Independent as "The funniest and most touching Tempest I can recall", The Tempest also stars Sam Cox as Stephano and Jason Baughan as Antonio, and is directed by Jeremy Herrin.
MACBETH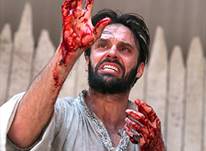 From March 28, 2015
"Marvellous"
The Observer
"One of the warmest productions of Macbeth you'll ever see."
Time Out
Eve Best makes "a cracking directorial debut" (Daily Telegraph), with her envisioning of the Scottish Play. When three witches tell Macbeth, played by Joseph Milson, that he is destined to occupy the throne of Scotland, he and his wife (double Olivier Award-winner, Samantha Spiro) choose to become the instruments of their fate and to kill the first man standing in their path, the virtuous King Duncan (Gawn Grainger). But to maintain his position, Macbeth must keep on killing – first Banquo, played by Lord of the Rings star Billy Boyd, his old comrade-in-arms; then, as the atmosphere of guilt and paranoia thickens, anyone who seems to threaten his tyrant's crown.  From its mesmerising first moments to the last fulfilment of the witches' prophecy, Shakespeare's gripping account of the profoundest engagement with the forces of evil enthrals the imagination.  Macbeth also stars Harry Hepple as Lennox and Finty Williams as Lady Macduff.
A MIDSUMMER NIGHT'S DREAM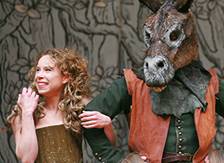 From April 11, 2015
"The Globe at its crowd-pleasing best, a hearty and hilarious night."
Time Out
"A Dream performance"
The Times
Described by critics as 'joyously inventive and touching', A Midsummer's Night Dream, concludes the 2014 cinema season of enchantment. Hermia loves Lysander and Helena loves Demetrius – but Demetrius is supposed to be marrying Hermia… When the Duke of Athens tries to enforce the marriage, the lovers take refuge in the woods and wander into the midst of a dispute between the king and queen of the fairies. Shakespeare put some of his most dazzling dramatic poetry at the service of this teasing, glittering, hilarious and amazingly inventive play, whose seriousness is only fleetingly glimpsed beneath its dreamlike surface. Olivier Award-winner Michelle Terry returns to the Globe as Titania/Hippolyta and stars alongside Fergal McElherron as Quince/First Fairy, Pierce Quigley as Bottom, Huss Garbiya as Starveling/Fairy and John Light as Oberon/Theseus, directed by the Globe's Artistic Director Dominic Dromgoole.
Stills/artwork/trailer can be found on the marketing assets site here:
http://www.aam-locker.com/app/#/globeonscreen/us_canada/
login: info@nullmeigroup.ca
password: meinetwork
About MEI Events International Inc.                                                                                      
MEI presents an array of unique alternative programming to audiences looking for outstanding artistry and creative excellence through our network of independent theatres, performing arts centres and colleges and universities across the country. With a focus on programming in all the major categories of the performing arts – including concerts, theatre, dance, and Canadian independent films, MEI is proud to be the exclusive Canadian distributor for the Royal Opera House Cinema Series and Shakespeare's Globe On Screen series.  Experience unique, emotionally captivating and visually stunning performances on screen now through Canada's Alternative Cinema Network. For more information, visit meigroup.ca
About Bard on the Beach
Bard on the Beach is Western Canada's largest professional Shakespeare festival and its Founder and Artistic Director is Christopher Gaze. It has presented a festival every summer since 1990 in Vanier Park, adjacent to Vancouver's downtown core. Bard's 26th season runs from June 4 – September 26. Productions are staged in repertory in modern theatre tents on the waterfront and play performances run Tuesdays through Sundays. For full details on the Festival and the 2015 season, visit www.bardonthebeach.org
About Arts Alliance
Arts Alliance is the leading producer, financier, distributor and marketer of event cinema worldwide. We offer a one-stop destination for producers of alternative content seeking a global distribution network, and for international distributors and exhibitors requiring world-class arts content for cinema audiences. We have already distributed over 70 event cinema releases to over 10,000 screens in over 70 territories around the globe, engaging fans with the content about which they are most passionate.
In the fast-growing Event Cinema market, the Arts Alliance slate features exciting, multi-dimensional content across all genres:
•LIVE OPERA AND BALLET from The Royal Opera House
•DYNAMIC ART EXHIBITIONS including Matisse from The Tate Modern and MoMA
•THEATRE PRODUCTIONS including Shakespeare's Globe Theatre
•THE BEST ROCK & POP EVENTS including One Direction 'Where We Are', 'Springsteen and I' and many more. For more information, visit: http://www.artsalliancemedia.com/
About Shakespeare's Globe:
∑         Globe Exhibition and Tour is open all year round. For more information visit www.shakespearesglobe.com/exhibition
• Globe on Tour: The Globe's productions tour the UK, Europe and America and the Globe is currently developing its touring schedule, as well as screening productions in cinemas. For more information www.shakespearesglobe.com/theatre/on-tour
• Shakespeare's Globe On Screen: Shakespeare's Globe returns to cinemas next year and features five brand new productions including Duchess of Malfi, Titus Andronicus, Julius Caesar, Antony & Cleopatra, and The Comedy of Errors. Find out more at http://www.GlobeOnScreen.com