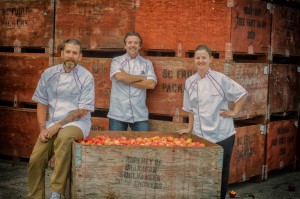 Chef Rod Butters and Audrey Surrao of RauDZ Creative Concepts, multi-award winning restaurant owners and operators, have announced the appointment of Brock Bowes as Executive Chef for RauDZ Regional Table and micro bar • bites in Kelowna, BC.
Bowes comes to RauDZ Creative Concepts from wrapping up the season at Sonora Room Restaurant at Burrowing Owl Winery in Oliver, BC.
After graduating from the Vancouver Island University Culinary Arts program, Bowes worked under the highly regarded Chef Bernard Casavant at Fairmont Chateau Whistler and then at Chef Bernard's own Café.  He returned to Vancouver Island to work at the Hotel Grand Pacific, the Victoria Marriott Inner Harbour and Dock 503.  After travelling to Europe to further expand his culinary horizons, he returned to work with Casavant at Burrowing Owl, then travelling as a culinary two-some to Manteo Resort. With Vancouver Island again calling, he returned with a stop at Pacific Restaurant before becoming the opening Executive Chef at the Oak Bay Beach Hotel before finding his way back to the Okanagan in 2013 to Burrowing Owl.
In addition to being a highly creative, detail oriented chef with a strong work ethic and passion for the culinary arts, Bowes has demonstrated his commitment to supporting local farmers and artisans as well as developing young talent in the kitchen.  He worked closely with farmers in the South Okanagan and is active in the community at various events including FarmFolk CityFolk's Okanagan Feast of Fields.
Bowes will oversee RauDZ Regional Table with the philosophy of supporting local, eating and drinking local, and micro bar • bites where more of an international approach to food and beverage give this tapas bar it's unique niche in the marketplace.  Bowes will bring new culinary ideas into the mix with his background in French techniques and his love of Asian influences with local ingredients.   "I look forward to working with both a dedicated kitchen team and world-class front of house staff who obviously love their job that Chef Butters and Surrao have developed and nurtured" states Bowes.
"I'm excited to hand over the reins of my kitchen to Brock as I appreciate his talent and creativity and know he can lead our team to continue to be leaders in our industry.  When he served his dish at Okanagan Feast of Fields on a chicken foot and I my tartare was on a bone, I knew he would be the perfect fit for both our kitchen and management team as we move our company forward" enthuses Butters.
Bowes will be joined in the kitchen with Chef de Cuisine Robyn Sigurdson, and in a culinary twist of fate, this will be the third time this duo has worked side by side.
The appointment of an Executive Chef for RauDZ Creative Concepts will allow Chef Butters time to build the brand of his independent company and continue to develop projects and pursue opportunities.  Never short of ideas or inspiration, Chef Butters is already in discussion with Uniglobe Direct Travel Kelowna and luxury cruise line Crystal Cruises on hosting European culinary tours and finally writing his long awaited cookbook.
Chef Brock Bowes will be seen behind the pass at RauDZ Regional Table beginning November 3.
Pictures courtesy of RauDZ