Shakespeare wrote seventeen comedies, most involving romance, and in his day, the romance always ended in marriage of the partners. In the current production of Much Ado About Nothing at Bard on the Beach, comedy, conflict, intrigue and romance blend to create a perfect production with the appropriate happy ending.
Brilliantly directed by John Murphy and playing at the BMO MainStage until September 23, 2017, it is the perfect production for first time Shakespeareans, or for the veterans who love all aspects of Shakespeare. It amazes, amuses, and entertains.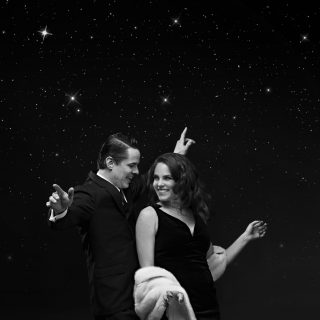 The story is placed in Italy in 1959, and the Dolce Vita mood is prominent.
Two large doors open onto an empty movie set, imaginatively designed in shades of black, white and grey, by Bard Artistic Associate Pam Johnson. it is used to advantage, to establish a changeable locale with props in the rolling storage containers.  Costume designer, Christine Reimer works off the black and white theme established by Johnson and effectively adds colour with the action, as needed.  The late 50's fashion scene allows for the full gamut of pencil skirts to lacy cocktail dresses. The men's fashions also focus on black and white with tuxedos and dinner jackets, with colour added through polo shirts and sweaters.
The action opens as a sophisticated group of actors and filmmakers are celebrating the wrap of their latest movie in Leonato's (Andrew Wheeler) studio. Amongst the cast at the party are the stars: Leonato's niece and early feminist Beatrice (Amber Lewis) and opinionated Benedick (Kevin MacDonald), who are drawn to each other but refuse to admit it, his daughter, Hero (Parmiss Sehat), Benedick's best friend and aspiring actor, Claudio (Julien Galipeau) who is attracted to and wishes to marry Hero, movie director Don Pedro (Ian Butcher) and his sister, Dona Johnna (Laara Sadiq), an aspiring film maker and a journalist.
At the party, Benedick and Beatrice try to convince Claudio and Hero that marriage is not for them but the young couple move ahead with plans to wed.
Shakespeare uses a unique technique to turn the mutual animosity of Beatrice and Benedick to love. By having their friends tell each of them separately that the other has feelings of admiration and love for the other, a mutual love will develop.
Meanwhile, Hero and Claudio are about to be sabotaged by Donna Johnna's mean-spirited scheme. She seeks help from Borachio (Ben Elliott), a paparazzo to help convince Claudio that Hero was untrue and Claudio then reveals his betrayal at their wedding.
"Cue the paparazzi, then a faked death, and la dolce vita threatens to become not so sweet; but with a script full of surprises, love can still triumph before the credits roll."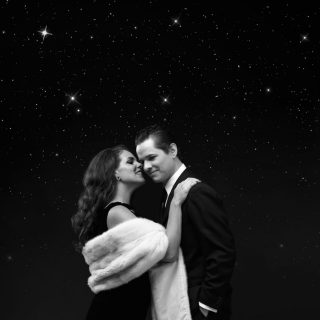 The entire play is full of surprises, humour provided by security guard Dogberry (Ashley O'Connell) and old Verges (Chris Cochrane) who acts a Tim Conway slapstick routine, and helps stop the vicious scheming, singing minstrels enter, Vespas circle the stage, movie posters identifying the chapter, vignettes from other movies, words to the song being sung on the board above the stage, and a challenging tango-like dance between Beatrice and Benedick, choreographed by Tara Cheyenne Friedenberg.
The entire production is superb. From the strong direction of John Murphy,  to amazing actors, great sets and creative costumes,  you will love Much Ado About Nothing.
Feature image: Much Ado About Nothing Kevin MacDonald & Amber Lewis | Photo & Image Design- David Cooper & Emily Cooper