The bold and beautiful setting for Bard on the Beach, the traditional Shakespeare productions at Vanier Park, becomes the location for the UBC Opera Ensemble and members of the Vancouver Opera Orchestra to present Opera and Arias: Bold and Beautiful.
On a lovely summer evening with the ocean and setting sun visible through the window opening, it is perfect to listen and feast on some of the better and also some less known arias from famous operas.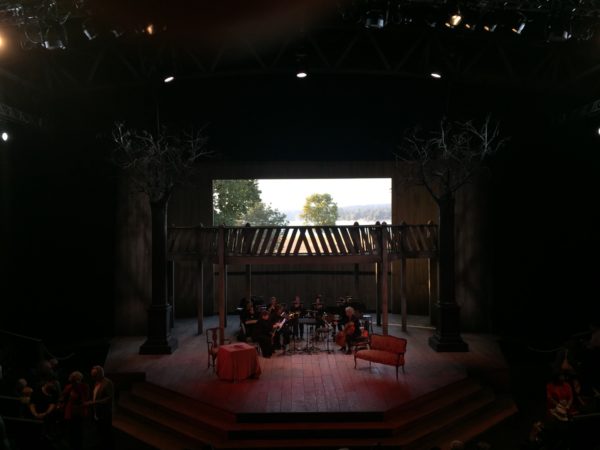 The Company was founded in 1995 by Nancy Hermiston and is under the her direction   and the Orchestra, established in 1977,  performed with guest conductor, Leslie Dala,
The programme consists of music from Mozart, (Le Nozze di Figaro, Don Giovanni, The Magic Flute) Rossini's The Italian Girl in Algiers, Puccini, (La Boheme, Suor Angelica, Gianni Schicchi) Strauss II's Die Fledermaus, and closes with a grand finale from Lehar's The Merry Widow, enabling the entire cast to join in fabulous evening dress. It gives the UBC students an amazing opportunity to perform in a world-renowned setting.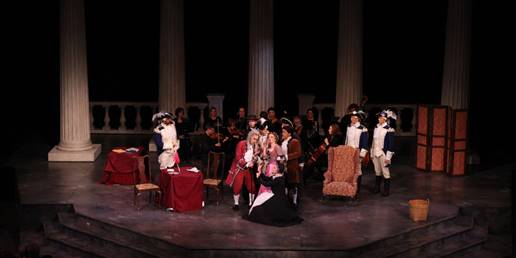 An ensemble of talented young performers provide a variety of arias. We are treated to happy and joyous arguments about future children by Papageno and Papagena in "Pa, Pa…" and melancholy regret expressed by Suor Angelica in "Senza Mamma" and Three Spirits and Pamina in "Bald pangt, den Morgen zu verkunden".
Die Fledermaus and The Merry Widow allow the whole ensemble to participate in a joyous, happy closing to the evening. "The Champagne Trio", 'Weibermarsch" and "Grisettes" provide some light hearted singing and dancing. "Vilja Lied" leads into a beautiful solo and the cast joining for the chorus.
Each and every young performer is amazing and there are too many to name, and too many stars to identify. But opera is well and good with these rising young stars!
Please consider enriching your Labour Day weekend!
The performances are repeated at 2 pm and 7 pm on Sunday, September 2, 2018.