As summer runs down I'm enjoying some of the #bcwine I bought during one of our three trips to the Okanagan this year (so far, I keep telling myself). Last night I enjoyed a 2013 Riesling from Pentâge Winery.
One of the wineries we visited in late July. It was an interesting excursion not to Okanagan Falls where Pentâge also has vineyards, hence their membership in the Okanagan Falls Winery Association. The winery is actually up a winding road on top of a hill with a fantastic view of Skaha Lake just outside Penticton.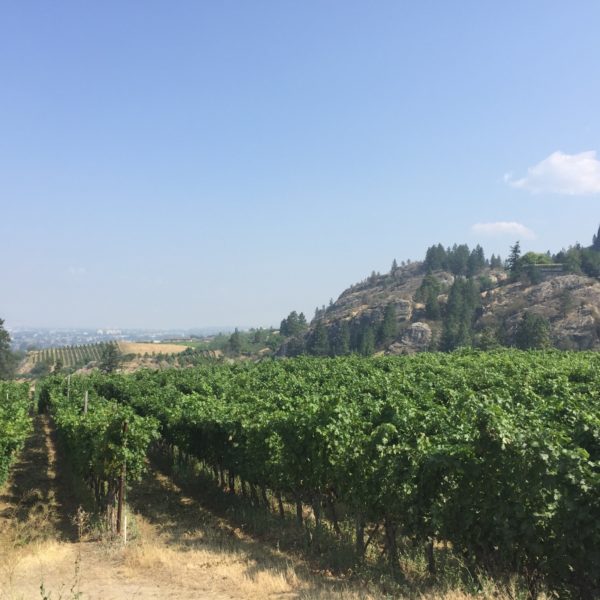 The winery is a unique property and we enjoyed a visit with Julie Rennie and a tour of the 5,000 square foot natural rock wine cellar naturally cool on the warmest of days.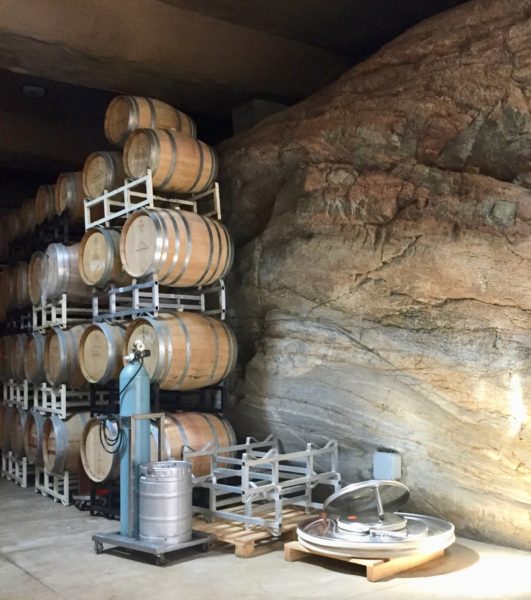 Of course we did make our way to their tasting room to sample the wines that were open that day. Pentâge makes an amazing 28 different wines and makes very good wines. I don't think there are many wineries, especially what I would term a boutique winery that makes that many varietals.
The winery is off the beaten track but still hosts a number of wine enthusiasts during the wine touring season. So worth a visit. Impressive winery with impressive wines.
The Pentâge classic 2013 Riesling was everything I look for in an excellent riesling starting with the distinctive "diesel" on the nose.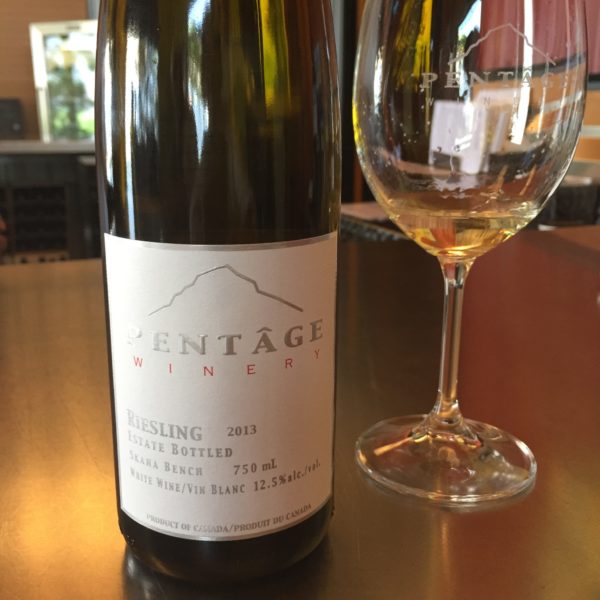 Aromas of bright citrus, green apple and nuances of stone fruit rise from the glass.  These aromas are mirrored on the palate. This lively, well-balanced wine is crisp and refreshing.  Beautiful dry Riesling.
I enjoyed all the wines we tasted but because I am such a Riesling fan it was nice to be introduced to a wine I could drink anytime. Not to mention the price point on their website is an affordable $19.00.
About Pentâge Winery
We are a family owned and operated business committed to producing handcrafted and premium wines. Each year, our vineyards are hand-tended to produce the highest quality grapes possible. We take pride in producing small lots of premium quality wines for our customers.
We use old-world traditional winemaking techniques supported by some newer technology to ensure the best handcrafted wines from grape to bottle.
Several rare and unique varietals are grown on our vineyards include: Malbec, Zinfandel, Petit Syrah, Petit Verdot, Grenache, Mourvèdre, Roussanne, Marsanne, and Tempranillo.   We hope you enjoy our small lot and limited release wines.
We invite you or your group to the tasting room at Pentâge Winery to discover our award-winning wines, our philosophy and passion!
Tasting Room Hours
Summer Hours: Open daily from 11am – 5pm  April 28, 2018 – October 8, 2018
Winter Hours:    Sales by appointment, please call us (250) 493-4008
Tasting Fee:       $5/person (waived with purchase)
         No appointment is necessary to visit the tasting room during summer hours.         In order to provide an exceptional experience for guests at Pentâge, advance notice is required for groups of 10+

The winery is located at:
4551 Valleyview Road
Penticton, BC V2A 8V8
Tel:  (250) 493-4008
Tasting notes courtesy of Pentâge Winery.