Our Modern Home Tours give people a chance to explore and view some of the greatest examples of modern architecture right in their own city via self-guided tour. Year after year, we provide a fun, enlightening day of local sight-seeing and open-house-style visits for lovers of architecture, design, real estate, and, anyone who enjoys seeing the inside of some really cool homes. Participating homeowners get to show off their cool, modern dwellings to neighbors for a day, and a handful of local architects get another chance to shine in the spotlight. We stand out from other tours by offering homes that are modern in design and style and by offering this experience to everyone – not just members of an exclusive club or association. We want everyone to experience the architecture we admire so much.
This year, we have 5 homes on tour from 3 different architects, builders and design firms: Natural Balance Home Builders with BattersbyHowat Architects, Synthesis Design Inc., and Lanefab Design/Build.
The Wilson School of Design at KPU will be joining us as our non-profit partner. They will be helping us staff the tour in exchange for a donation and the opportunity to use the tour as a fundraising vehicle for their mission.
Natural Balance Home Builders
BattersbyHowat Architects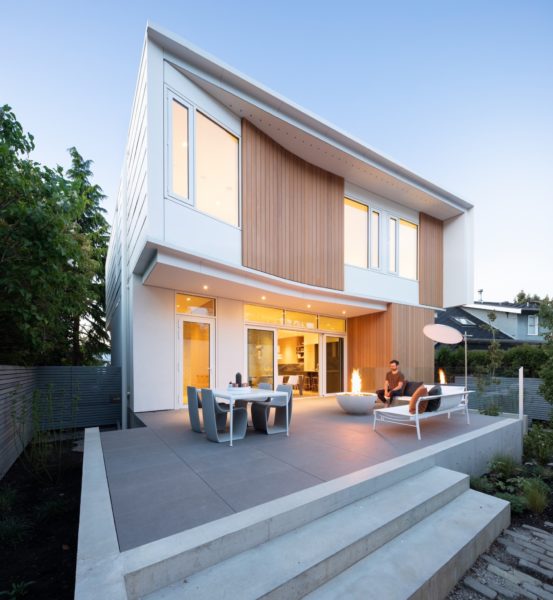 Number of Bedrooms: 6
Number of Bathrooms: 6
Approximate Square Footage: 4,000
Year built: 2018
SeaChange Homes
"When you think about sustainability, the best thing you can do as an architect is to do good, meaningful work. When you stress energy efficiency or other technical components—without high-quality design that people desire or care about—then your work has a very limited life. We are going to invest in good architecture, to do it well, to do unique buildings that people will have for a long time—and that other people will desire in the future."
– David Battersby, Co-Founder
SeaChange is a property development company that seeks to transform the way people think about sustainability. For us, sustainability is not limited to individual criteria; a home is not sustainable simply because it is environmentally sensitive or energy efficient. We appreciate both, but our outlook is more comprehensive.
Our homes are beautiful, livable, and healthy. Built for their inhabitants and the communities they exist within. Because to us, true sustainability is not a points-based enterprise. It is about creating homes that are relevant, responsive, and well-designed—both technically and aesthetically. It's about making homes that people want to live in. And in doing so, they are able to live in a way that is better for the environment, their community, and their personal well-being.
The Provenance of Things
SeaChange believes architecture can be world-changing, and we recognize that, in many ways, it needs to be. Currently, the world of property development too often relies on cheap materials sourced from far-flung places without regulations to protect human lives or natural environments. It also frequently involves marginal architecture that fails to fulfill our human need for intimacy and domesticity. As a result, these homes are disposable; an alarming waste of resources. We want to do better.
To accomplish our aim, we invest more into the design and construction of our homes than the typical developer. At SeaChange, we care about the provenance of things: where things come from and how they were made. For that reason, we emphasize local resources and artistry—not only because they are more environmentally sustainable, but also because we appreciate their quality. 
The emphasis on locality also influences the unique design of each property. The relationship between landscape, architecture, and interior create a distinct, holistic experience for homeowners. Our structures do not merely reflect the beauty of its surrounding topography but become a part of it.
As we consider the history and source of each material used, so too, our designs thoughtfully address the future environmental impacts of our homes. Striving for self-reliance, we implement measures such as solar arrays and water management systems to reduce our homes' consumption of non-renewable and municipal resources. Small differences to inspire significant change.
SeaChange, An Industry Transformed
By investing more into our homes, SeaChange hopes to live up to its name and leave the homebuilding industry transformed. We wish to foster a design and construction culture that incorporates a sustainability model based on values, not bottom-line economics or points-based certifications. We may not solve every problem—a perfect solution may not exist, but our goal is to spark a dialogue and to create awareness of better ways to build.
Our approach to homebuilding is shaped by a lifelong commitment to executing excellent architecture, and with each house we build, we aspire to create a ripple-effect that challenges the status quo of the homebuilding industry. Through important, incremental additions to this industry, we hope our progressive influence will lead to better, more livable homes both for their inhabitants and the communities they exist within.
Let's do better, together. Become a part of SeaChange.
The Team
SeaChange Property Development is an exciting new partnership between BattersbyHowat Architects and Natural Balance Home Builders. 
Known for creating some of the most inspiring, progressive, and sought-after homes in Vancouver and area, BattersbyHowat and Natural Balance have an unrelenting commitment to exceeding the expectations of their clients. SeaChange represents the next phase of their continued efforts to build the homes their clients love in a way that is both environmentally and socially responsible. 
See the award-winning results of over three decades of collective homebuilding experience on their websites:
Synthesis Design Inc.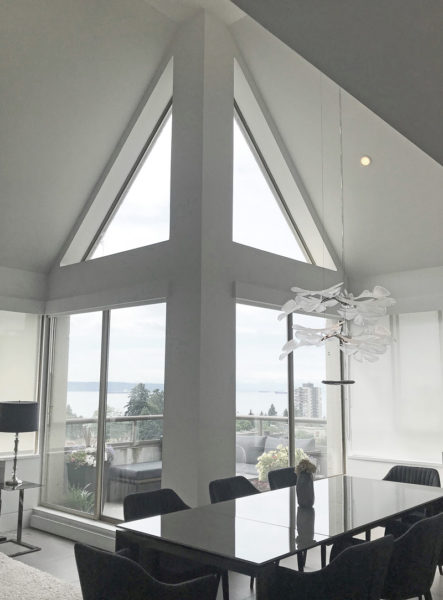 Builder: Naikoon Contracting Ltd
Landscaping: Urban Niche Landscape Design
Landscaping: Terraform Landscaping
Number of Bedrooms: 3
Number of Bathrooms: 4
Approximate Square Footage: 3,500
Year built: 2018
Nestled in the heart of Deep Cove, perched on the edge of a 100-foot embankment sits a simple, modern 2-story waterfront structure. On approach one may assume it is the front of the house. It is not. This is the "garage with a view". Hanging below the garage is the studio with some of the best outlooks of the site. From here one can take the 64 handcrafted serpentine stone stairs or the funicular down 80 feet to the main dwelling.
The walk (or ride) reveals the waterfront home below, first with the green roofs which blend into the natural landscape and are designed to mimic golf greens.
This modern home visually welcomes its visitors with a large glass stair core and an oversized simple wood pivot door.
Inside the foyer gives one glimpses of the view beyond but is obscured by the featured stone fireplace.
The main level is an open plan with large sliding doors accessing the living and eating deck with high ceilings and exposed structure.
The feature stair core allows natural light to spill into the home through custom designed rusted metal railings, leading one up the bedrooms and down to the custom golf simulator room.
Access to the water is through a transition of spaces that leads to the stone walkway, the dock and the waters that are Deep Cove.
This home may dominate nature from its various view spaces and decks throughout the 100-foot slope, but as one experiences the natural procession throughout this spectacular steep sloped site, it evokes a strong sense of harmony.
Synthesis Design Inc.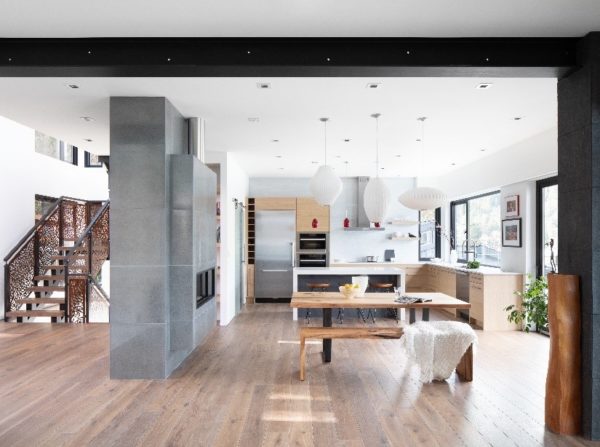 Builder: Nevco Construction
Number of Bedrooms: 2
Number of Bathrooms: 2.5
Approximate Square Footage: 1,550
Year built: 2017
A stunningly sophisticated, fully renovated West Vancouver penthouse in the heart of Hollyburn. This 1,555 sqft of simplistic, contemporary living features soaring two story vaulted ceilings in the living and dining room, open floor plan, a clean sculptural wood burning fireplace that blends into the wall, modern flush baseboards and a gourmet kitchen.
This entertainment kitchen features built in appliances, a hood fan recessed into the ceiling allowing unobstructed views, a large central island with space for stools and a wet bar complete with a bar fridge.
Storage was at the forefront of the client's and the designer's mind when renovating this space. Not a corner has been left unexplored. A concealed pull out shoe rack below the lower staircase, a hidden linen closet in the upstairs foyer, a laundry closet that looks like a custom armoire and mirrored medicine cabinets in both three-piece washrooms. The master bedroom features a unique built in bed with a wall cabinet acting as both a walk-in closet and headboard.
An Italian glass dining fixture , a large cloud-like pendant in the stairwell and led pot lighting throughout create beautiful lightscapes and enhance the sculptural quality of the architecture.
Three decks maximize the amazing views of the harbour, Stanley park and UBC. Location! Lifestyle! Walking distance to all the restaurants and shops of Marine drive and Ambleside park makes
for a great life-style.
Lanefab Design/Build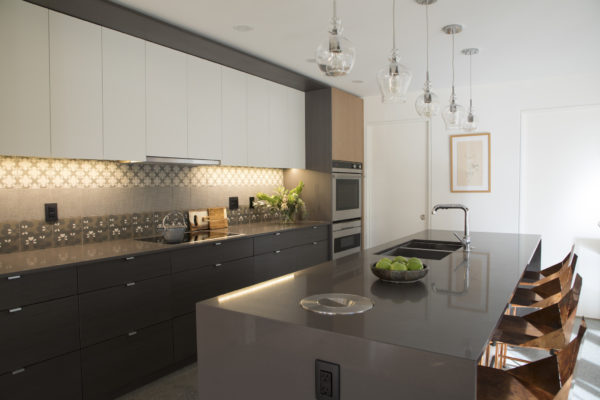 Number of Bedrooms: 3
Number of Bathrooms: 3
Approximate Square Footage: 2,500
Year built: 1965, with 2017 addition/renovation
Known to neighbours as 'the Wedge House,' this unusual home in Edgemont Village is officially known on North Vancouver District's Modern Heritage Register as the Mitchell House, referring to the original owners. The home was designed by Arthur Erickson and built by an unnamed Japanese shipbuilder in 1965. 
The current (and fourth) owners have lived in the home for eighteen years. Small improvements and restorations were made over the years, but mostly the house remained unchanged from the original. In 2014 the owners approached Lanefab Design/Build about an addition to the original 1600 square foot home. LEED-accredited designer Bryn Davidson proposed a unique solution to add space while preserving the sightlines of the original post-and-beam architecture and creating a protected courtyard out back. 
The project was completed in the summer of 2017. In the original 'wedge' structure, some thoughtful changes were made to the interior, particularly a large new kitchen in the space previously occupied by the dining area and galley kitchen. The addition provides a large new dining room, den and bathroom, garage, side entry, and dramatic new front entry. Original elements were incorporated into the new structure, including re-use of a Douglas fir beam and mahogany/teak cabinetry that had to be removed. 
In the end, a modern heritage home has been brought up to modern standards and protected from the wrecking ball. The owners often receive the compliment that the new portion appears as though it has 'always been there.'
Lanefab Design/Build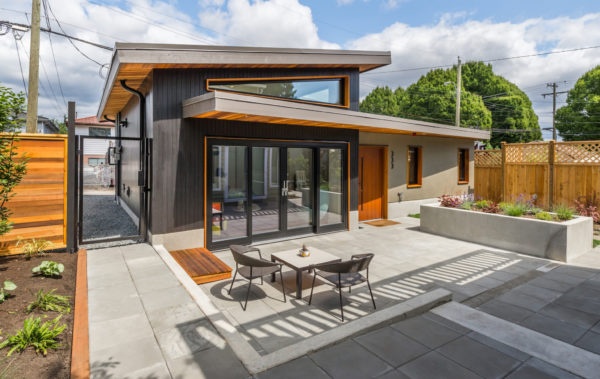 Number of Bedrooms: 2
Number of Bathrooms: 2
Approximate Square Footage: 900
Year built: 2018
DESCRIPTION: This project is a 940sf, 2br, 2 bath modern Laneway House, built behind a 100-year-old Vancouver character home. Just one storey tall, the unit was built with prefab walls and roof and has high-performance European wood windows and doors.