Paintings from Musqueam artist, Debra Sparrow, to appear on two pillars of the Granville Street Bridge; eight other artists to paint murals on the island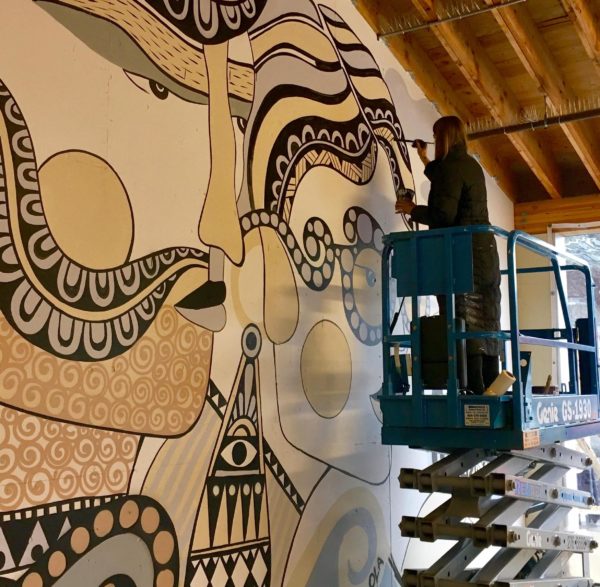 A group of local and international artists will be creating new murals on Granville Island starting on May 1st. The murals will appear around The Chain & Forge – Granville Island's newest public space – located underneath the Granville Street Bridge.
"We are excited to enlarge the collection of public art on Granville Island with these new murals – especially since they are being created by an accomplished group of local artists, along with one international muralist, who represent a diverse range of styles and influences," says Lisa Ono, Manager, Public Affairs & Programming for CMHC-Granville Island. "The addition of these murals is part of our Granville Island 2040 vision, which includes embracing the arts and enhancing the public realm".
The creation of the murals is part of Art Smash, a new annual event on Granville Island that celebrates visual art in public spaces. This year, participating muralists include Musqueam artist, Debra Sparrow, whose work will appear on the two bridge pillars in the heart of The Chain & Forge, as well as Ruben Sanchez, a visiting artist from Spain, who will be bringing his signature skateboard-and-graffiti-inspired style to Granville Island.
The other participating artists are Lauren Brevner, Kelsey Hall (KC Hall), James Harry, Sandeep Johal, Kari Kristensen, Eric Louie, Victoria Sieczka and Jeremy Wong (JNASTY).
The murals are expected to take ten days to complete and the public is encouraged to stop by and watch the artists in action.
The completed murals will be officially unveiled on May 12th during the Art Smash Street Party Celebration that will be held from 1 pm to 9 pm and will feature live mural creation, non-stop music from local DJs, food trucks, BC craft breweries and live dance performances.
To extend Art Smash beyond Granville Island and promote the event, a city bus has been wrapped in a work of original art by Victoria Sieczka that features common Granville Island motifs like the Public Market sign, Aquabuses and cement trucks.
Art Smash is being produced this year in partnership with the Vancouver Mural Festival.
About Granville Island 2040
Granville Island 2040: Bridging Past & Future is a comprehensive vision for Granville Island for the next 25 years. The plan recognizes and builds on the achievements of the past, addresses current challenges and opportunities, and shapes a vision of the future with imagination and bold ideas. The plan's four key strategies are improving accessibility, creating a market district, developing a more vibrant arts and innovation sector, and enhancing the public realm.