In one of Shakespeare's first plays, The Two Gentlemen of Verona, the Bard opted for a winning formula about boys, their friendship and the games they play, adding a dog for comic relief and some beautiful girls to round it off.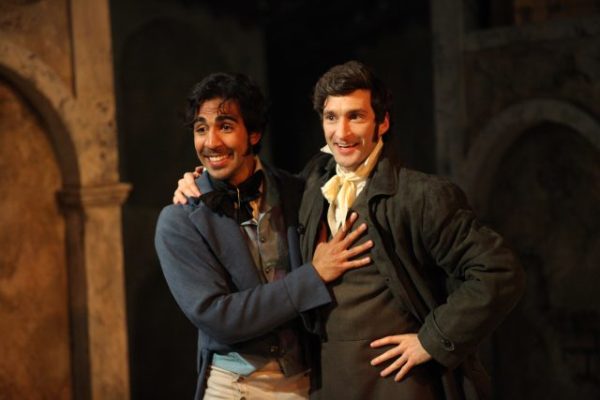 It begins with the two gentlemen, best friends, rough-housing as Valentine (Nadeem Phillip), who is leaving for Milan to broaden his horizons, says farewell to Proteus (Charlie Gallant) who remains behind to further his love for Juia ( Kate Besworth) by sending romantic notes through their servants. The servants, Valentine's Speed (Chirag Naik), Julia's Lucetta( Carmela Sison) and Proteus' Launce (Andrew Cownden) have great supporting comedy roles but the scene stealer is Launce's dog, Crab (Gertie the basset hound). She stares peacefully, studiously, and earnestly, scanning the audience as her owner calls her the "sourest natured dog that lives."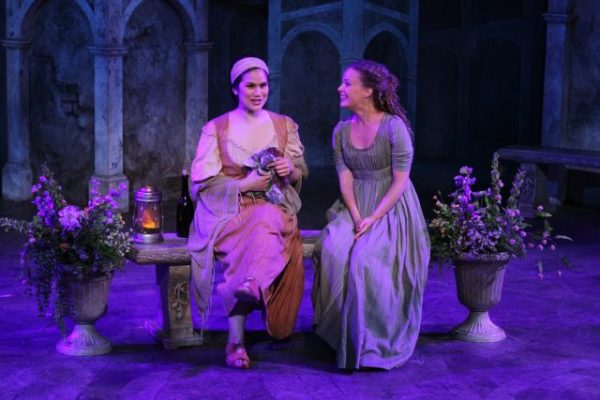 After pledging his love and exchanging rings with Julia, Proteus follows Valentine to Milan, where he promptly falls in love with the Duke's daughter, Silvia. She is in love with Valentine and he with her, and they are trying to avoid her father's (Edward Foy) choice of husband, Lord Turio (Kamyar Pazandeh) a self-righteous, pompous man.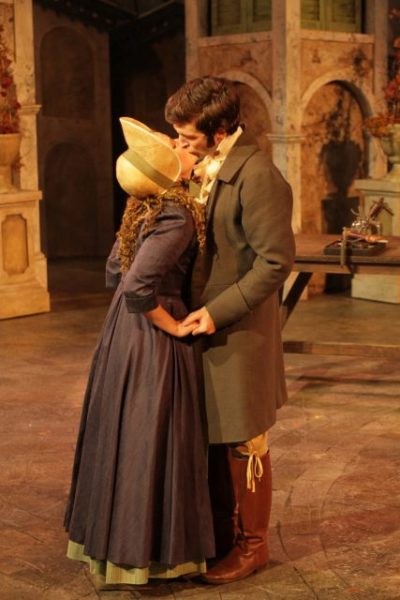 Proteus schemes to remove his best friend from competition by sharing his and Silvia's elopement plan with the Duke, who immediately bans Valentine. In his escape from Milan, Valentine is accosted by a group of women bandits, where he remains. Meanwhile Julia, dressed as a boy, arrives to fight for Proteus.  When Proteus tries to violate Silvia in the woods, Valentine arrives to save the day. The boys are overjoyed to see each other, all is quickly forgiven, and Proteus finds Julia again.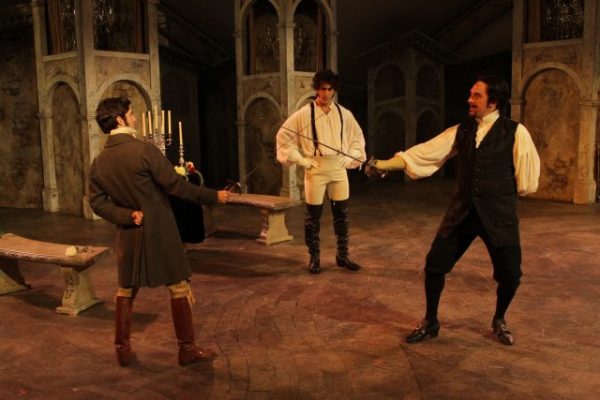 After the drama of the play, during which one almost has his friend killed over a girl, it ends with the Two Gentlemen forgiving one another and rough-housing their way off the stage.  What shocks the audience is the way they leave all the women behind on stage! Boys will be boys!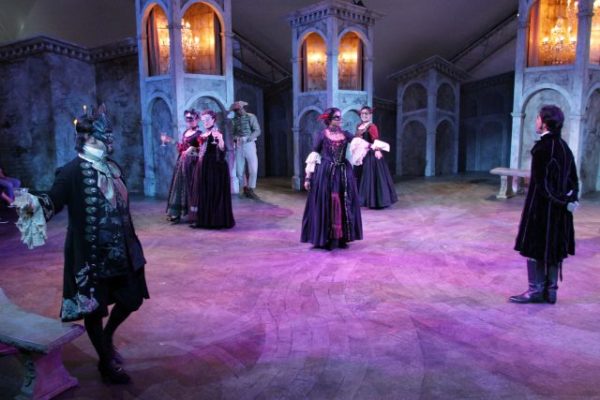 The production, directed by Scott Bellis, is excellent. Through the use of humour and satire, he creates an atmosphere that enables the very talented actors to accomplish their powerful performances. The lead actors are outstanding and the supporting cast, as servants, are hilarious in their delivery.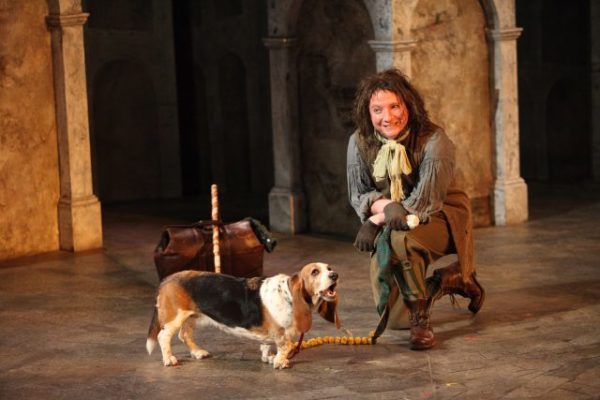 There is a relaxed feel during the play, which includes throwaway lines about their other Bard on the Beach production, The Merchant of Venice, and references to the scene stealing dog.
The costumes by Mara Gottler are gorgeous and place the setting in the 1800's. Rich colours in greens and purples are highlighted by the lighting of Adrian Muir. Music by June Casselman provides a mood and rhythm for the elegant dances of love choreographed by Tara Cheyenne Friedenberg.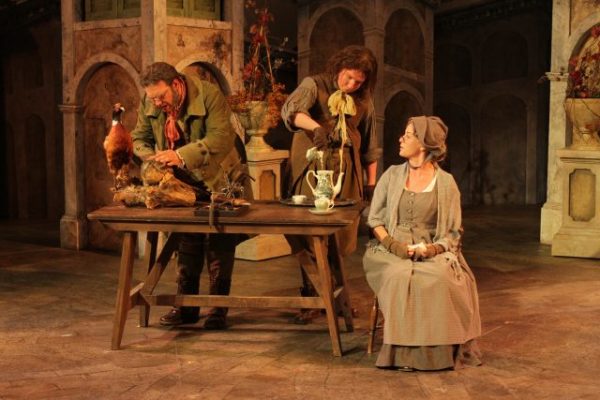 All of these elements come together to create a very successful production of what was not considered to be one of Shakespeare's better plays, but is thoroughly entertaining and thought provoking presented by Bard on the Beach 2017.
Featured image: The Two Gentlemen of Verona, 2017 | Photo: David Blue