"Though she be but little, she is fierce!"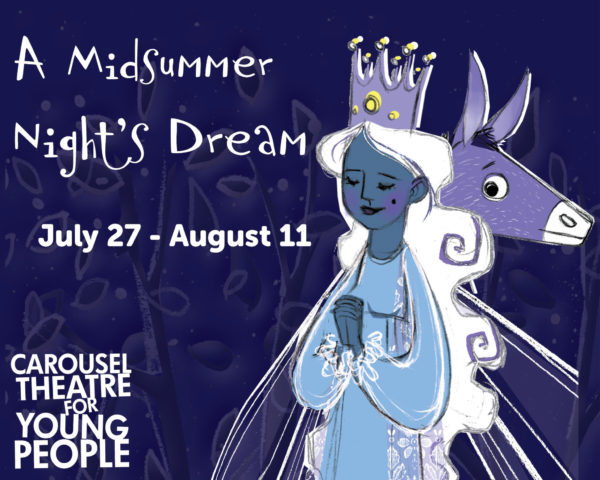 This summer the talented teens of CTYP's Teen Shakespeare Program bring one of Shakespeare's best-loved plays to the outdoor stage on Granville Island. A delightful tale about friendships, fairies, mischief and magic is a sure delight for all the family!
All is not well in the fairy world; Oberon and Titania, the King and Queen of the fairies, have fallen out and Oberon asks his mischievous servant, Puck, to help play a trick on Titania. He asks Puck to collect a special flower, whose sap can make anyone fall in love with the first person they see. And so, when Titania awakes to discover a strange man with the head of a donkey, she instantly becomes besotted with him. Puck also uses the magical flower on a group of young friends, causing hilarious results.
The annual Teen Shakespeare Program stages outdoor, all-ages productions on beautiful Granville Island with a festival-style village, concession, and activities for the kids before the show and during intermission. Admission is FREE but seating is limited, with premium seating available in advance for $6 per seat.
Actor, director and theatre educator Mike Stack leads a cast of 18 teen actors, ages 13-18. A Midsummer Night's Dream features program veterans Atticus Cseh as Bottom, and Bronwen Bente as Helena, along with Dalia Currie, Sofia Day, Alexandra Haagen, Amitai Heyl, Aijaz Karim,
Pascale La Riviere, Lucy Layton, Jules Pante, Saige Mackenzie, Favour Onosemuode, Fiona Rocchi, Isabel Rose, Gus Setala-Gay, Maggie Stewart, Piper Trounce and Cynthia Wei.
Kayla Dunbar (Associate Instructor), Kiara Lawson (Costume Designer), and Ashley Noyes (Program Manager) complete the creative team.
Listing Information:                        Carousel Theatre for Young People's Teen Shakespeare Program presents A Midsummer Night's Dream
Dates:                                                   Preview: July 27 at 7:30pm, Opening: July 28 at 7:30pm
Run: July 27 to August 11, 2018 – Monday to Saturday at 7:30pm
Ticket Prices:                                     FREE – premium seating available in advance for $6
Address:                                              Performance Works Outdoor Stage (show will be moved inside in case of rain)
1218 Cartwright Street on Granville Island, Vancouver, BC
Box Office:                                         tickets.carouseltheatre.ca or 604-685-6217
ABOUT THE TEEN SHAKESPEARE PROGRAM —For 28 summers, Carousel Theatre for Young People's Teen Shakespeare Program has been providing pre-professional theatre training to teens 13-18 in an intensive six-week program. During the program, teen actors are treated as professional artists and receive training in voice, movement, and text analysis toward a fully-staged public performance. The program provides an opportunity for participants to enhance their performing abilities and further their development as emerging artists while providing the community with free and accessible theatre.
Over the years, many participants have gone on to grace some of Canada's top stages including the Stratford Festival, Canstage, The Belfry Theatre, Bard on the Beach, and the Arts Club Theatre Company. Some of the program's notable alumni include actor Jennifer Paterson, director Jack Paterson, and CTYP's own Artistic Director, Carole Higgins. Actors Rebecca Auerbach, Susan Coodin, Alessandro Juliani, and Vancouver-West End MLA Spencer Chandra-Herbert also have early roots with the program.
About Carousel Theatre for Young People
Founded in 1976, Carousel Theatre for Young People provides playful, exceptional and accessible theatrical experiences that inspire, involve and educate. Each season approximately 40 000 young people and their families benefit from CTYP's programming. At Carousel Theatre for Young People we believe that the arts play a vital role in a young person's development.  We envision a community that empowers people to be more imaginative, expressive and engaged.
Something is wrong.

Instagram token error.