Colours, Shapes, Friendship – CTYP's play for little ones takes on big themes
The charming Bee Stage returns this June with We Three, a world premiere by award-winning Vancouver playwright Meghan Gardiner, three characters explore colour, shapes, music, friendships and being true to one's self through a gentle, immersive first play experience for babies, toddlers, and preschoolers.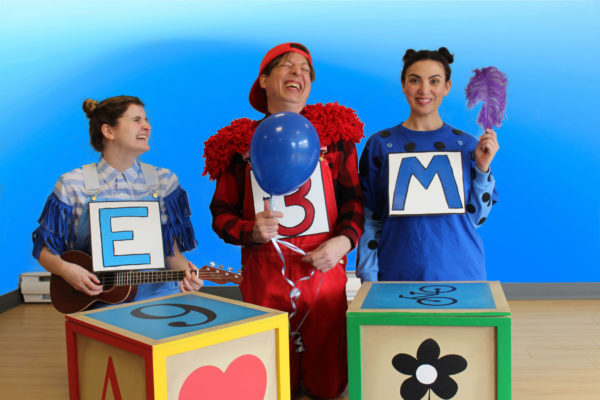 This unforgettable journey follows three friends through a world of colours, textures, song, and interactive play as they learn who they are, the importance of friendship, and what it means to find your place in the world. Young audience members can sing and dance along, explore the five senses, and interact with the performers, their caregivers, and each other.
We Three is the fourth play in CTYP's annual Bee Stage series, specifically created to engage and inspire its youngest audiences. Through gentle, interactive shows for the very young, the CTYP Bee Stage introduces the littlest theatre-goers to storytelling and music in an intimate drama experience that allows them and their caregivers to enjoy theatre on their own terms. CTYP is pioneering this unique genre of Theatre for the Very Young in Western Canada, and the Bee Stage has been recognized with five Jessie nominations since its inception.
Written by Meghan Gardiner with original music by CJ McGillivray. CTYP's Artistic Director, Carole Higgins, directs an award-winning cast of rising stars and local favourites: CJ McGillivray, Melissa Oei and Allan Zinyk. Set designed by Sarah Mabberley, costumes designed by Kiara Lawson and stage managed by Ashley Noyes.
The Bee Stage is recommended for babies, toddlers, preschoolers and their grown-up companions
Dates:                          Previews: June 5 & 6, 2018 at 10am
Openings: June 7 at 10am & 11:30am
Run: June 5-17, 2018
Performances on June 5 & 6 at 10am only
Performances, June 7- 17, Tuesdays through Sundays at 10am     
and 11:30am
Ticket prices:          All Tickets: $15 (adults, children and babies)
*Discounted subscription rates available when booking for two or more plays
Address:                   The Bee Stage
1411 Cartwright St, Vancouver BC
Box Office:   tickets.carouseltheatre.ca or 604-685-6217
About Carousel Theatre for Young People
Founded in 1976, Carousel Theatre for Young People provides playful, exceptional and accessible theatrical experiences that inspire, involve and educate. Each season approximately 40 000 young people and their families benefit from CTYP's programming. At Carousel Theatre for Young People we believe that the arts play a vital role in a young person's development.  We envision a community that empowers people to be more imaginative, expressive and engaged.