Award-winning local playwright Meghan Gardiner has crafted a heartfelt show perfect for first time young playgoers at Carousel Theatre's wee Bee Stage. We Three features colourful, gentle and expressive characters named M, E and 3 who explore themes of belonging and understanding through songs and interactive tactile experiences.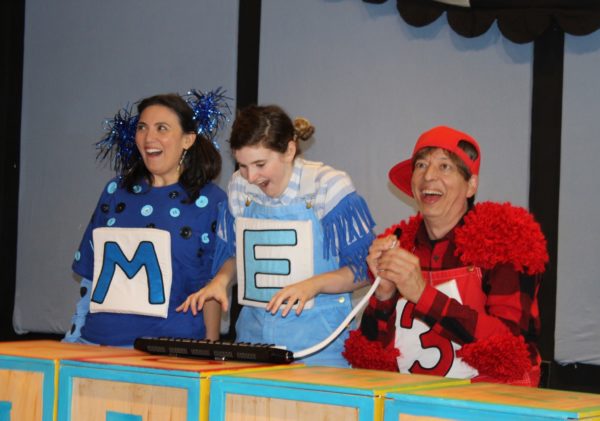 Actors CJ McGillivray, Melissa Oei and Allan Zinyk kept the pace of the show upbeat and engaging and as with every Carousel Theatre production I've experienced, each performer was dedicating to establishing strong connections with their young audience.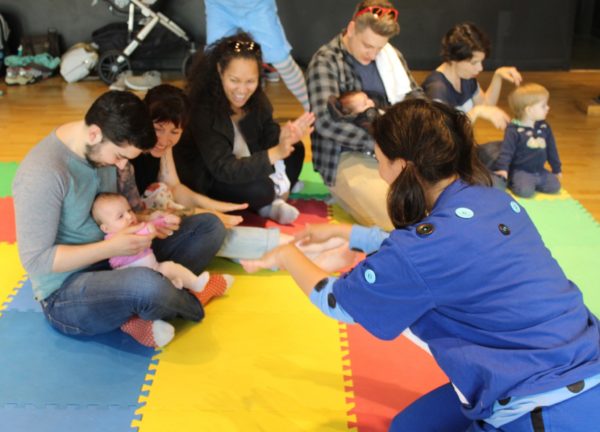 Our six month old baby had perfectly timed her latest milestone of sitting up on her own to coincide with taking in the show this past weekend. She sat and observed and cooed and giggled through the duration of the 35 minute show, not even turning away once. One particular toddler in the audience was so enraptured by the Once I Caught A Fish Alive song that after it had concluded, she proudly announced to the audience and performers both that she had just seen that song on her iPad. (Full confession: it was my toddler.) 
Buzz on down to the Bee Stage on Granville Island to take in We Three with your littles. Parents will appreciate the stroller valet in the red tent adjacent to the performance space, and little ones will walk away with the best theatre swag in town, Carousel's signature "I Saw A Play Today" stickers! 
Director: Carole Higgins; Costume Designer: Kiara Lawson; Set & Props Designer: Sarah Mabberley; Dramaturg: Jessica Gutteridge; Musician & Composer: CJ McGillivray.
We Three runs June 5 – 17, 2018 on the Bee Stage, located at 1411 Cartwright Street on Granville Island. www.carouseltheatre.ca 
Run: June 5-17, 2018
Performances, June 7- 17, Tuesdays through Sundays at 10am and 11:30am
Ticket prices:          All Tickets: $15 (adults, children and babies)
*Discounted subscription rates available when booking for two or more plays
Address:                   The Bee Stage
1411 Cartwright St, Vancouver BC
Box Office:   tickets.carouseltheatre.ca or 604-685-6217
About Carousel Theatre for Young People
Founded in 1976, Carousel Theatre for Young People provides playful, exceptional and accessible theatrical experiences that inspire, involve and educate. Each season approximately 40 000 young people and their families benefit from CTYP's programming. At Carousel Theatre for Young People we believe that the arts play a vital role in a young person's development.  We envision a community that empowers people to be more imaginative, expressive and engaged.