The Broadway Wine Shop was the venue for a surprise birthday gathering for Blue Grouse winemaker, Bailey Williamson. Leeann Froese, from Town Hall Brands took care of the arrangements and the AmoVino girls, Jessica Luongo and Marisa Varas kept Bailey busy telling him he had a busy day of wine shop meetings.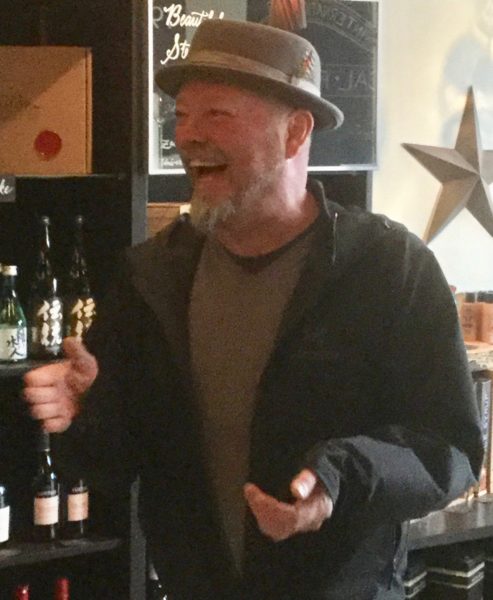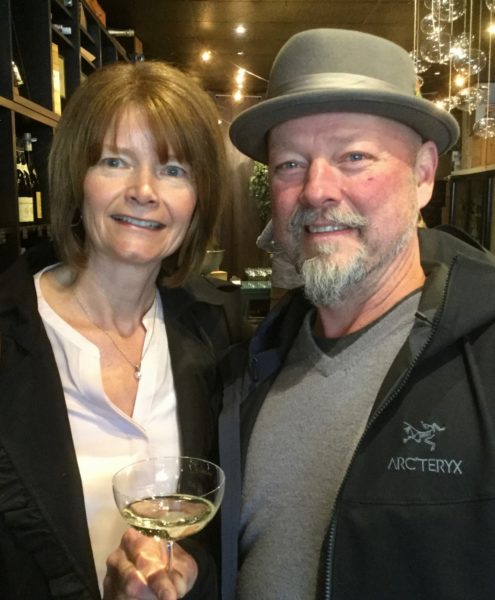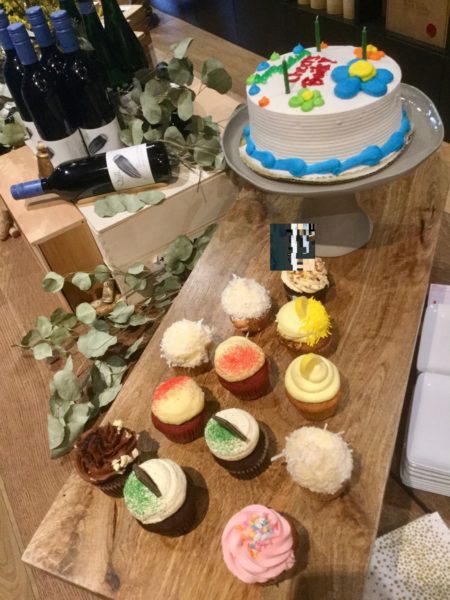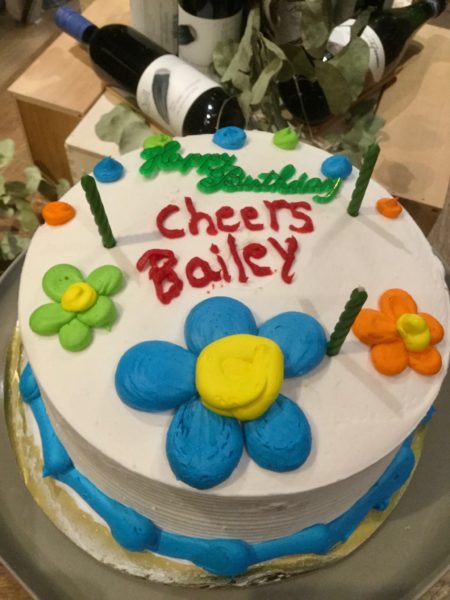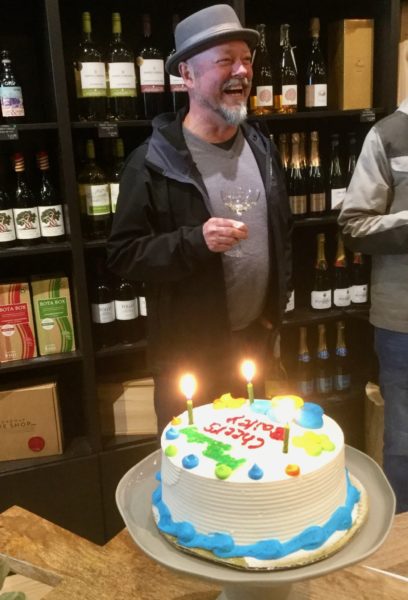 After a surprising and rousing chorus of Happy Birthday, bubbles and cake, Bailey talked about Blue Grouse 'Paula', the traditional method sparkling wine we used to toast him.   Paula is named after owner Paul Brunner's daughter and is made from a delicious blend of Müller Thurgau, Ortega, Pinot Auxerois and Riesling. He explained that some places in Washington State produce 100% Müller Thurgau sparkling wines as it tends to have good acidity. The Ortega helps to flesh out the wine with floral and fruit character. When picked early to maintain acidity, Pinot Auxerois lends itself quite nicely to sparkling. Lees contact and lees aging are very integral to the quality of a traditional sparkling wine. Availability is limited – 250 cases of Paula were made in 2014 and only 150 in the last two years, so order yours from the winery right away.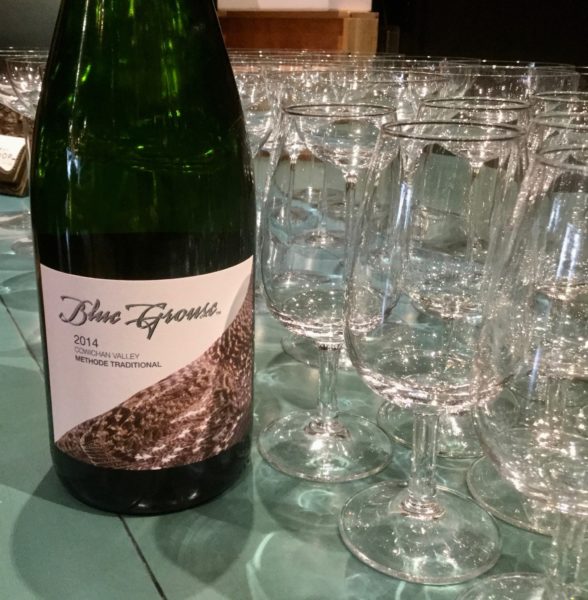 As Blue Grouse looks to the future, the focus is going to be on Pinot Noir, Pinot Gris and sparkling wines, as they have proven to best suited to their site. In cool years, all these can be made into a variety of sparkling wines. In a moderate year, look for more of an emphasis on rosé wines and in warmer years, table wines will dominate their portfolio. When the newly planted western vineyard comes on stream you can expect a new sparkling wine to be released, which will be based on the classic varietals of Chardonnay, Pinot Noir and Pinot Meunier.
Currently they produce anywhere from 2000 to 3000 cases of wine, though with new vineyards being planned they hope to increase their production in the future. Seven acres of new vineyard were planted last year on a lower parcel of land. Soil specialist, Pedro Para was brought in to consult on which grapes would be most suitable for the site. The soil profile is made up of alluvial gravel from an old riverbed.   Pedro mentioned the soil had similar structure to that found in Graves in France.   The site will be devoted to Chardonnay, four clones of Pinot Noir and Pinot Meunier and Pinot Gris. The trend now is to 'precision viticulture' and planting just the right grapes on the right site and managing them just the right way.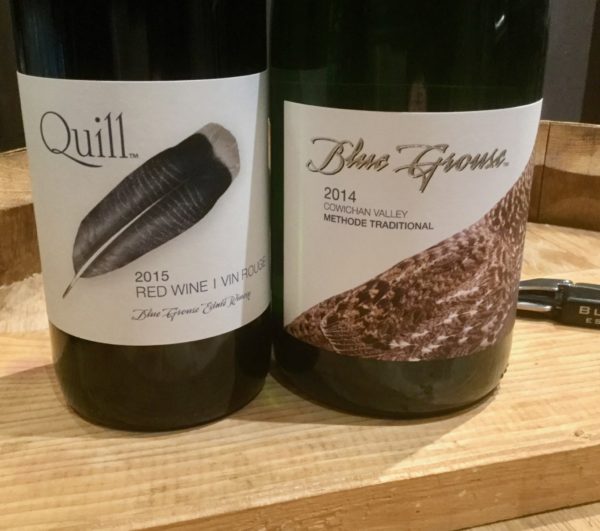 The Blue Grouse label designates wines that are made from estate grown grapes. Their second label, Quill, is for purchased grapes which come from Vancouver Island whenever possible and sometimes from the Okanagan. Blue Grouse takes pride in providing customers with complete information on their wines and these information sheets can be found on the wineries web site.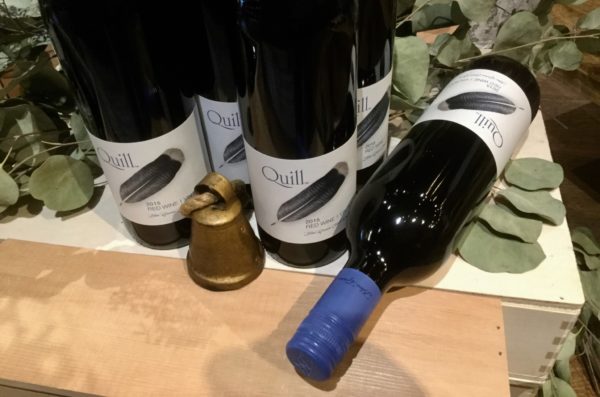 We were fortunate that Bailey also brought along some a new release Quill Rosé for us to sample. Made from 60% Gamay Noir and 40% Pinot Noir from the Cowichan Valley, it was dry with ripe fruit flavours. It is an excellent food wine and very versatile pairing well with a wide range of foods.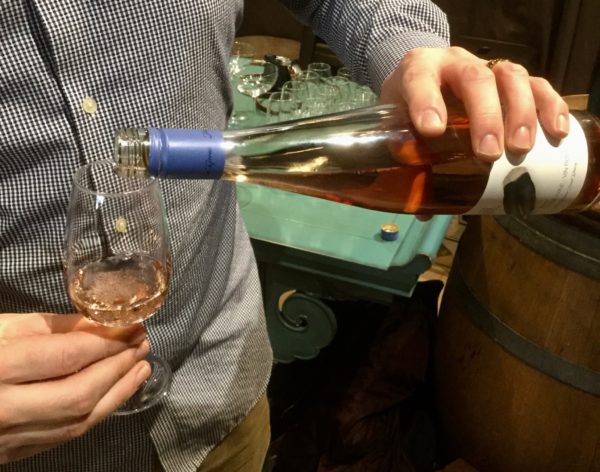 Customers that wandered in to the shop to buy wine were fortunate to get Bailey to autograph bottles of Blue Grouse while he was there. How cool is that?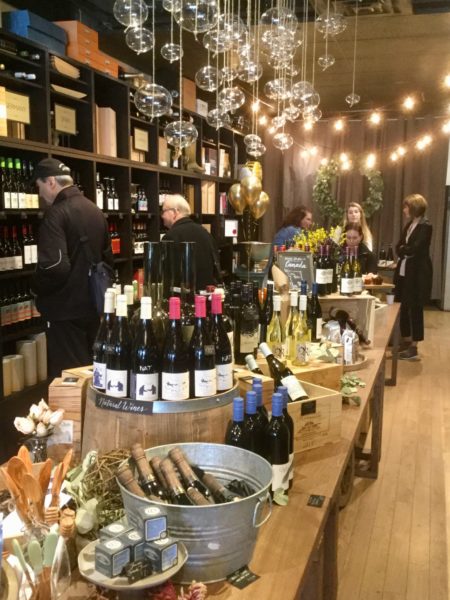 Big thanks to Christopher Reid of Broadway International Wine Shop for hosting this surprise event. Drop in and check out his impressive collection of hard to find wines at 2752 West Broadway, just east of MacDonald in Kitsilano.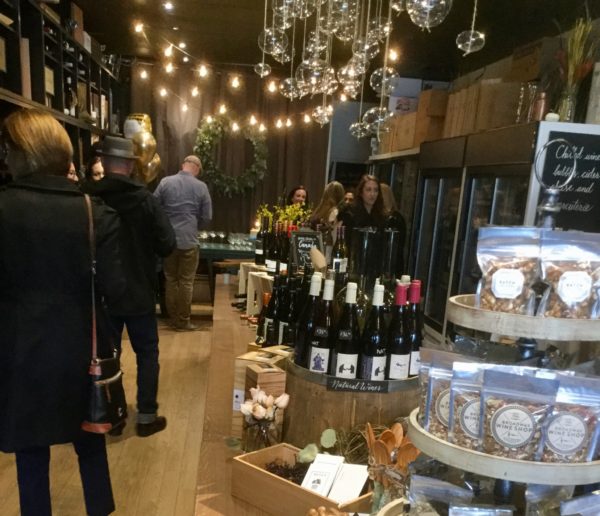 (All photos – Sam Hauck)