Flavours of Italy
At Valcucine/Montauk Sofa Italian furniture showroom in Gastown (228 Abbott St. Vancouver)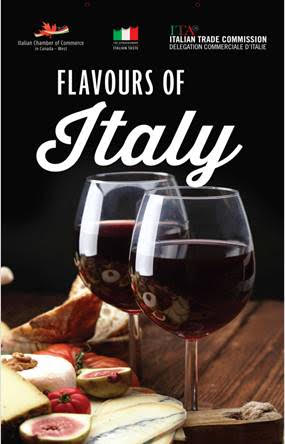 On Tuesday, October 2 an enthusiastic group of British Columbia Liquor Store (BCLS) staff and a select number of media representatives attended the Flavours of Italy Educational Wine Seminar. The wine seminar was conducted by Iain Philip, DipWSET, Wine Educator and WSET Instructor at Barbariain Wine Vancouver.
The purpose of the wine seminar was to acquaint BCLS staff, primarily those that work in your local BC liquor store, and members of the media that write about wine with the wines and wine regions of Italy.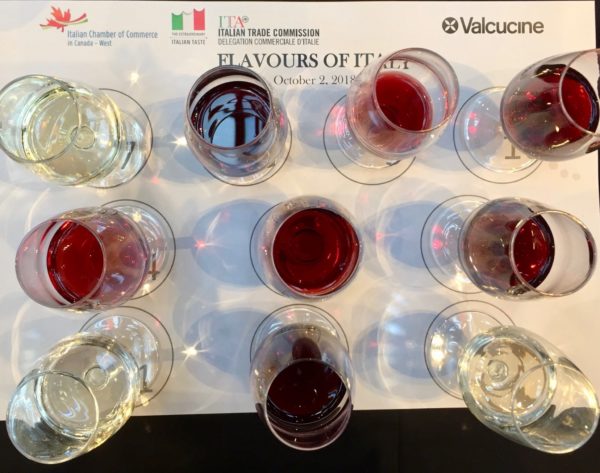 The wine seminar was extremely interesting and we came away with a better understanding of how the Italian wines are designated as IGT, IGP, DOC, and DOCG; wine varietals grown in which regions; the sytle of the wine; and influences of terroir.
There were ten wines poured and as we tasted the wines Philip used a power point display to explain each region, the varietals grown and the resulting wines bottled and sold.
Ruffino Moscato D'Asti 2017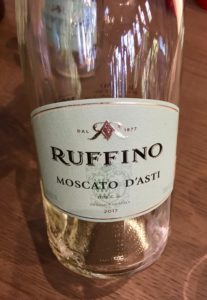 This is the wine I refer to as a breakfast wine as I enjoy pairing this wine with a richer, sweeter breakfast, usually served when our family is together for holidays. We serve waffles, pancakes or French toast along with an assortment of fresh fruit, also with whipping cream and real maple syrup and crispy bacon. Moscato D'Asti is up for the challenge of this diverse array of sweet and fatty offerings and it is absolutely delicious.
Moscato D'Asti is always a favourite, this one was a bit sweeter than I expected with aromas of pears, tingly in the mouth with flowers and fruit. The wine undergoes only one fermentation, then chilled and the yeast is filtered out resulting in a sweet, fresh finish. Multiple fermentations take place throughout the year for maximum freshness, and bottled just before release, based on demand. $16.99 sku 116580 (note: this wine is on sale at $14.99 until October 27). I for one am going to stock up now for the holiday season.
Region: Piedmont, Italy
Medici Ermete Concerto Lambrusco Reggiano Frizzante DOC NV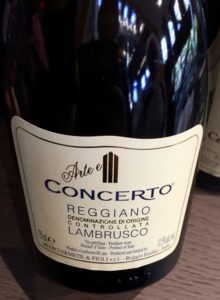 This Lambrusco, which I confess to be a favourite varietal of mine, was delicious with a light taste and dark rich colour and I did not find it sweet. After a few sips it wasn't ticking all the boxes for me, not as rich and sweet as I prefer. An off dry with 10 grams of sugar it is savoury and tart, even with a slight sourness and bitterness. It pairs well with food, as does the majority of Italian wines and fatty foods, charcuterie, Asian foods like black bean or fatty pork, even ham would be a good pairing. $19.99 sku 571968 On sale at $18.99 until October 27.
Region: Emilia-Romagna
Due to the bastardizing of these wines by North American wineries that flooded the market with a number of lower quality wine using the "Spumate" designation the wines from the regions of Piedmont and Emilia-Romagna have fallen out of favour somewhat which is unfortunate because the Italian wines from these regions are not comparable to the low quality versions.
Tommasi Le Rosee Pinot Grigio DOC 2017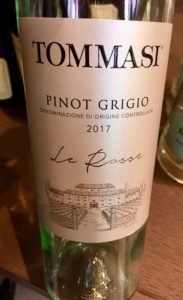 The Pinot Gris is the newest DOC, acidic, fruity, fresh. A low acid grape variety, picking before the grapes are fully ripe makes for an acidity to the wine. Lighter than a Pinot Gris it pairs with lighter food such as salads. It doesn't overwhelm the food. This is a very popular wine. $18.99 sku 326488 On sale at $17.49 until October 27.
Region: Veneto
Nova Valpolicella Classico DOC 2016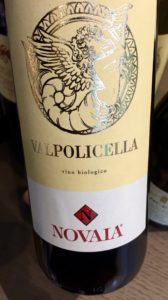 Classico is an historic, traditional region producing high quality wines. Hilly terrain means a longer ripening time. Driven by Amarone, light in colour, with aromas of vanilla, light and fresh with cherry fruit. For this wine it is important to know the producer, a small producer will have a more concentrated vineyard, over 400m that are steep and terraced, subject to some fog. Less expensive variations come from the larger plains areas that have flat vineyard terrain and are of lesser quality. As Amarone continues to become more popular this varietal is less popular and in decline. Amarone with the method of drying the grapes, and its raisin taste is more popular. $21.99 sku 115637 On sale at $19.99 until October 27.
Musella Valpolicella Superiore Ripasso 2014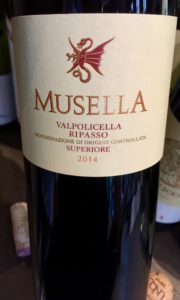 Dark, rich, with a smell of alcohol on the nose. It was fresh, juicy and tasty but with a tart finish for me. Overall it was very good. There is a trend towards Amarone and Ripasso wines. $33.99 sku 80622
Allegrini Palazzo della Torre IGT 2015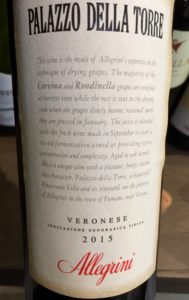 This wine is a little like a Ripasso using some dried grapes, then blended, I found a barnyard scent, very dark. It undergoes a second fermentation, has more sugar and more depth and richness than I found in the Musella Valpolicella Superiore Ripasso with a nicer, smoother finish. $30.99 sku 466011 On sale at $29.99 until October 27
Tenuta Musone Colognola Via Condotto 2017 Verdicchio dei Castelli di Jesi DOC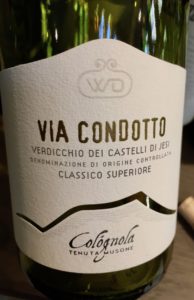 This wine had good, strong acidity. It is fresh with good texture, unique with no oak. A substitute for Chardonnay it has sweet aromas with a tart finish, fruity aroma, darker colour. Young and could be aged for a few years. A reserva and very good. $19.99 sku 16999
Casale del Giglio Lazio Cesanese Rosso 2016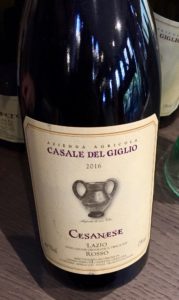 An ancient grape variety and native to this region. With spicy aromas of cinnamon on the nose and palate with slight smoky aromas. Very dark with great legs, for this varietal ripening is challenging. It is juicy with gentle tannins, surprisingly light but refreshing with a richness and freshness but not heavy. Would pair wonderfully with a ravioli with fresh, seasonal tomatoes. At this point the Cesanese Rosso was my favourite so far, in the end I ranked it #2 of the reds. $23.99 sku 646711 On sale at $22.49 until October 27.
Region: Lazio
Vigneti Zau Il Passo Nerello Mascalese Nero d'Avola 2016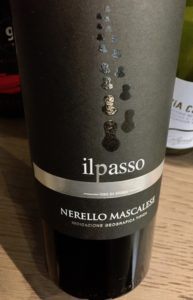 Sicily as a wine region is becoming more popular with their push towards quality. A region that was previously known for mostly bottling wine from grapes that were not their own. This wine is like a pinot noir without the tannins. I found it really, really good with a smokey aroma. The grapes are a native variety grown in volcanic soils The wines and region are currently the hottest, hippest wine region, the Burgundy of italy. Grown in a hot, dry climate rot is not an issue. This wine was delicious, excellent. Oddly I picked up a scent of Elmer's glue and a slight medicinal scent. I would pair this with Thanksgiving or Christmas turkey dinner. $22.99 This was my #1 of reds. sku 699835 On sale for $19.99 until October 27.
Region: Sicily
Feudo Maccari Nero D'Avola, IGP Terre Siciliane 2016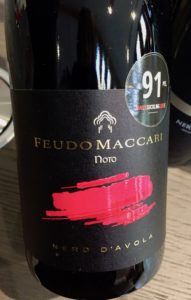 The grapes for this wine are grown in the most southerly region of Italy. The wine was darker than Nero d'Avola and lighter than the Cesanese Rosso. Made with no oak and a purity of the grape variety. It was rich with a fruity aroma, light with a tart finish and flavourful. My #3 of the reds. $19.99 sku 144923 On sale at $18.49 until October 27
Region: Sicily
Italy has over 500 indigenous grape varitiaIs many grown in specific geographical regions which we explored at the seminar; Veneto, Marche, Lazio, and Sicily. I was impressed by the range and quality of all of the wines and totally amazed by the price point. All of these wines are available in your government liquor store.
Please note that the opinions are my own, mixed in with my notes and my interpretation of the remarks made by Philip. Items are offered based on availability. Everyone has a different palate, my favourites may not be your favourites. For example: My #1 wine at the tasting is rated 3.6 out of 5 by 66 reviews on the BC Liquor Store website. In my defence the person seated next to me was also wowed by the il passo which just proves that you need to make your own decisions when choosing a wine. Do not be intimidated by wine critics and wine reviewers. It's your palate and your pocket book.