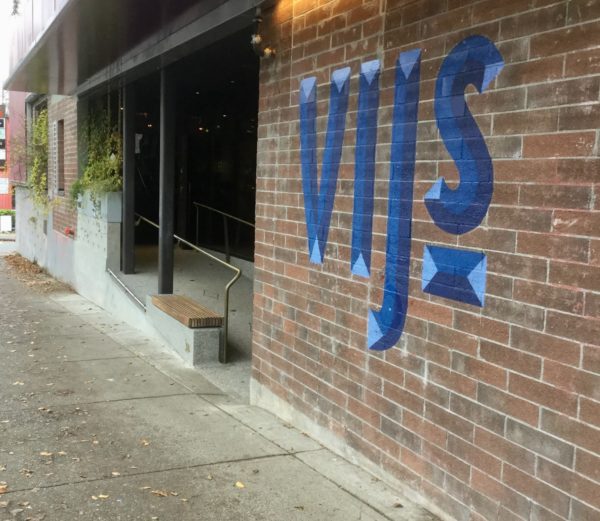 If you are a fan of Italian wines, especially those from Northern Italy, like I am, then you likely think of enjoying a glass of Valpolicella Classico with pizza or a tomato sauced pasta, some Valpolicella Ripasso with barbecued chicken or mushroom risotto and of course a rich intense Amarone with roasted meats or a chunk of parmesan.
But Indian curries? Surely dishes like that are better accompanied with a cold lager or perhaps a dry riesling or gewürztraminer. But red wine? Interestingly enough, the answer is yes!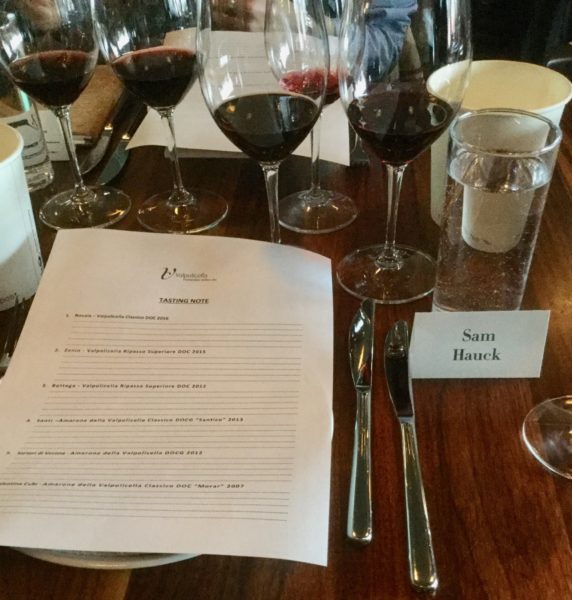 I was lucky to be among those in the media and industry who were invited to an event at Vij's restaurant sponsored by Consortium for Valpolicella Wines (Consorzio per la Tutela Dei Vini Valpolicella). In attendance were the Consorzio director, Olga Bussinello, as well as Nicola Padovano and Tommaso Accordini who also accompanied her. Joining them were the Consul General of Italy in Vancouver, Mr. Massimiliano Iacchini, Cultural Attache, Mr. Gianluca Biscardi and the Commercial Attache, Mr. Antonio Raimo.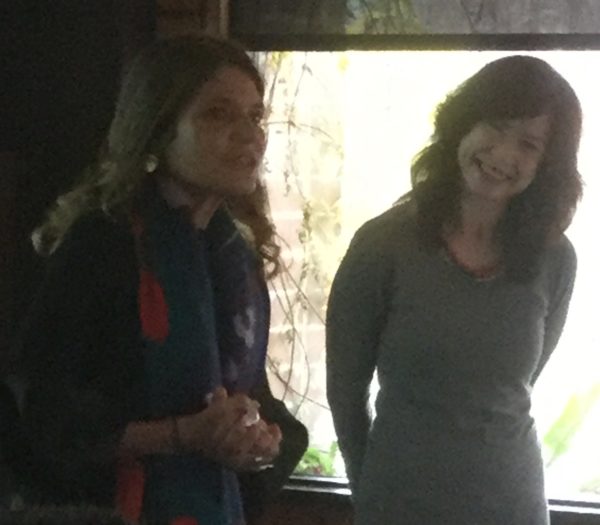 A lot of credit for this seemingly impossible challenge needs to go to Vij's wine director Sean Nelson. Sean was joined by master of wine, Barbara Philip who, as the Category Manager for BC Liquor Stores, guided us through an overview of the region and the processes involved in making each style of wine.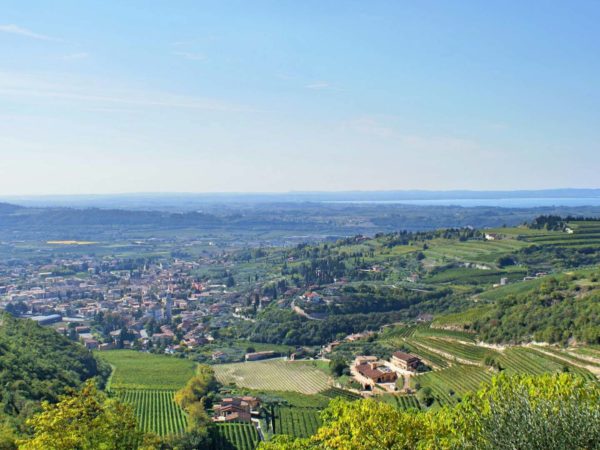 Northeastern Italy is a land of rolling hills, mountains and valleys. The Valpolicella region is made up of eleven valleys with vineyards planted on sites that range from 60 to 720 metres above sea level. There are a variety of soil types to be found here, though most are stony, gravelly or consist largely of limestone. The primary grapes here are Corvina, Corvinone, Rondinella and Molinara. Valpolicella wines are made in stainless steel tanks and are meant to be easy drinking, fresh and fruity, thirst-quenching accompaniments to food.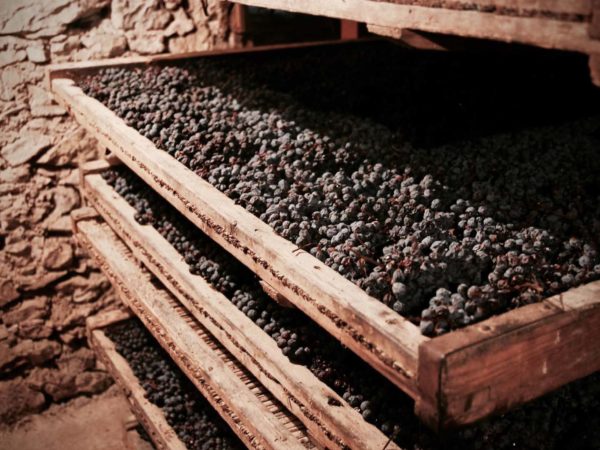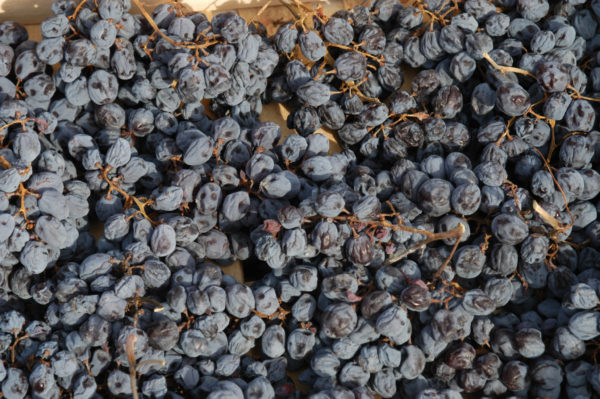 Valpolicella Classico wines represent a better quality and come from specifically designated sites. Valpolicella Ripasso wines are made with the addition of the air-dried skins left over from the production of Amarone wines, which add extra depth and flavour. Amarone wines are made by air-drying the grapes for about three months prior to fermentation. The grapes lose 30 – 45% of their water (and weight) in the process, thereby concentrating the sugars and flavours. Due to the extra time involved and the lesser volume, these special wines are more expensive but well worth indulging in.
Indian foods are characterized by a wide range of exotic spices. These help to create wonderful dishes that are not necessarily hot, so don't be shy to try them. Also, many dishes are vegetarian, which appeals to many people these days who are looking to reduce their meat consumption.
As Vikram Vij has said before, when it comes to Indian food, you should enjoy the wines you like with the food you enjoy. Take a sip of wine, a bit of food and enjoy the interplay of those two sensations in your mouth. So with Sean's help, we were guided through some amazing pairings.
Sean mentioned that at first he was somewhat intimidated by what seemed to be a daunting challenge – pairing wines from the north of Italy with Indian food. However, he could see the potential for some pairings that help tie things together such as the bright light refreshing Valpolicella Classico with the fried appetizer and deeper richer wines paired with richer foods made with earthier spices.
We began with an appetizer and a bright zesty Valpolicella Classico, a very versatile wine and the brightness pairs well with fried foods.
As far as being a bright, light and versatile food wine, Valpolicella does share some similarities with Beaujolais, though there are also definite differences.
Vegetable Pakoras – cauliflower and spinach shredded, breaded and fried in a chickpea batter. The earthy, savoury flavours here were an easy match. The bright fruit flavours and crisp acidity nicely complimented this appetizer.
Novaia Valpolicella Classico DOC 2016
Ruby red in colour with medium intensity. Bramble, sour cherry, raspberry and cranberry with just a hint of vanilla. Good balance. Juicy red fruit on the palate followed by a medium-plus finish.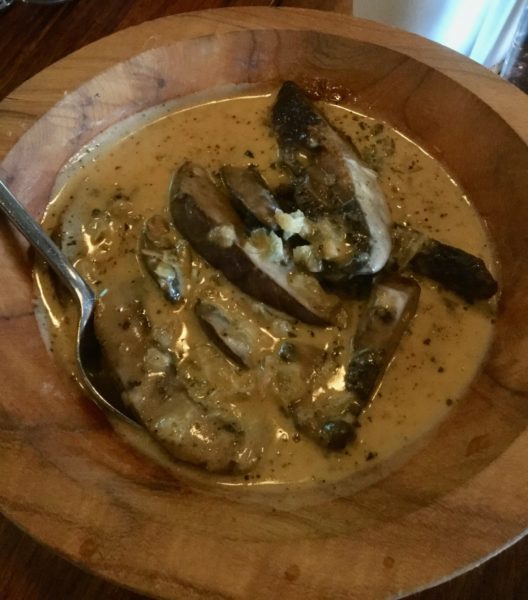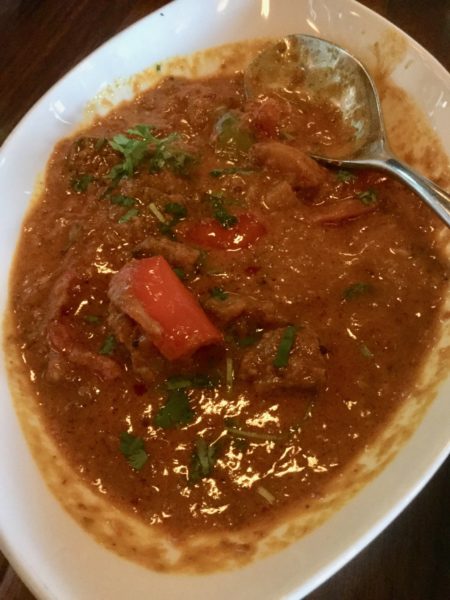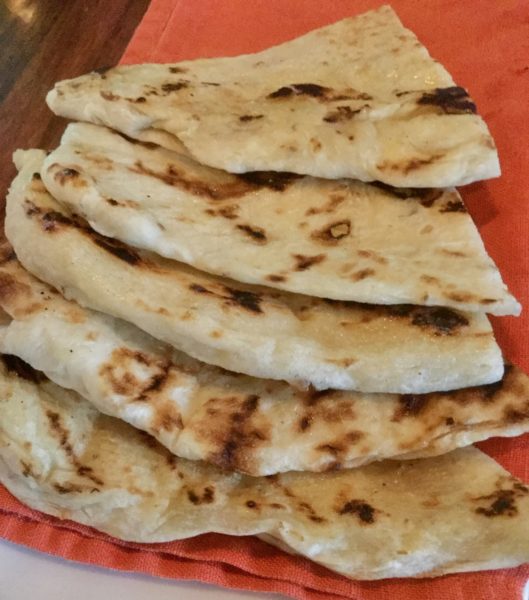 Our first course of Portobello Mushrooms was served with an absolutely delicious Porcini Cream Curry sauce accompanied by Coconut Curried Vegetables with rice and naan. This was served with two Ripasso wines: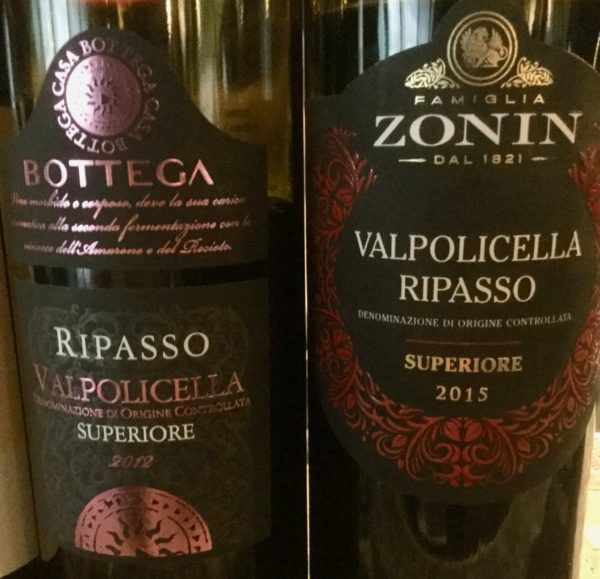 Zonin Valpolicella Ripasso Superiore DOC 2015
Made from Corvina, Rondinella and Molinara. Ruby red with medium-deep intensity. The nose is layered with red and black fruit with cherries and cocoa standing out. Good balance. The flavours follow the nose. A medium finish. This was my preference with the meal due to its acidity.
Bottega Valpolicella Ripasso Superiore DOC 2012
A blend of Corvina, Corvinone and Rondinella, this wine, at two years older, was garnet red with medium-deep intensity. The nose displayed aromas of red and black fruit, spice, vanilla and a hint of leather. Good balance, though slightly low in acid. The palate reflects the nose and is followed by a medium finish.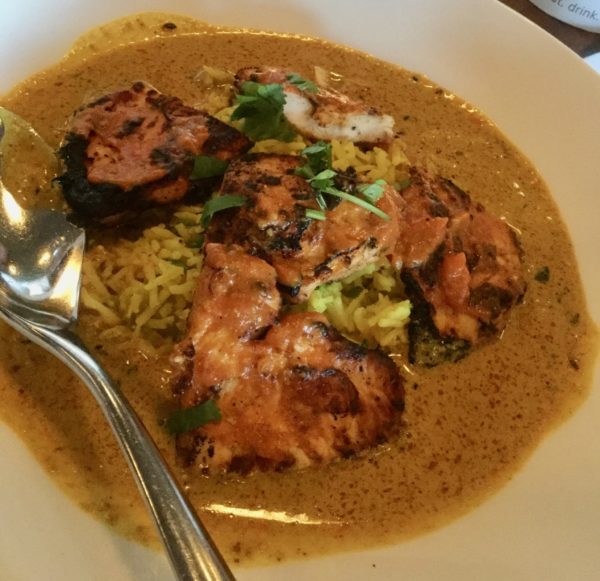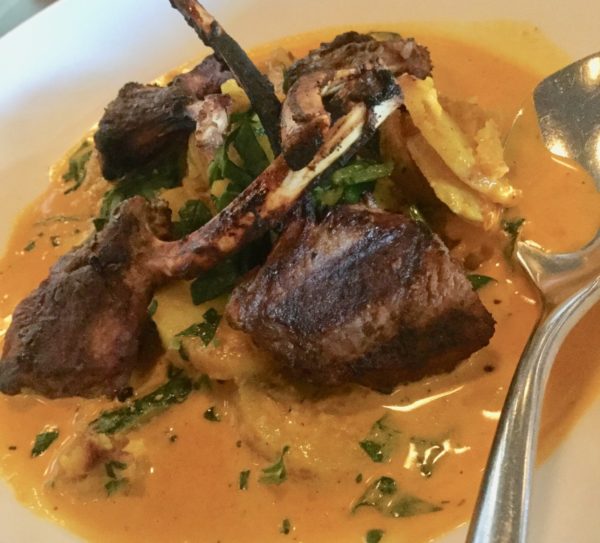 Our second course was even more impressive. Grilled Chicken in Yogurt Curry and Wine Marinated Lamb Popsicles in Fenugreek Cream Curry with rice and naan.
Again we had two wines to compare.
Santi Amarone della Valpolicella Classico DOCG "Santico" 2013
Made from 80% Corvina, 20% Corvinone and Rondinella 15%. Garnet-black with deep intensity. An alcohol lift on the nose with dried fruit, leather, spice and vanilla. Well balanced. The flavours echo the nose followed by a medium-plus finish with some lingering coffee undertones.
Dried cherry, cranberry, plum and cocoa. Big and round in the mouth with smooth ripe tannins. A long lingering finish. This wine will continue to improve for another five years.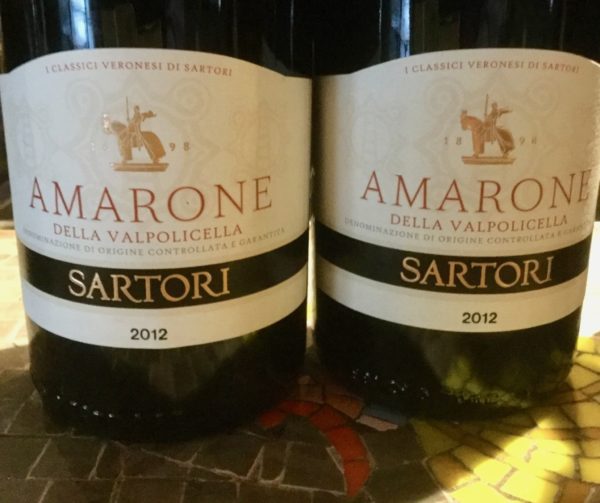 Sartori di Verona Amarone della Valpolicella Classico DOCG 2012
A small 5% addition of Cabernet Sauvignon has been added to the traditional blend of Corvina, Corvinone and Rondinella.
Garnet red with deep intensity. Dark jammy fruit on the nose. Well balanced. The flavours mirror the nose. A medium-plus finish. I liked this one just a little bit better, especially with the lamb.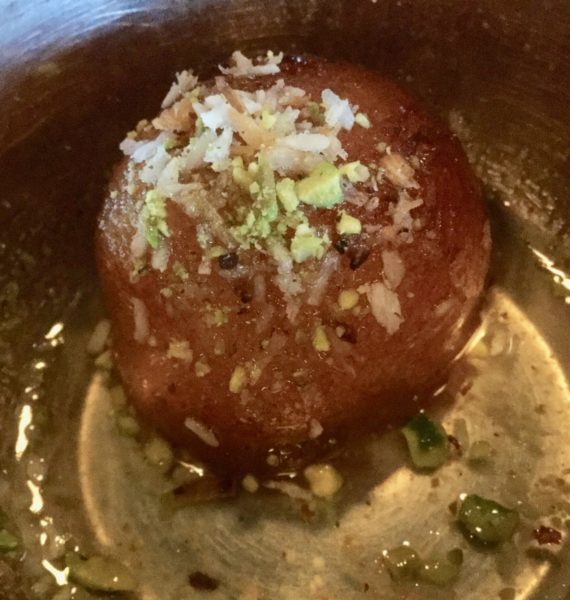 The final course was perfect small sweet bite.   Gulab Jamun in Cardamom syrup with Pistachio and Coconut. This was paired with one of my very favourite Amarone wines.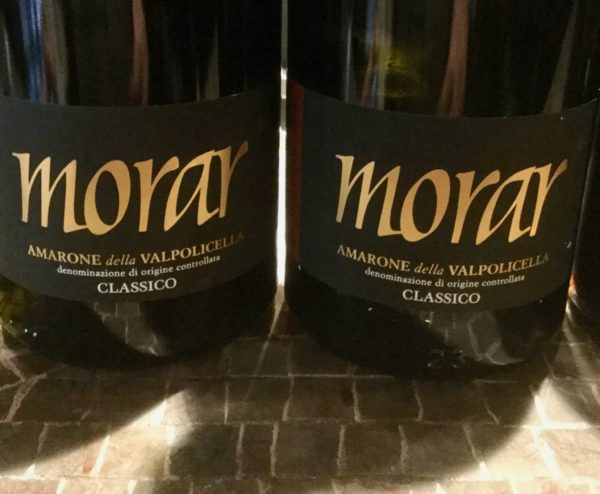 Valentina Cubi Amarone della Valpolicella Classico DOC "Morar" 2007
Corvina 70%, Corvinone 25%, Rondinella 5%. 40 days maceration helps to make this a rich, mouth-watering wine. The grapes were grown on poor soils with high rock content. Low cropping levels and repeated passes through the vineyard to select only the best grapes, which were then air dried for 90 days. Garnet red with deep intensity and slight bricking. A complex nose of dried fruits and vanilla along with floral and savoury notes. Well balanced.   A perfect match for our dessert.
What a wonderful way to spend a Monday afternoon.
The Consorzio per la Tutela Dei Vini Valpolicella knows that Vancouver has a diverse foodie culture and has strived through their visits to show how versatile their wines can be. Earlier this year, Olga Bussinello hosted another event at Miku restaurant where we were treated to an evening of Prosecco and Valpolicella paired with Japanese food. The results were eye opening. It all goes to prove that if you have Valpolicella and food, you can't go wrong.
Viva Italia!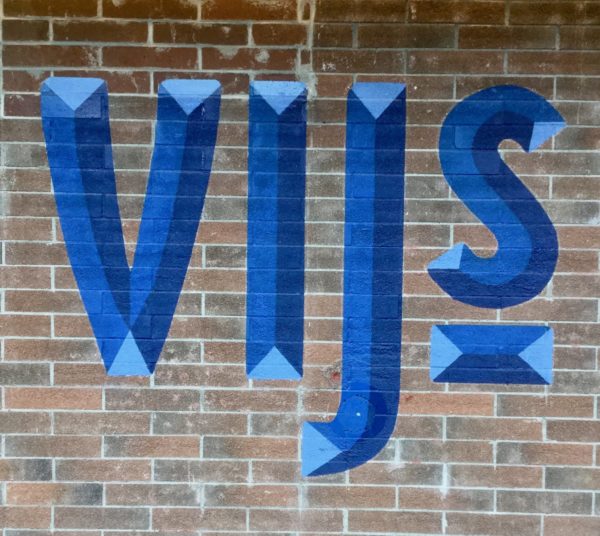 (All photos, except as noted – Sam Hauck)