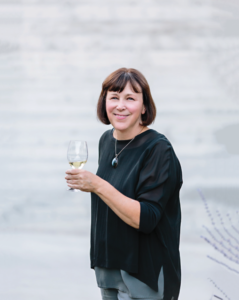 On September 27, 
Christine Coletta
, owner of
Okanagan Crush Pad
 (OCP), has been presented the Founders Award at the Okanagan Fall Wine Festival. Coletta has been presented the award in recognition of her contributions to the BC wine industry.
When presented the award in front of industry peers by industry veteran Harry McWatters of ENCORE Vineyards, Coletta said "I was very touched to receive this award. It was emotional to see my name added to a trophy containing the names of people who have worked tirelessly to create a thriving BC wine industry over the past 30 years."
This award is a further recognition for Coletta's passion and leadership in propelling the industry forward and to rise on an international level. Coletta has worked tirelessly to advocate for and to improve the Canadian culinary scene.
Coletta started her career in hospitality as a server during her early years and it was in the 1990s that her leadership and dedication for the industry took off. As founding executive director for the BC Wine Institute, Coletta forged VQA as a standard to support the local wine industry and its various marketing activities. In addition, she co-founded Wines of Canada, the national wine standards arm. Under that umbrella, Coletta developed a roadshow that crossed Canada to encourage support for local food and wine.
After helping numerous BC wineries establish their businesses, Coletta launched her own wine,
Haywire
, and Canada's first purpose-built custom crush winemaking facility at OCP. Since 2011, Coletta has assisted more than 15 BC wineries in their winemaking via OCP.
Coletta has also been on the leading edge of Canada's organic farming and winemaking movement, establishing OCP as Canada's top producer of wines made from organic grapes and without additives or manipulation.
Earlier this year, when the government of Alberta held a boycott on BC wine, instead of responding with retaliation, Coletta led and set the tone for collaboration, by initiating a BC wine and Alberta food event.
And above this, Coletta doesn't keep her knowledge and ideas to herself. She shares her resources and continually offers advice and encouragement to not only her own team and people, but also her community and industry. Her most recent project is on the team that formed the
Okanagan Wine Initiative
, where seven leading BC wineries have united to share resources and to collaborate on various projects internationally, across Canada, and in their home market, British Columbia.
With another accolade added, Coletta will continue to innovate and propel the industry forward to become a premium wine producing region and a superb wine tourism destination.
About Okanagan Crush Pad:
Okanagan Crush Pad
is Canada's first purpose-built custom crush winery facility, located on the 10-acre Switchback Vineyard in Summerland, BC. Owned by
Christine Coletta
and
Steve Lornie
,
Okanagan Crush Pad
focuses on making wines that celebrate purity and simplicity, and aim to lead the next evolution of Okanagan wine. Visitors to the tasting lounge, set in the heart of this state-of-the-art facility, get a rare glance into the art of winemaking. Watch the cellar team in action, discover why the team makes wine in concrete tanks, and learn how the team composes wines that are definitive expressions of their vineyards.