Good people collaborate and bring great wines to the market
HQ Wine + Spirits is the newest beverage alcohol sales agency in British Columbia.
Owned by Christine Coletta and Steve Lornie, who also own Okanagan Crush Pad winery in Summerland, the new agency will sell the Haywire and Narrative labels, and debuts with wineries from other countries: Poggiotondo (Tuscany, Italy), and Pedro Parra y Familia, (Bio Bio, Chile). Coolshanagh, from Naramata, has been represented by Okanagan Crush Pad for the past two years, and will also be a part of the HQ Wine + Spirits portfolio.
Based in Vancouver, British Columbia, HQ Wine + Spirits is led by an uber-experienced team: Rebecca McKinney, David Scholefield, and Alison Scholefield; supported by a dynamic sales team. Coletta leads marketing and communications.
Christine Coletta and Steve Lornie established their thriving Okanagan Crush Pad winery in 2011 to bring custom crush wine services to the Okanagan Valley and to create a home for their own wine production. After their 5th anniversary, Christine and Steve opted to expand the portfolio handled by their in-house sales team to include select import products. They chose the name HQ Wine + Spirits, as the team refers to their small, bustling Vancouver office as "headquarters". The company focuses its efforts on British Columbia, a market the team knows and loves.
In addition to Okanagan Crush Pad's Haywire and Narrative labels, longtime friends and colleagues of Coletta and Lornie are the first winery suppliers to sign on: Poggiotondo, owned by Alberto Antonini and Alessandra Renieri (Tuscany, Italy), Parra y Familia, owned by Pedro and Camila Parra (Bio Bio, Chile), and Loveblock, owned by the Crawford family, Erica and Kim, (Marlborough, New Zealand). The team has been proudly representing Skip and Judy Stothert's Coolshanagh wines (Naramata, British Columbia) for the past two years, and is excited to continue to do so.
"Our own wine production grows steadily each year, and we have received very strong support from the trade and media in British Columbia for our Haywire and Narrative wines," notes Coletta. "It felt like the right time to expand, and we want to work with like-minded wine producers with exciting projects. The common ground among the wineries in our portfolio is that we are all family operators with a passion for preserving farm land and making wines that articulate the story of the place where they are grown".
The agency is in the capable hands of Rebecca McKinney, who joined the Okanagan Crush Pad team in August 2016 as director of sales and promotions.
"Wine is about connecting the dots. There is a natural partnership between OCP and the producers we are launching our new business with, and we are all proud to be on the same team," says McKinney.
Handling portfolio and wine selection is business associate David Scholefield, who has dedicated his life to the pursuit of authentic wines. Scholefield was instrumental in recognizing the need for a rich wine culture in Vancouver in the early 1980s – and contributed to the scene that is now vibrant and diverse. Coletta and daughter Alison Scholefield will oversee marketing, communications, social media, and work with additional long time associates to complete the picture.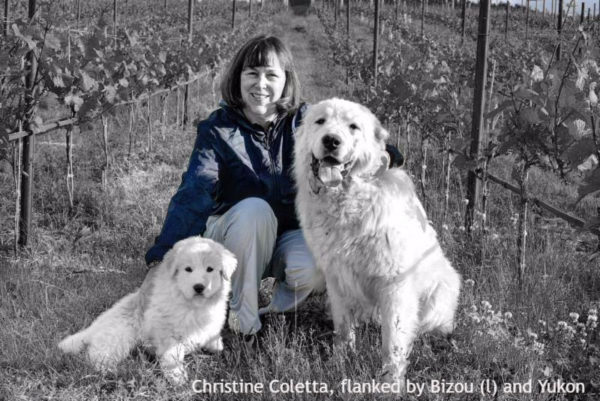 HQ Wine + Spirits' Portfolio
Okanagan Crush Pad – Producers of Haywire and Narrative
From a small vineyard project in 2006, Okanagan Crush Pad has grown to become a recognized leader, with a vision that is helping shape the way wine is made in Canada's Okanagan: a rare arid desert where the vines experience both extreme heat and snow. In 2011 owners Christine Coletta and Steve Lornie built Okanagan Crush Pad, a facility that offers custom crush services in addition to producing its own Haywire and Narrative wines. Now, with chief winemaker Matt Dumayne and viticulturist Duncan Billing at the helm, fundamental commitments include organic farming, precision viticulture that respects land and wildlife by enhancing biodiversity; and minimalist winemaking. Wines are made in concrete tanks using native yeasts, with few, if any winemaking inputs, to allow the terroir of our exceptional place to shine through. The winery has a tasting room in Summerland, BC that is open year round.
Coolshanagh
After successful careers and raising a family, in 2002 Skip and Judy Stothert relocated from Vancouver to a 52-acre site seven kilometers north of the town of Naramata. The land sits between what was the ancient west coast of North America and Okanagan Mountain overlooking Okanagan Lake. Skip was first exposed to wine via his father and developed a love of the great wines of Burgundy. After noting that many vineyards in the Okanagan were small plots and realizing the quality of their land, Skip made the decision to focus on two varieties (Chardonnay and Pinot Noir) and set about planting in 2004. In 2012, they started their own wine label, Coolshanagh. Winemaking is in the hands of Matt Dumayne, who uses large oak barrels, concrete vats and lees aging which together contribute to the subtlety and expressiveness of the wines. Distinct regional flavours emerge from this fertile calcium carbonate-loaded soil comprised of fractured glacial bedrock. Viticulture is directed by Pedro Parra with Skip overseeing day to day farming.
Parra y Familia
With Pedro Parra, the world's leading 'geologist of wine', there is always an idea. With his wife Camila they set a big idea for Parra y Familia, as old vines and red granite in Pedro's home region of southern Chile. Here Pedro, the ultimate terroir hunter, has searched out almost-forgotten old plots of dry farmed bush vines of Carignan, Cinsault, and Pais. Some of these vines are 200 years old, putting them among the oldest vines in the world. These priceless old vineyards scattered across Itata and Bio Bio produce rare, special wines, all defined by the red granite on which they are grown. These vineyards are 'organic by default' – that is, they always were, and when synthetic chemicals and fertilizers became available in the 1950s it went without saying that the impoverished campesino farmers could not afford them, so nothing has changed.
Poggiotondo
Alberto Antonini and Alessandra Renieri's home estate is located in the idyllic Chianti countryside between Florence and Pisa. 'Poggiotondo' means 'round hill' with the elevation of the vines is 100 meters above the sea level. The grape varieties are focused to the classic Tuscan Chianti varietals (Sangiovese, Canaiolo and Colorino for the reds and Vermentino for the whites). Surprisingly, since the Mediterranean is only barely visible many kilometers away in the distance, the vineyards that top the steep hills are studded with white marine fossils, ammonites, clams, and oysters; that infuse the wines with a distinct briny minerality.
Poggiotondo was certified Organic in 2014, and biodynamic farming practices are being introduced. Alberto's mantra is "if you want to make wines of place, first you must take care of the place". In addition to 123 acres of vines, the Poggiotondo farm also includes 2,000 olive trees.