Okanagan Crush Pad is proud to have successfully transitioned Switchback Vineyard and has now received their Certified Organic Certification.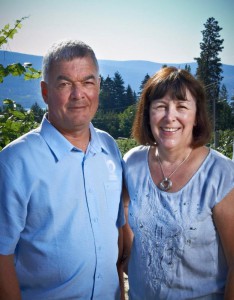 When Switchback Vineyard was converted from a fallow orchard in 2006, it was designed with local expertise and farmed conventionally. The vineyard team poured immense energy into the project and was proud of the results, which lived up to local standards. At that point, there were less than 60 hectares of organic vineyard land in BC and to plant an organic vineyard was not top of mind for new vineyard farmers, Steve Lornie and Christine Coletta.
The decision to convert to organic growing was inspired by the winery team's work with Italian oenologist and winery consultant Alberto Antonini. Antonini pointed out what was being done globally and why organic grapes are the foundation of making wines that reflect where they are grown.
Antonini's suggestion hit home when Coletta spotted a rash on her dog Echo and pieced it back to a walk through the vineyard which had been recently sprayed with pesticides. "Clearly these chemicals were affecting humans and animals and it had to stop," she noted. "Alberto's words about caring for our land and how vineyards need to be 'alive' in order to make wines that have a sense of place, all snapped into my head. I gained a clear plan, and it took me two seconds to convince the rest of the team."
Before converting, the first step was to analyze the vineyard. Enter internationally respected terroir expert Pedro Parra, who had joined the winery team to assist them in the hunt for a new Okanagan vineyard site. Pedro and a team from Chile magnetically mapped Switchback Vineyard, and dug pits throughout for full analysis of site and soil.
It was revealed that there were many micro zones and that each should have originally been planted with a different clone and root stock to suit unique circumstances. As the team wasn't prepared to replant the site, Parra recommended a program to mediate the farming practices to achieve premium results. These changes are part of the foundation of precision viticulture, where each vineyard lot, and even each vine, is treated individually by hand.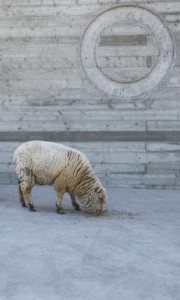 Following Parra's recommendations, the team made radical changes to the vineyard, implemented by Theo Siemens, Okanagan Crush Pad's vineyard manager. Changes were made to pruning, watering, ground cover crops, and the use of animals in order to balance the vineyard and put it on a 'healthy diet'. With this new farming regime in place, Switchback Vineyard has been farmed organically since 2011. Sheep, chickens, ducks, and two miniature donkeys complete the picture. Read the full story on the farming and process.
The vineyard receives its official organic certification in August 2015 and Antonini and Parra join the Okanagan Crush Pad team to mark the occasion.
The next step for the winery team is to develop the winery's Garnet Valley Ranch, a 312-acre Summerland site, that has been farmed organically from the day we built it. Adding to this, the contract growers the winery works with are now in transition to organic growing, setting the stage for a fully organic wine program. The winery is now on a three-year-track to use organic grapes exclusively for the production of its own wines.
"It has been an amazing amount of work. We were like parents of newborns: over-anxious, over-bearing and hovering," commented Coletta. "Perhaps we are a little more relaxed about the process now and have built up confidence in our conversion process and the outcome. That confidence has led to the next phase."
Organic Grape Growing at Okanagan Crush Pad
Read the full background on Okanagan Crush Pad's organic program, including more about the team, specific vineyard changes and process here.
Making Natural Wines at Okanagan Crush Pad
Read about the winery's natural winemaking program.
The Status of Organic Viticulture in BC
The state of organic grape growing in BC and the four key areas grape growers need to consider when farming organically.
Quotes
"An organic vineyard finds its balance under careful farming. It becomes an environment with biodiversity that is capable of fighting off disease pressures as plants have built up strong immune systems. Organic grapes are necessary to create wines with regional expression, as they are the foundation for wines that convey the sites where they are grown. Because organically grown grapes are not manipulated with artificial fertilizers or other chemicals, in addition to being safer for human and animal health, there is variation among the resulting wines from vintage to vintage. This is in step with changeable annual growing seasons; hence the resulting wines are more expressive of place." – Christine Coletta, Okanagan Crush Pad co-owner
*
"You are only on this land for a while and you have a duty to leave it in better shape than you found it. You cannot make wines with a sense of place if that place is not a healthy vibrant environment, and the two concepts go hand in hand." – Alberto Antonini, consulting enologist 
*
"The Okanagan is not an easy place to affect new thinking, and 20 years ago two men had the sense of mind to do what was best for the land. They both live and breathe what they believe, which is incredibly admirable, and made us and others want to follow." – Christine Coletta, Okanagan Crush Pad co-owner, referring to Summerhill Pyramid Winery owner Stephen Cipes, and organic grape grower Hans Buchler
Unveiling of the new Switchback Organic Vineyard sign
Top Row: Pedro Parra, Alberto Antonini, Megan Solley, Kristina Neilsen, Tyler Knight, Veronick Olivier, Laura Genn, Jordan Kubek, David Scholefield, JP Tremblay,
Christine Coletta, Julian Scholefield, Matt Dumayne, Theo Siemens
Bottom Row: Alison Scholefield, Chantale Gagné, Mike West, Steve Lornie
Winery Dogs: Echo, Acadia, Beau
Okanagan Crush Pad, proud producer of Haywire and Narrative wines, is quickly building a reputation as one of the premium producers in the Okanagan. The winemaking team includes world renowned Tuscan-based consultant Alberto Antonini, wine expert David Scholefield, chief winemaker Matt Dumayne, and sparkling winemaker Jordan Kubek.
Located in beautiful Summerland, BC, the winery overlooks Switchback Organic Vineyard, a site that is also home to roaming sheep, chickens, and ducks. Okanagan Crush Pad crafts wines that are symbolic of the region's unique high mountain/northern desert setting which has an intensely hot, short growing season with hallmark cool evenings. The winery is the first in Canada to extensively use concrete tanks and wines that are fermented and aged in concrete carry the Raised in Concrete designation.
Visitors to the guest center, built right into the heart of the production facility, get a rare glance into the art of winemaking.
Okanagan Crush Pad is a place for collaboration; we want to talk to you!