In conversation with Adorada winemaker Margaret Leonardi on the subject of her newest wine venture – Adorada Rosé.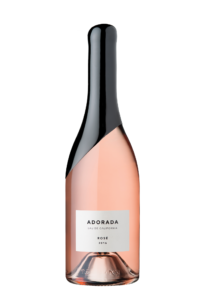 Leonardi comes from a family that are fourth generation dairy farmers so finally settling on a career in viticulture seems a natural progression. Perhaps it was the internship in a chem lab that may have been the start of a career or a campus club that was the influencer. "Just a great area to be immersed in the industry," Leonardi started at Cal Poly in marketing but not sure exactly where she wanted to be. Following her internship the same company offered a position as an assistant winemaker in 2009 eventually working her way to Fetzer.
Why Rosé?
"With the current trend to Rosé and how many people are coming onto the market we thought we might want to explore that and when we were doing competitive tastings there were a lot of similarities, once you've tasted all the rosés side by side and you're trying to get into that sector you want to come in with something really exciting or different. So that was our main approach to get into the rosé category and just come in with something very distinctive, different from everything else that is out there, so like the lighter Provence style but we wanted to be just different, a California brand."
Which varietals do you use in your Rosé?
"I use quite a few but the main three are Grenache, Syrah, and Pinot Noir. I don't like to marry to the percentages the things I blend because then I feel a little constricted going to the next vintage. If you say it's 60% grenache then the grenache is a little more spicy the next year, I like the freedom to dial it back to say 40 for the next vintage without people being too focused on exactly what's in the blend. I want them to have the experience not focus so much on the technical sheet. I am always trying different varietals and exploring things, different sugar levels and alcohol style."
How many vintages have you produced?
"This is the second, we started in 2015, small, in 2016 was about 2000 cases and then 2017 went really well and we made 15,000 and we're sold out, or we will be, with the forecast of how the next few months will go. By the time 2018 is ready to go it will hit the shelves."
What is the source of your grapes?
"We source from all areas choosing the best areas in California. If we get something from the North coast that fits the profile from Monterey it will vary the percentages I want to use."
Why the trend in Rosé?
"I think I'm just as surprised as everybody else, I'm not sure maybe because it is a new wine people haven't been as familiar with in the past. There are so many options out there today. The more that come on the market the more people are trying it. It is pretty approachable and it's not specific. If someone has a Sauv Blanc in the past that's really brassy and they didn't care for it then they might be turned off by Sauv Blanc even though every single one is different. The Rosé is more like an umbrella it's easy to say everyone is different, it's approachable. Rosé seems to be everywhere and it seems to be escalating."
How did you come up with the unique packaging?
"The package was inspired by the winemaking process and the approach. We wanted to have a very elevated product and when we were doing the tastings and coming up with the final blend we kept coming back to the concept of perfume and we wanted to emulate a perfume bottle so it's elegant and beautiful. It's says eau de California on it. I think when you purchase it you feel like you're getting something a little extra and that's what you get with the wine as well. The cherry on top is that the craft style approach that I take in the winemaking process and I'm tasting all these different varietals kind of blindly and seeing what comes together and if I need five more percentage or if I don't like this 10 percent so as I'm doing this crafting the wine really. So the packaging team got the idea of crafting the package so the team hand dipped those bottles. Very laborious, but beautiful and each one is different, it's really unique."
Why do you think your Rosé has resonated so well with Millennials?
"I think just the fact that it's different. approachable, easy to drink, light sugar, has crisp acid, could be paired with a lot of things, could be enjoyed on it's own. That's why I tend to like it. I think with the bottle we've seen a lot of people want to show it off and we get tagged a lot with consumers posting pictures."
How long and what quantities have you been making of the Pinot Gris and Rosé?
"Same, same quantities, 2016 just 2000 cases. We like to see it's first year, take feedback. Overall with 2017 15,000 cases of each, and we're thrilled to sell out that quantity but we will increase it. For 2018 we have a target, I always make a little more. I was only supposed to make 10,000 cases of the 2017 but then if it sells out then we'll make more so I always round up. We plan to round up for 2018 as well, were just working on sourcing. I'm planning on making at least 20,000 because we're still introducing it and getting it out there. Every vintage will be different."
What are your favourite foods to pair with the Rosé?
"I think because there is a lot more spiciness to it almost like some ginger so I think the Adorada Rosé goes really well with Asian food, some spicy tangy or Thai food.The wines are meant to drink now, a great summer wine."
Where do you see yourself going from here?
"There are always things in the works. The company really encourages innovation which is how we came up with Adorada in the first place. We are happy with those two varietals. Pinot Gris was really hot last year, Rosé seems to be this year. We're planning on growing even just to keep up with sales, we almost have to but I think we're content with the two varietals for now but who knows what the future will hold. I would love to add to it but we are happy with those two. I'm prepping for 2018 now. We start harvesting in mid to late August. Pinot Gris comes in early and then we pick the Rosé at different sugar levels but some lower more like a white wine style so those will come in shortly thereafter. The year is looking good. The winery is in Medocino county and we've had a couple of good winters now and things have gone pretty good. We're feeling pretty good. In Sonoma county, Medocino county we're concerned of course because we source grapes from the whole State but we have a pretty good water supply compared to other areas in the State still trying to get out of rough times. When we introduced it I had the opportunity to see how it was received and make little changes like going into 2017 with decreased sugar, I went down a couple of grams of sugar and then more spice on the Rosé. People like more citrus on the Pinot Gris. The entry was a good way to get all that feedback and then really hone in on the formula or the profile I wanted to show for 2017. Each year if they're different, and I wouldn't necessarily say better, I was thrilled with 2016 and now we just want them to be a little different every year and still show the same characteristics."
About Adorada
Adorada Rosé and Pinot Gris are crafted from premium California grapes in an aromatic style, reminiscent of a floral fragrance. Each bottle is finished with a sleek draping of wax, creating an aesthetic akin to classic perfume bottles. Part of the Fetzer Vineyards portfolio, Adorada—meaning "adored" in Spanish— is pushing the boundaries of conventional Rosé and Pinot Gris, creating an unexpected and evocative aromatic experience for today's adventure-seeking wine lover.