Fifteen Medal Wins Include Platinum for the 2016 Roussanne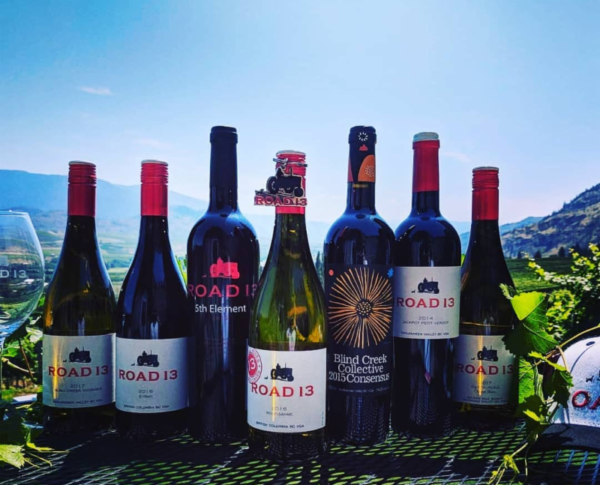 Road 13 Vineyards
 toasts to the coveted title of
#1 Winery in Canada
to ten years of consecutive titles as a
Top Ten Winery
in Canada at the
National Wine Awards of Canada
which has been managed by
Wine Align
since 2013. The family-owned winery is elated with a platinum win amongst the 15 medals awarded and the titles of number one winery in
both
British Columbia and
Canada.
Road 13 Vineyards is the only winery in Canada to win both platinum and a top-ten national spot for six consecutive years. Road 13 boasts nine platinum medal wins since their induction into the awards in 2013 – double that of any competing winery across the nation.
"We are so delighted with this win," shares Managing Partner Joseph Luckhurst. "Our team's tireless dedication to excellence has really paid off, as has following our passion for Rhone-style wines." Road 13 Vineyards has turned their focus to Rhone style varietals of late with real success. The Rhone varietals have consistently shown the highest quality of fruit in the vineyards and reflect characteristics of old world complexity and new world fruit intensity. "A platinum medal for the 2016 Roussanne is proof of our understanding of the best way to express our distinctive terroir in the glass."
Held annually in June, the National Wine Awards of Canada (NWAC) are only open to wines grown and produced in Canada. The goal of 'The Nationals' is to expose Canadian wine drinkers to the best in Canadian wines. With no price restrictions each winery has the opportunity to compete with the best wines in the country.
About Road 13 Vineyards:
Road 13 Vineyards is a family owned and operated winery located on the Golden Mile Bench in Oliver, BC. The winery has a short yet colourful past and continually receives ongoing critical acclaim for making white, red and rosé varietals that are a quintessential expression of Okanagan Valley terroir. Accolades continue to pour in for Road 13 Vineyards who claim the success is "All About the Dirt." In 2018, Road 13 Vineyards took both Canada and BC's top winery spot in Canada 
Wine Align's National Wine Awards
having maintained a spot in Wine Align's top 10 for the past ten years.
In addition to the
award-winning wines
, Road 13 Vineyards is a destination in itself, offering guests two unique experiences: feature tastings in the "Castle," or a more leisurely tasting of the entire Road 13 wine portfolio in the Executive Lounge. Visitors are encouraged to stay a while and bring a picnic while enjoy the stunning views of the Oliver-Osoyoos Wine Country.
For more information visit road13vineyards.com or visit socially on Facebook, Twitter and Instagram.