What do you think of when you hear the name Giant Head? For me, it has always conjured up summer road trips to the Okanagan. Often it reminds me of days spent camping at the provincial park campsites between Summerland and Peachland. Warm days, fun at the beach and always bringing home lots of fresh picked tree fruits and vegetables on the return trip back to the coast.
For others, it may be the iconic mountain in Summerland that has been a clear landmark for people travelling between Penticton and Kelowna and further on. Many have stopped to hike to the top of the 500 metre volcanic peak to enjoy the stunning panoramic views.
Now for many, including myself, it also means the name of one of the newest wineries located along Summerland's Bottleneck Drive wine route. Bottleneck Drive is made up of two dozen members, more than half of which are wineries, so when you plan your next trip, allow plenty of time to explore the area; this is not a one day stop.
John Glavina and his wife, Jinny Lee got bitten by the winemaking bug while touring in France about ten years ago. Later they moved from Vancouver to Summerland and Giant Head was born. While purchased in 2004, the vineyard has been in production since 2008 with their four-acre patch planted with Pinot Noir, Merlot, Riesling and Gewürztraminer. For a while, John sold his grapes to other wineries, holding back just enough to make a little for his wife and himself to enjoy. Their first commercial release was in 2014.
Being a family estate winery, means you don't have to answer to anyone else. You make the wine the way you want and have complete control over the wine, both in the vineyard and in the winery. The flip side is that it also means that you have to do all the work, and believe me there is a lot more work than anyone ever imagines. Giant Head wines reflect the passion of the owners and the terroir of the land where they were grown. Recently, I was given the opportunity to sample three of their wines.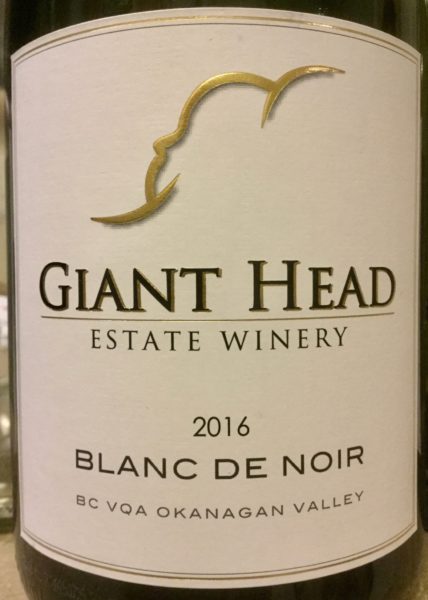 2016 Blanc de Noir
$29.47
This BC bubble is made from whole cluster pinot noir and is only 11.2% ABV. Copper/orange in colour with medium-minus intensity. The nose shows aromas of orange peel, nectarine, green apple, pear, brioche and delicate honeysuckle. Good balance and creamy mousse. Pleasing fruit on the palate with a medium-plus finish. Good anytime, though I find myself looking forward to a cool, crisp and refreshing glass on a patio in the summer.
2016 Rosé
$19.91
Another delightfully low alcohol wine, which makes it so appealing as a luncheon wine. Made from Merlot, it is pale cherry red in colour with medium-minus intensity. The nose is delicate with aromas of raspberry, rhubarb and strawberry with floral and spice undertones. Light bodied with good balance. Crisp and refreshing on the palate with flavours that echo the nose followed by a medium finish.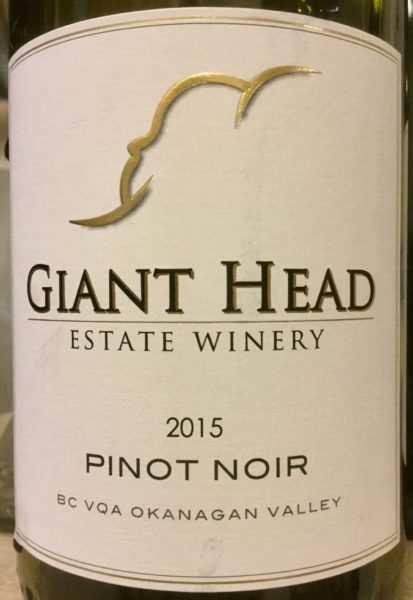 2015 Pinot Noir
$39.04
Grown from estate grapes, this wine is garnet red with medium-deep intensity. Cherry, plum, meat, earth and spice on the nose. Good balance with smooth ripe tannins. Flavours of cherry, plum and vanilla on the palate followed by a medium-plus finish. Serve with duck, salmon or mushroom dishes.
I have heard rumours that some new wines might soon be added to their line up so stay tuned for more. Note: since the publishing date an announcement for a special new wine will be launched in Vancouver on March 1st. Please email direct for more information [email protected]
You can find Giant Head Winery at 4307 Gartrell Road in Summerland.
Giant Head wines can be purchased directly from the wine shop, VQA – Save On Foods and select liquor stores.
Website: Giant Head Winery
Facebook: Giant Head Estate Winery
Twitter: @giantheadwinery
Instagram: giantheadwinery