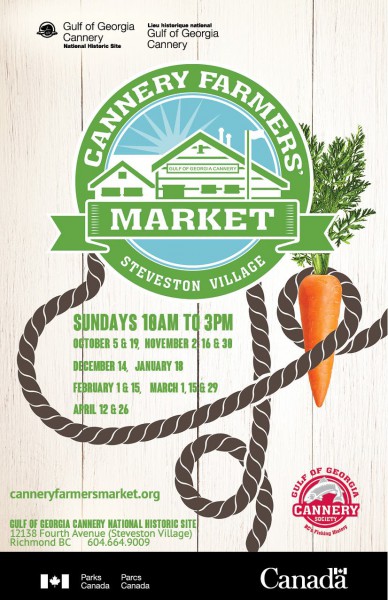 The Gulf of Georgia Cannery Society is very pleased to take over operation of the Steveston winter farmers' market this fall. Taking place in the unique Gulf of Georgia Cannery National Historic Site, the newly-branded Cannery Farmers' Market will open its doors Sunday, October 5th and operate every otherSunday to the end of April 2015.
On market days from 10:00 a.m. to 3:00 p.m., visitors can enjoy a cosy atmosphere, fresh food products, and a variety of vendors showcasing products that follow the "make it, bake it, catch it, grow it" credo. Building on the work of the Steveston Farmers and Artisans Market, the Cannery Farmers' Market is committed to bringing even more local food products and creating a welcoming community space.
Society Chair, Dave Semple is excited to offer this event to the community, "We are committed to working with the Steveston community to offer events that appeal to locals and to help keep the village lively through the winter months. We are looking forward to creating a place where neighbours can come together to get to know each other better and do a little shopping at the same time."
Free to the public each market day, the Gulf of Georgia Cannery provides a unique one-of-a-kind space for a community event. The market will run every other Sunday from October to April, on the following dates:
October 5 and 19, November 2, 16 and 30, December 14, January 18, February 1 and 15, March 1, 15 and 29, April 12 and 26
For more information please visit www.canneryfarmersmarket.org.
The Gulf of Georgia Cannery National Historic Site of Canada is operated by the non-profit Gulf of Georgia Cannery Society, on behalf of Parks Canada.  Location: 12138 Fourth Avenue at Moncton, Richmond (Steveston Village).  www.gulfofgeorgiacannery.com