Top chefs and home cooks pair up to compete for culinary glory at BC Place Stadium, Saturday, October 18
Sharpen those knives and get ready for the Samsung Cooking Challenge: Tag Team Kitchen, the cutthroat culinary competition taking place at this year's Vancouver Home + Design Show. Armed with Samsung Chef Collection appliances, fresh ingredients and plenty of ambition, three home cooks will each partner with a top Vancouver chef in the winner-takes-all showdown happening Saturday, October 18 from 2-4PM on the Vancouver Magazine Cooking Stage at BC Place Stadium.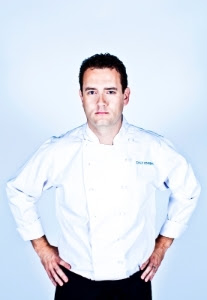 Hosted by celebrity Chef Corbin Tomaszeski, the high-stakes competition and big-name lineup is sure to draw a crowd.
"Tag Team Kitchen is, without a doubt, one of the most anticipated features at this year's Vancouver Home + Design Show," said Jill Kivett, regional director for Marketplace Events, owner and operator of the Vancouver Home + Design Show. "Audience members will be able to see a live reality cooking competition, complete with the best names and equipment in the biz. And for those who want to be part of the action, we're still searching for three dynamic home cooks to partner with our pros!"
Eager potential participants can enter from now until Wednesday, October 15 on the Vancouver Home + Design Show website. Selected home cooks will work alongside noted Vancouver chefs Angus An of Maenam, Geoff Rogers of Blacktail Florist, and Tim Cuff of West Oak in creating two dishes with pre-selected fresh seasonal ingredients. Come competition day, the dueling duos will race against time behind the burner, ever-conscious that they may need to tag in and out at any given time – forcing active contestants to immediately stop and allow their partner to take over.
"Tag Team Kitchen will be an exciting way to experience the new Samsung Chef Collection in action," said Warner Doell, Vice President of Home Appliances Sales and Marketing, Samsung Canada. "Our newest premium home appliance lineup is specifically designed for the chef at home and includes innovations to match their culinary talents."
Judged by local foodies Keri Adams of CTV Vancouver, Neal McLennan of Western Living and Erin Ireland of It's To Die For, as well as Chef Corbin Tomaszeski himself, the teams will tackle their challenge in two rounds: entrées and desserts. The team with the lowest scoring entrée will be eliminated from the competition, leaving two pairs to duke it out with dessert. The last home cook standing will score $5,000 worth of Samsung Chef Collection appliances for their own kitchen – and bragging rights, naturally.
Think you've got what it takes? Click here to enter online.
For more information about the Vancouver Magazine Cooking Stage, please click here.
About the Vancouver Home + Design Show: The Vancouver Home + Design Show (vancouverhomeshow.com) has been a staple in consumers' calendars since 1983, attracting more than 35,000 qualified visitors every fall. Produced by Marketplace Events (marketplaceevents.com), the show features high-interest exhibits, high-profile industry personalities and the latest home and lifestyle trends. Marketplace Events (marketplaceevents.com) produces 39 home shows in 20 markets that collectively attract 1.1 million attendees and another 1.5 million unique web visitors annually.
About Samsung Electronics Canada: Samsung Electronics Canada is a global leader in technology, opening new possibilities for young minded consumers everywhere through innovation, stylish design and premium experiences. Through relentless innovation and discovery, Samsung is transforming the worlds of TVs, smartphones, tablets, PCs, cameras, home appliances, printers, LTE systems, medical devices, semiconductors and LED solutions. As a result, Samsung has become a true leader in the technology industry. In 2013, Samsung was ranked #8 in the Interbrand 100 Best Global Brands while the Canadian arm was named as one of Strategy Magazine's 2013 Brands of the Year and Marketing Magazine's 2012 Top 10 Marketers of the Year in Canada. Globally, Samsung employs 286,000 people across 80 countries with annual sales of US$216.7 billion.
About Samsung Chef Collection: Samsung Chef Collection features state-of-the-art kitchen appliances that have been developed in collaboration with the world's top chefs. Every appliance in the collection combines breakthrough technology and sophisticated design, showcasing a dedication to build the best kitchen possible and to ensure the best quality results throughout every step of the meal preparation process – from storage to cooking to clean-up. To discover more, please visit www.samsung.com.