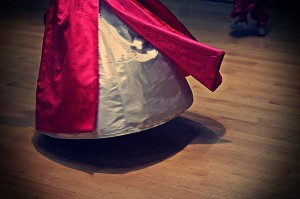 Winners from Surrey, Penticton and Saanichton
Surrey resident Jina Kim has been awarded first prize in this year's province-wide "Culture Shapes Our Community" photo contest.
Kim and two runners-up were chosen from 141 entries by votes cast all across the province. Kim's prize was a Panasonic Lumix camera.
The contest was part of the lead-up to the Culture Days weekend, held September 26 through 28. During the fifth annual Culture Days more than 500 free, interactive activities took place in 54 communities across BC, joining thousands of similar activities across Canada that invited people to get involved with local arts and artists in their communities to share their love of culture.
To tie in with the weekend, the Black Press "Culture Shapes Our Community" contest invited the public to enter photos of shapes representing culture in BC.
Kim's winning photo, "On the Stage" (shown here) was a shot of her daughter dancing. "When my little girl hears music, she dances automatically," said Kim.
The two runner-up prizes, gift certificates to London Drugs, were awarded to: "Guitar" by Sarah Machtaler of Penticton and "Young Dancers" by Mike Lane of Saanichton.
"Culture Days was an opportunity to showcase the talent and creativity that exists across our province," said Rob Gloor, executive director of the Alliance for Arts and Culture, and chair of the BC Culture Days task force in announcing the winners.
"BC Culture Days would like to extend a big thank you to all those who entered photos for the 2014 Black Press "Culture Shapes Our Community" photo contest.
"BC Culture Days is grateful for the support of our provincial sponsor, Black Press, " concluded Gloor in announcing the winners.
To view the winning photos click here.
For more about BC Culture Days, visit bc.culturedays.ca. Connect with Culture Days on Facebook, Flickr and YouTube and join the conversation @BCCultureDays on Twitter.