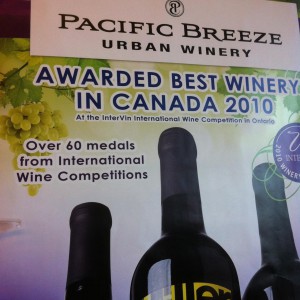 I dropped into Pacific Breeze Winery in New Westminster recently to pick up more of their outstanding Reserve Chardonnay, one of my absolute favourites, as well as some excellent Big Red, their Rhone styled blend.  I left with a mixed case.  When I stopped by last summer to do a barrel sampling of the 2011 GSM and their 2012 Killer Cab, I met Devon Stewart, assistant winemaker since 2012.  She is a graduate of the Oenology department at UBC's Okanagan campus in Kelowna.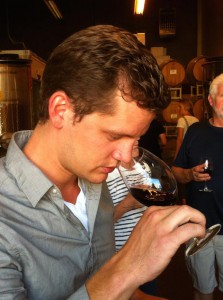 In conversation with winemaker Dylan Hamilton, I found out that Pacific Breeze plans to buy more BC grapes, especially for their red wines, though the prices tend to be higher than grapes that come from their usual growers in California and Washington.
Their 2013 Pinot Gris vintage was made from BC grapes and it was their first VQA wine.  Previously, they bought pinot gris from the Willamette Valley in Oregon.
Being a pinot noir freak, I asked whether they were considering ever trying to make a wine from the 'heart break grape'.  I was pleased to hear that they are currently experimenting with some pinot noir from the Carneros (Napa) region of California as well as looking for some sources of BC pinot noir.
That barrel sample of Killer Cab was a blend of 60% Obsidian Ridge cabernet and 30% Sagemoor.  Part of the secret to Pacific Breeze's Killer Cab is in the blending of cabernet from these two regions.  Each brings it's own nuances and adds to the complexity of the wine.  The remaining 10% consisted of petite verdot, merlot, syrah and cabernet franc.
2012 was a good year for their cabernet, though they are still tweaking the final blend.  The addition of a little syrah makes the wine approachable sooner – 'trunk aged' as opposed to cellar aged.  They may also make a reserve wine for the cabernet freaks.
Sagemoor Vineyards in the Columbia Valley, Washington, supplies grapes to many of the finest wineries in Washington State.  Some vineyards date back to 1968.  Obsidian Ridge Vineyard in Sonoma, California, lies along a ridge of the Mayacamas Mountains at an elevation ranging from 2300 to 2600 feet.  The high altitude helps preserve acid levels in the grape and provide better structure than is the case in some valley grown California cabernets.
Despite the GSM name, the other barrel sample had a little more syrah than grenache, though the final blend may change prior to bottling or it may end up as their Big Red blend.
The grenache comes from Amador County, nestled against the mountains south east of Sacramento, California.  It shows aromas of smoke, leather and bacon.  They are considering making a little Reserve GSM, as it is such a great vintage.  The 2011 GSM will spend another year resting after it is bottled.
Here are my notes based on the barrel samples.  Remember that the wine will spend more time aging before it is ready to be bottled, but the preliminary assessments were very promising.  I expect all of them to be at least silver medal wines.
2012 Killer Cab
Garnet red in colour with medium-deep intensity.  Rich, intense nose showing plum, leather, cassis, spice, vanilla and chocolate aromas.  Well balanced with smooth ripe tannins.  Fruit flavours dominate the palate and a medium-long finish.
2011 GSM
Garnet red with medium plus intensity.  Well-integrated oak and fruit on the nose with plum, vanilla and spice aromas.  Well balanced with soft ripe tannins and a medium finish.
Dylan was also good enough to also offer me a small sample of his previous vintage.
2010 GSM
Garnet red with medium-deep intensity.  Tar leaps out of the glass with this wine.  Very good balance with good structure.  Chocolate and dark fruit on the palate with a medium finish.