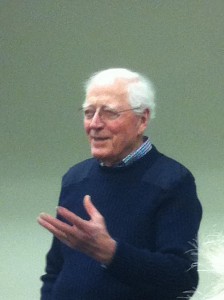 I caught up with BC wine guru John Schreiner at the Clearbrook library recently where he was speaking on wine as a part of their Fine Food Series. Other lectures in this series focus on Olive Oil and Vinegar, Honey and Coffee.
John discussed his latest book, "John Schreiner's Okanagan Wine Tour Guide" and a bit of the history of winemaking in BC. He talked about the significance of the pull out of French hybrid vines in the late 1980's and the replanting of vinifera grapes. This was also the time that the VQA or Vintner's Quality Alliance was formed. John also spoke of the different wine making areas in the province – the Okanagan, Similkameen, Fraser Valley, Gulf and Vancouver Island and the Shuswap/Thompson region. He elaborated on the terroir of some of the regions and the particular grapes that are best suited to each area.
In the early days of the BC industry, wineries had to take whatever the growers gave them, which often meant under-ripe grapes. This necessitated adjustments to make them suitable for wine making. They had to add water to bring the acid levels down and sugar to raise the alcohol. It was the job of wineries to make the best wine they could from the materials they were given. They tried to emulate European wines as best they could as evidenced by the popularity of wines such as Hochtaler and Schloss Laderheim (both still available for $13.49 for 1.5 litres). These wines were intended to compete with German wines such as Blue Nun and Black Tower. Schloss was originally a wine made from Okanagan Riesling, a varietal unique to the Okanagan and of uncertain background.
The wine industry in BC has been one of remarkable growth. While grapes have been grown in BC as far back as the 1860's, it wasn't until seventy years later that BC had it's first winery, Calona Wineries in Kelowna. Other wineries, Cedar Creek, Gray Monk, Mission Hill and Sumac Ridge appeared during the 1960's. By 1988 there were about 1000 acres planted in vines and 17 wineries. Now days it stands at approximately 10, 000 acres and about 270 wineries. There is currently an over supply of grapes and some growers are scrambling to find buyers. In some cases, grapes that used to sell for $2500 per ton, now often sell for $1200 a ton and some desperate sellers have offered the same grapes for as low as $400 per ton. This has led to some price reductions at the retail level, but not to the degree most customers would like to see.
In the outlying viticulture areas, several white varietals such as Bacchus, Gewürztraminer, Riesling, Siegerrebe, etc. grow quite well. Reds, on the other hand, can be quite challenging, as they require much hotter weather to ripen. To overcome this situation, hybrids, developed by Valentine Blattner, have been planted. The grapes are well suited to the environment, but to date, the named-in-BC white varietals, such as Petite Milo and Epicure, have proven to make better wines than the reds, which have been lackluster at best.
As mentioned, it was around 1992 and the enactment of the North America Free Trade Act (NAFTA), that the BC wine industry was reinvented. Old vines, French hybrids (Baco Noir, Maréchal Foch, Seyval Blanc, etc.) and the like, were ripped out and vineyards were replanted with vinifera vines (Merlot, Pinot Noir, Chardonnay, etc.).
John explained why the Okanagan is such a good wine growing region. While it is far north, big lakes run through the valley and provide a moderating influence acting as a heat trap. The days are long during the growing season, which provides heat units similar to those in California. However, daytime and nighttime temperatures vary greatly, and this helps maintain good structure in the grapes. To see evidence of this, try tasting one of the many excellent BC Sauvignon Blanc wines against a California one such as Robert Mondovi. While the BC wine will be bright, crisp and refreshing, the California wine will be rather flat and lifeless by comparison.
In addition, there is a fault running down the middle of the valley, and the two geographical halves are quite different. On the eastern side of Black Sage Road, the soil is primarily sand, down to a depth of 200 feet, whereas on the western side of the valley, known as the Golden Mile, the soil is gravel, clay and volcanic. Just to the north, in Okanagan Falls, the soil types vary greatly. This is why it is so important to select just the right variety of grape to grow on any given site.
We are fortunate in BC as there is a pool of talent – vineyard mangers and wine makers who have been trained and have apprenticed around the world.
John then went on to talk about the trend towards top quality, small lot releases (under 1000 cases) and their corresponding prices – $40 to over $100. Just a few years ago, people wouldn't have believed that could happen in BC. Some examples include Hester Creek's The Judge $45, Seven Stones The Legend $45, Osoyoos Larose Grand Vin $45, Black Hills Note Bene $53, Le Vieux Pin Equinoxe Syrah $80, Mission Hills Occulus $80, Blackwood Lane's Reference $99 and One Faith $165 to name a few.
John told stories about Tin Horn Creek and how the quality of their wines improved dramatically years ago in the mid 1990's when they changed vineyard managers and, correspondingly, viticultural practices. He also spoke about Hester Creek and their phoenix like transformation in 2004 when an investment group injected a lot of capital (25 million) to the financially precarious facility and built an impressive brand new winery. On the other end of the spectrum, he told about the unique, old world traditional qualities of Divino and St Lazlo wineries. The hour and a half that we were there flew by in the blink of an eye.
John Schreiner is a great storyteller and never fails to attract an audience when he speaks. His many books, fifteen to date, profile the people behind the wineries, their many and varied backgrounds as well as their dreams and passions for the future of BC wine. Follow him at http://johnschreiner.blogspot.ca/ and be sure to order one of his books before heading out on your own tour of one of BC's many wine regions.
Feature pic: courtesy of HelloBC.com