Tourism Vancouver counts down to Christmas with a list of 12 essential Vancouver holiday experiences
Vancouver Harbour is alight with parading carol ships, the Capilano Suspension Bridge is twinkling with thousands of lights, and Santa has been spotted scuba diving in Stanley Park. Yes, it's a very Vancouver Christmas, and the holiday cheer has never been greater.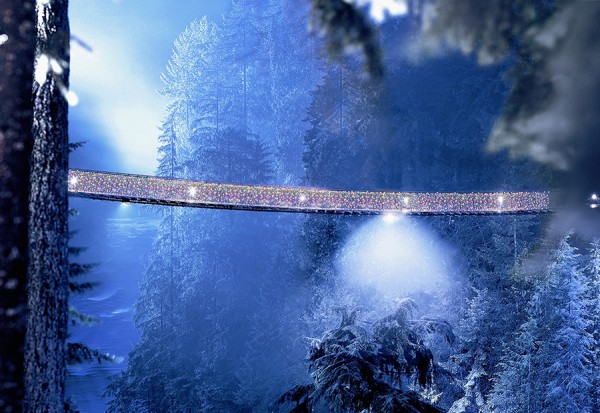 "Christmas events and activities have swelled in Vancouver in recent years," said Candice Gibson, Tourism Vancouver's manager of Consumer Marketing. "The weeks leading up to Christmas are without question one of Vancouver's most vibrant periods. With dozens of special events, concerts, plays, markets, parties, tours and festivities on the calendar, there are plenty of opportunities for both visitors and locals to make the most of this festive season."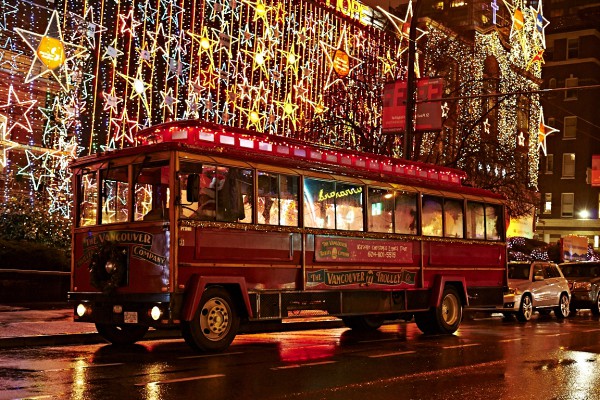 To ensure eager elves take full advantage of the holiday happenings, Tourism Vancouver has prepared a list of 12 essential Vancouver Christmas experiences that will delight the whole family – one idea for each of the 12 Days of Christmas.
Tourism Vancouver's Top 12 Very Merry Vancouver Christmas Experiences
1. Eat, drink and be merry at the Vancouver Christmas Market. This authentic German Christmas market is now in its fifth year and brings authentic food, gifts, mulled wine and a children's carousel to downtown Vancouver daily until December 24. It's a Christmas must.
2. Crane your neck at the world's tallest living Christmas tree. Capilano Suspension Bridge Park's 152-foot, 250-year-old Douglas Fir Christmas tree is dressed in 10,000 LED lights and believed to be the world's tallest living, growing, Christmas tree. And you won't want to miss walking across the 450-foot suspension bridge, also illuminated with hundreds of thousands of twinkling lights.
3. Skate on a frozen pond 3,700 feet above Vancouver. Grouse Mountain becomes Vancouver's very own North Pole during the holidays with Christmas crafts and holiday movies in the Theatre in the Sky, along with visits with Santa and his real live reindeer. But the highlight for many is experiencing the tranquil beauty of skating on Grouse Mountain's 8,000-square-foot outdoor rink, surrounded by snow-capped forest.
4. Meet Santa. Santa can be spotted at multiple locations around Vancouver this December, including the Burnaby Village Museum and Christmas at Canada Place. At the Vancouver Aquarium, "Scuba Claus" dons a mask and fins and swims with the fish.
5. See Vancouver decked out in lights. There are dazzling displays of Christmas lights to be admired at parks and gardens around Vancouver, including VanDusen Botanical Garden, Stanley Park's Bright Nights and Capilano Suspension Bridge Park. New this year is the Lumière Festival, which brings festive light installations to the West End and Yaletown.
6. Stock up on stocking stuffers at Granville Island. For those one-of-a-kind gifts and a festive shopping experience, Granville Island can't be beat. In addition to the culinary delights of the Public Market, pick up last-minute gifts at the artisans and boutiques situated throughout the Net Loft and Railspur District. For children's toys, the Kids' Market is required shopping.
7. See a holiday show. Even the staunchest Grinch will melt during a heartwarming evening of Christmas theatre. This year, The Nutcracker returns to the Queen Elizabeth Theatre, The Arts Club Theatre presents A Twisted Christmas Carol, Pacific Theatre presents It's a Wonderful Life Radio Show, The Cultch presents Cinderella: An East Van Panto, and Vancouver TheatreSports League brings us the improvisational, guaranteed-to-bust-your-gut comedy Christmas Queen.
8. Experience Vancouver's Carol Ships Parade of Lights. This annual Christmas tradition sees more than 50 boats decked out with 100,000-plus twinklers glide through Vancouver's waterways throughout the month of December. The spectacle viewed from shore is free, but the best experience is aboard the carol ships themselves, which carry more than 30,000 guests every season.
9. Strap in, or climb on, for a Christmas ride. Grab a group or surprise the kids with a Christmas-themed ride on the Stanley Park Holiday Train, Vancouver Trolley Company's Karaoke Christmas Lights Trolley Tour, or a holiday flight aboard FlyOver Canada. Each experience is guaranteed to knock your stockings off.
10. Take in a Christmas concert. Belt out your favourite Christmas carols at Vancouver Symphony Orchestra and UBC Opera Ensemble's annual holiday event, A Traditional Christmas. Or, join Chor Leoni Men's Choir for a unique choral rendition of World War One's Christmas truce.
11. Indulge in holiday eating and drinking. Many of Vancouver's best restaurants and hotels are open for truly lavish meals on Christmas Eve and Christmas Day, which begs the question: Why bother cooking for yourself?
12. Take a winter walk or snowy frolic. What do ice skating at Robson Square, strolling along Spanish Banks beach, skiing on Grouse Mountain and moon-lit snowshoeing to Cypress Mountain's Hollyburn Lodge all have in common? They're all iconic winter experiences that make Christmas in Vancouver different from anywhere else in the world. Don't miss out.
Share your Christmas photos with Tourism Vancouver on Instagram using the hashtag #VeryMerryVancouver.
Tourism Vancouver's focus is on building exceptional customer relationships with meeting planners, travel influencers, travel media and independent tourists. Its brand essence is about exceeding visitors' expectations.
All photos courtesy of Tourism Vancouver.