FRENCH STYLE FESTIVE FEASTING AVAILABLE IN YOUR OWN HOME
During this season of celebration, people naturally want to entertain family and friends at home. Cue the Mel Torme or Nat King Cole soundtrack, light the fireplace and pour the egg nog. Between the demands of work, household, family duties and the added pressures of gift-buying and wrapping, the thought of entertaining can easily raise a person's blood pressure and stress level.  Holiday entertaining is meant to be fun, not a stressor.
In France, where at-home soirees are the norm, the savvy French host doesn't spend hours stressing and cooking – they pick up all the gourmet goodies they need at a local 'traiteur.' A traiteur is a cross between a caterer and a gourmet shop where gourmet take-home food is prepared by expert chefs and all you have to do is drop in and pick it up. The good news is that Vancouver is home to just such a time-saving establishment. Owned and operated by Chef David Izquierdo of Marseille, France, L'Epicerie Gourmande in the Granville Island Market offers a full range of fully prepared food just perfect for holiday entertaining. Canapes, appetizers, quiches ($18), roasts, desserts ($5-$26) and fruit pies ($16) can all be yours with a simple phone call.  At this time of year L'Epicerie's offerings also includes two versions of Tourtiere ($19.99) – Pork with Pear Chutney and Turkey/Quinoa with Cranberry Chutney. From Foie Gras Friands to a selection of Provençal Hors d'Oeuvres to the Honey Lavender Demi Glace – prepared dishes display that indefinable touch of a French chef. You guests will be 'ooh-ing' and 'ah-ing' with each flavourful morsel. Check the full range of holiday dishes on our web site.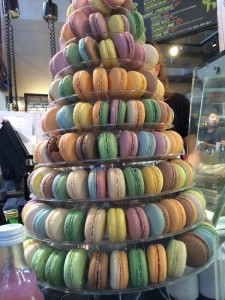 If your entertaining involves a full sit-down dinner, then you may wish to consider 'cheating' by ordering L'Epicerie's Three-course Holiday Menu ($32). It will be available from December 18 through 31 and requires 24-hours advance notice:
Holiday Menu
Smoked Salmon Mousse
Chive Cream
Or
Duck Confit Tartlet
****
Pan-Seared Duck Breast
Gratin Dauphinois
Roasted Butternut Squash Flan
Or
Rotisserie Roasted Boneless Turkey Leg,
Thyme Demi Glace
Truffled Mashed Potatoes
Roasted Butternut Squash
****
Vanilla Bean Cheesecake Verrine
Rhubarb and Strawberry Compote
Or
White Chocolate Mousse
Mango Coulis
Should you only want the Turkey Main Course, that is available on its own for $15.99.
L'Epicerie also stocks a full range of imported gourmet items ideal for gift-giving. So, take the pressure off, drop by and/or call L'Epicerie at 604-653-7317 and let Chef David and his team feed your guests. All you need to do, is pop the champagne.
L'Epicerie Gourmande
Granville Island Public Market,
NE Corner
1689 Johnston Street
Vancouver, BC  Canada V6H 3R9
Hours
Open 7 days a week:
9 a.m. – 7 p.m.
Contact
Phone: 604-653-7317
T: @LepicerieGourm