Sound the gongs, the Year of the Sheep is on the horizon! Chinese New Year is one of Vancouver's most widely fêted annual occasions, with numerous festivities and special events already on the books. MOE'S Home Collection can help revelers imbue their home with good luck for all of 2015 with a selection of home décor that is as stylish as it is on-theme.
Herewith, MOE'S Home Collection's favourite Chinese New Year home accents:
Good as Gold
Chinese culture considers the colour yellow to be the generative source of both yin and yang, so naturally gold takes the top spot as the most beautiful hue. Dress up your digs with pops of this lustrous metallic to ensure a year full of splendour and free from worldly cares.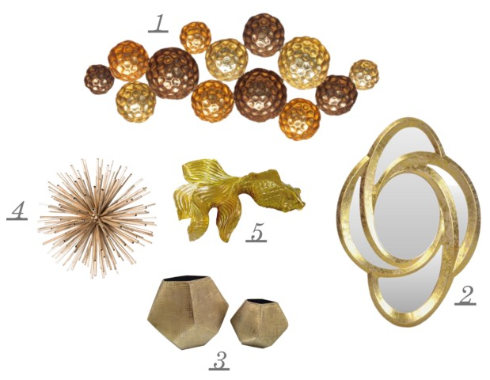 1Hammered Gold Circles, $119
2Saturn Mirror Gold, $189
3Verge Vase Bronze – Large, $79; Small, $49
4Supernova Table Decor, $115
5Goldfish Wall Decor, $39 (reg. $55)
Rosy Outlook
In Chinese tradition, the colour red stands as a symbol for good fortune and joy, making it a focal point for Chinese New Year celebrations. Add a touch of this warm and welcoming tone to your year-round colour palette with a bold selection of modern furniture and accessories.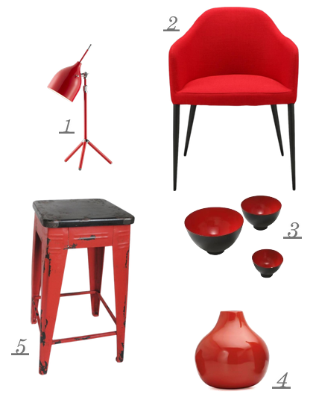 1Snapshot Desk Lamp Red, $135
2Durante Dining Chair Red, $299
3Set of 3 Flying Wall Bowls Fiery Red, $144
4Juno Lacquer Bamboo Gourd Vase, $59 (reg. $75)
5Sturdy Bar Stool Red, $185
Good Nature
Studying the Zodiac in line with Chinese culture's traditional Five Element Theory has resulted in the Stem-Branch Calendar, in which each year is assigned an element. In this reading, 2015 is the year of the Wooden Sheep. Bring the luck of this favoured farm animal into your home (minus the manure) with chic wooden pieces that offer both form and function.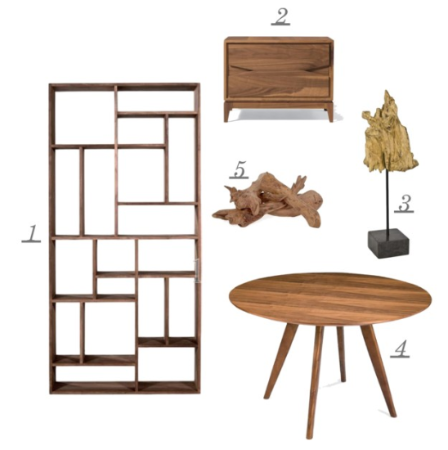 1Compartmental Shelf Natural Teak, $1,999
2Bari Nightstand Walnut, $1,359
3Natural Teak Wood Sculpture on Black Marble Stand Small, $53.95
4Dover Dining Table Large Walnut, $575
5Drift Wood Decor, $21.95