VALENTINE'S MENU TEACHES LANGUAGE
OF AMOUR
The French know a thing or two about romance and the fine art of seduction. They also know a lot about good food and how it can play a major role in successful wooing. Enter L'Epicerie Gourmande's Chef David Izquierdo from Marseille, France who met his wife when they both worked in the kitchen of a Vancouver restaurant. This romantic Frenchman knows all about courting with food. "We met while working together. My wife and I are from opposite ends of the world – I'm from Europe and she's from south-east Asia but we both spoke 'food.' Together, we learned the language of love that is spoken when you share a meal," he comments.
This year, in honour of Valentine 's Day, Chef David has created a two very delicious and romantic ways to show your love.
Rather than roses, consider something equally pretty but far tastier – Heart-shaped French Macarons (strawberry). Available from February 1 through 16 only, these limited-edition love tokens come all gussied up in a pretty pink box for $30/dozen or individually at $2.50/piece.
If you have something more substantial (and seductive) in mind, why not order L'Epicerie's very romantic Lovers' Dinner for Two to enjoy in the comfort of your own home. It is available by advance order from Thursday, February 12 through Sunday, February 15 and is value-priced at $64 for three-courses.
To get you into the romantic mood, start off with a pretty verrine layered with shrimp, red bell pepper mousse and sumptuous mascarpone. Main course features pan-seared duck breast napped with berry sauce and accompanied by a potato and mushroom Charlotte and seasonal vegetables. The meal ends on a sweetly tempting note – chocolate and crème brûlée pyramid with crème anglaise.
All you need to do is provide the soundtrack (we suggest: Mourir d'aimer by Charles Aznavour , Piaf's La Vie en Rose or My One and Only Love by John Coltrane & Johnny Hartmann), light the candles and open the bubbles.
Learning a new language has never been so pleasurable.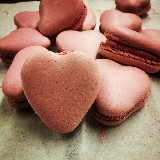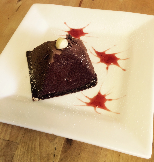 L'Epicerie Gourmande
Granville Island Public Market
1689 Johnston Street
Vancouver, BC  Canada V6H 3R9
Hours
Open 7 days a week:
9 a.m. – 7 p.m.
Contact:
P: 604-653-7317
T: @LepicerieGourm
Email / Website / Facebook