CELEBRATE VALENTINE'S DAY: A CONTEMPORARY LOVE AFFAIR FROM ROCK N' ROLL ROMANCE TO SUBLIME DINING 
 Tulalip Resort Casino Offers Sweethearts Multi-Sensual Dining Options Combined with Mesmerizing Music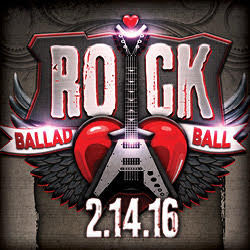 Tulalip Resort Casino knows how to translate the feelings of love. From events like the Rock Ballad Ball featuring Guns N' Roses and Aerosmith tribute bands; to seven award-winning food and beverage outlets that feature Valentine inspired Sous Vide Lobster Medallions or Asian-infused dining fare, Tulalip Resort Casino has just what the love doctor ordered.
The Rock Ballad Ball is an out of the box extravaganza offered to the young – and the young at heart. This annual February 14th Valentine's Day party includes a concert of tribute bands (Appetite for Deception and Aeromyth) featuring music from legendary greats Guns N' Roses and Aerosmith. Doors open at 6:30 pm with DJ tunes. Dinner starts at 7 pm in the Orca Ballroom where guests can savor a buffet spread offering a selection of two salads, chicken or prime rib entrees, a selection of side dishes (grilled vegetables, penne pasta, mashed potatoes), assorted desserts and coffee/tea. Admirers and their main squeezes can dance the night away to rock pounding sounds starting at 8 pm.
Aeromyth has become known as the top Aerosmith Tribute band worldwide! Playing nationwide as well as International dates such as Mexico, Canada and El Salvador since 2002. Chris Vandahl does an amazing portrayal of Steven Tyler, including all of his dance moves, costumes, stage show and amazing recreation of Tyler's outrageous vocals! Chris looks so much like Steven Tyler that many people make the mistake of thinking he really is the Aerosmith front man! The band that backs Chris is truly amazing as well, very solid and tight, recreating the music fans know and love – note for note! For more information about the band, visit aerosmithtribute.com.
Appetite for Deception fans are blown away by the attention to detail and variety of material this band delivers.  Appetite for Deception strives for authenticity in all aspects of their live performance – the gear, clothes and precision of the songs included. Everything is in place to take the listener and viewer back to the heyday of Guns N' Roses. Nearly 20 years to the date of Guns N' Roses' formation, Appetite for Deception was put together in Portland, Oregon by five musicians looking to continue their great legacy. The tremendous catalog of music helps to make every show a roller coaster ride of high energy and intense emotion as the memories of that era are brought back to life. For more information about the band, visit appetitefordeception.com.
Rock Ballad Ball is for those 21 and over and offers a no-host bar and festival seating. All-you-can-eat Dinner Buffet and concert tickets are priced at only $75 per person, including tax and gratuity. Tickets must be purchased in advance. To purchase Valentine's Day Rock Ballad Ball tickets, visit ticketmaster.com or the Casino Box Office (where no additional ticket processing fees are added). Additional details can be found at Rock Ballad Ball.
Prefer something a little more intimate and less 'rockin' for a romantic getaway? Tulalip is offering exclusive holiday offerings at two of their world-class restaurants.

Guests can travel to Journeys East where Asian inspiration meets Tulalip hospitality with a blend of cuisine and culture in a modern, Zen-like setting. Wood, metal and glass combine to offer unmatched harmonious décor. A centrally located display kitchen features offerings from Japan, Thailand, China, Korea, and Vietnam. Enjoy handcrafted cocktails, a phenomenal sake selection and award-winning wines.
Valentine's Day weekend dine-in specials will include Journeys East Wok Finished Lamb Chops as well as the restaurant's signature Shrimp Hargow Dumpling. These dishes will be available in addition to the regular dinner menu from 5 pm until closing on February 12-14, 2016. To reserve a table online, visit OpenTable, or reserve by phone at 360-716-1880. No passport required – just an appetite for a delectable experience.
Gals and guys can also wow their lover with the Tulalip Bay restaurant – a winning combination of classic steakhouse meets traditional Italian with a superior wine list. Discover what magic occurs when old world taste is fused with local Northwest ingredients. The menu is filled with many delectable culinary twists from prime cut steaks and chops to freshly prepared seafood and classic Italian specialties.
This year's Valentine's Day Tulalip Bay dinner special for two includes the Sous Vide Lobster Medallions (due to long cooking time, pre-reservations requested) and a Sea Scallop Mousseline with avocado risotto, glazed thumbelina carrots, lobster air, and caviar along with two special cocktails of Prosecco and prickly pear foam. The special will be available in addition to the regular dinner menu from 5 pm until closing on February 14, 2016. To book a table online, visit OpenTable, or reserve by phone at 360-716-1500.
Whatever floats the proverbial Love Boat this year, Tulalip has it covered!
About Tulalip Resort Casino
Award winning Tulalip Resort Casino is the most distinctive gaming, dining, meeting, entertainment and shopping destination in Washington state. The AAA Four Diamond resort's world class amenities have ensured its place on the Condé Nast Traveler Gold and Traveler Top 100 Resorts lists, as well as Preferred Hotel & Resorts membership. The property includes 192,000 square feet of gaming excitement; a luxury hotel featuring 370 guest rooms and suites; 30,000 square feet of premier meeting, convention and wedding space; the full-service T Spa; and 6 dining venues, including the AAA Four Diamond Tulalip Bay Restaurant. It also showcases the intimate Canoes Cabaret; a 3,000-seat amphitheater. Nearby, find the Hibulb Cultural Center and Natural History Preserve, Cabela's; and Seattle Premium Outlets, featuring more than 110 name brand retail discount shops. The Resort Casino is conveniently located between Seattle and Vancouver, B.C. just off Interstate-5 at exit 200. It is an enterprise of the Tulalip Tribes. For reservations please call (866) 716-7162.