ASIAN SLOPPY JOES with Cabbage-Cilantro Slaw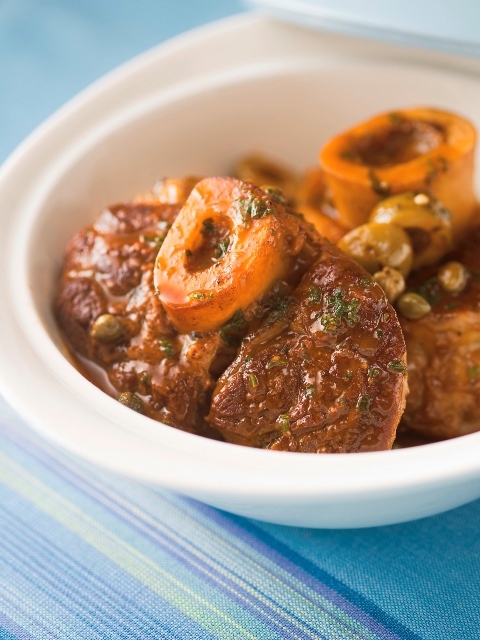 Serves 6-8
When I think of sloppy joes, those ground beef sandwiches I remember eating as a kid, it reminds me of my mom preparing Hamburger Helper (yes, that's right, I've had it a few times). The key to her version was a soft bun and a drippy grey meat mix—nothing more.
This updated recipe is an Asian version made using both pork and beef. The key is to buy soft buns and warm them—in the oven if it's already on, or in the microwave for 10 seconds—to soften them up. If you don't want to make sloppy joes, use this recipe with pasta for an Asian-style spaghetti or serve it with mashed potatoes as a main course. Remember to pour off all the fat from the meat before adding the liquids.
CABBAGE-CILANTRO SLAW
2 cups shredded green cabbage
¼ cup chopped fresh cilantro
2 Tbsp rice vinegar
1 Tbsp low sodium soy sauce
Juice of 1 lime (about 1 Tbsp)
2 Tbsp grapeseed oil
Combine cabbage and cilantro in a large bowl. In a small bowl, whisk together rice vinegar, soy sauce, lime juice and grapeseed oil. Just before serving, pour the vinaigrette over the cabbage mixture and toss lightly. Will keep refrigerated in an airtight container for 2 days.
SLOPPY JOES
2 Tbp grapeseed oil
2 red oinions, in ¼ inch dice (about 2 cups)
1 Tbsp minced garlic
1 Tbsp minced fresh ginger
2 ribs celery, in ¼ inch dice (about ¾ cup)
1 Tbsp sambal oelek or any hot sauce of your choice
1 lb extra-lean ground beef
1 lb ground pork
1 cup hoisin sauce
1 cup chopped fresh or canned Roma tomatoes
Juice of 1 lime (about 1 Tbsp)
2 tsp sea salt
½ tsp black pepper
6 Portuguese buns or any other bun of your choice
Heat a large, heavy frying pan on medium-high. Add grapeseed oil and swirl the pan to spread the oil. Add onions, garlic, ginger, celery, and sambal oelek and sauté, stirring often, until onions are translucent, about 5 minutes. Add ground beef and ground pork and use a wooden spoon to break meat into small pieces. Cook, stirring frequently, until meat is no longer pink, 6 to 8 minutes. Pour off and discard any fat from the meat. Add hoisin sauce, tomatoes, and lime juice, then season with salt and pepper. Reduce the heat to medium-low and simmer for 20 to25 minutes, stirring occasionally.
Preheat the oven to 375ºF. Cut the buns in half, place them on a baking sheet and warm for 2 minutes, or until very lightly toasted.
Arrange the bottom halves of the buns on individual plates. Spoon about 2/3 cup of the sloppy joe mixture on top of each bun, then cover with 2 to 3 Tbsp of cabbage- cilantro slaw. Finish with the top halves of the buns. Serve immediately. Refrigerate leftover meat and slaw, separately, in airtight containers for up to 2 days.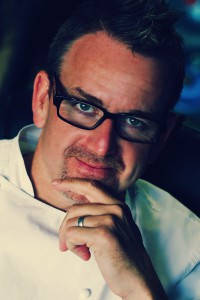 Chef Rob Feenie, Executive Chef, Cactus Restaurants Ltd.  
The driving culinary force behind Cactus Restaurants Ltd., the award-winning collection of 26 casual fine dining restaurants in BC, Alberta and Saskatoon, Rob Feenie is also one of Canada's most recognized and celebrated chefs.
At Cactus Restaurants Ltd., Chef Feenie leads the culinary team, blending his talent for creating elegant, globally-inspired cuisine with his passion for simple dishes using fresh, sustainable ingredients.  Chef Feenie's innovative approach to cooking has continued to drive the evolution of Cactus Club Cafe's menu selections and its commitment to sourcing the best fresh, local and sustainable products wherever possible.  
Growing up in Burnaby, BC, Chef Feenie first developed a curiosity for international cuisine over countless traditional family dinners at his Japanese neighbours' home. This early experience was followed by a high school exchange program where he was first introduced to European chefs and techniques.  At 20, Chef Feenie attended the Dubrulle Culinary Institute in Vancouver and upon graduating, became a Sous-chef in some of Western Canada's top restaurants, notably Le Crocodile and Cherry Stone Cove in Vancouver and The Rim Rock Café in Whistler. 
While at Le Crocodile he began a series of work and educational trips, or stages, throughout Europe and North America, starting in Alsace with Chef Emile Jung at Au Crocodile and Chef Antoine Westermann at Le Buerehiesel, both Michelin three-star rated restaurants. In North America he worked with Chef Charlie Trotter, at Trotter's Restaurant in Chicago, and Chef Jean-Georges Vongerichten at Jean-Georges in New York.
In 1995 Chef Feenie opened the internationally celebrated Lumière Restaurant in Vancouver, followed by Lumière Tasting Bar and then Feenie's, a more casual Canadian Bistro, next door to Lumière, in 2003.  Throughout his career, Chef Feenie has secured international culinary recognition, including the coveted Relais Gourmand and Traditions et Qualitè designations, in addition to the Mobil Travel Guide four-stars designation and the AAA Five Diamond Award.  In 2009 and 2011, Chef Feenie won the Vancouver Gold Medal Plates competition.
Chef Feenie has published four cookbooks: Rob Feenie's Casual Classics, Rob Feenie Cooks at Lumière, Lumière Light and Feenie's. He also starred on New Classics with Chef Rob Feenie on Food Network Canada for five seasons.  In 2005 Feenie became the first Canadian to win on the popular television show Iron Chef America by defeating Chef Masaharu Morimoto.